Chalhoub Scholarships for International Students
Apply For Chalhoub Scholarships for International Students
Chalhoub Scholarships for International Students in Science Po University France for the 2022/2023 academic session is open for application.
In this post, we will explain in details about this scholarship, its worth, eligibility and step by step application process.
About Chalhoub Scholarships for International Students
Chalhoub Scholarships 2022/2023 is a fully funded scholarship for international students. However, this scholarship is offered for Undergraduate and Masters studies. The Program Period for the scholarships is 3 years for undergraduate and 2 years for masters. The host institution is Sciences Po University.
Sciences Po University is an international research university, both selective and open to the world, ranking among the finest institutions in the fields of humanities and social sciences.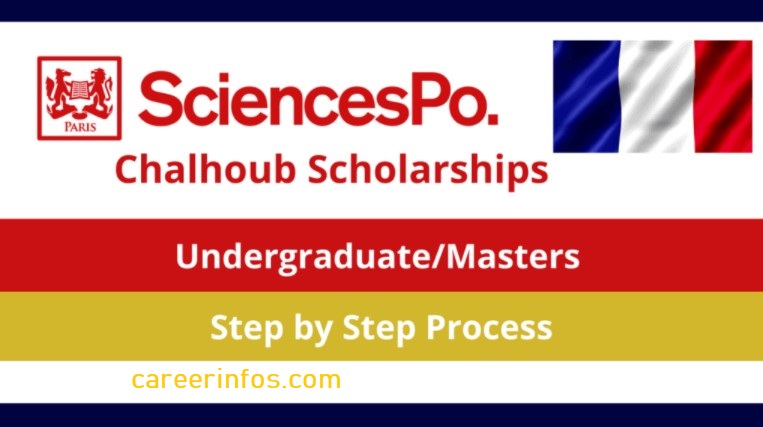 Why Apply For The Scholarship?
The Chalhoub Scholarships allows students who wish to study at Sciences Po at the undergraduate level at the Sciences Po campus in Menton, Southern France, or graduate level in Paris. These scholarships are awarded by selection committees who run the management of Sciences Po's academic and merit based scholarships and are composed of representatives from academic program, Sciences Po's strategy and development department and the international affairs division.
Related: Eiffel Fully Funded Scholarships
Worth/Value of Chalhoub Scholarships
Chalhoub Scholarships provide each recipient with the following benefits:
Both Undergraduate and Master excellent scholars will receive a scholarship amounting to 12 300€ per year for the duration of their 3-years undergraduate studies program (covering full tuition and some living expenses) and for the duration of the 2-years Masters program (covering partial tuition) in the event that the student furthers his or her studies at Sciences Po at the Masters level.
Eligibility Criteria for Chalhoub Scholarships
To be qualified for Chalhoub Scholarships, each applicants must meet the following requirements:
The required language for Chalhoub Scholarships is English.
Qualified countries for these scholarships are Egypt, Saudi Arabia, UAE, Iran, Koweit, Lebanon, Bahrein, Syria, Qatar, Yemen, Jordan, Oman, Iraq.
Applicants must also be accepted to Sciences Po's undergraduate studies program (Menton campus) or to one of Sciences Po's Masters program to be eligible for the scholarship.
How to Apply for Chalhoub Scholarships for International Students
Please follow the following steps to apply for Chalhoub Scholarships at Science Po University in France:
Visit the official website to create an account from to apply.
Candidates are also expected to choose his/her program.
Then you can complete your application by requesting an academic reference and uploading the necessary documents.
Please note that all official documents in foreign languages must be translated into French by a certified translator.
This is the last step! As soon as you have filled out all the information fields in your application and have uploaded all the necessary documents, you must submit your online application.
However, you may later be requested by the Admissions Office to add or replace some of the attached documents in the event of illegible or poor information.
Lastly, no other application specific to the Chalhoub scholarship needs to be made.
Application Deadline
The application deadline for Chalhoub Scholarships is 15 February, 2022 for Undergraduate and November 30, 2021 for Masters Program.
Visit the Sciences Po official website for additional information on Chalhoub Scholarships and to apply
You may want to explore other scholarship opportunities in France
In order not to miss out on prompt updates from careerinfos.com, enter your email address below and hit the subscribe button beneath.
A confirmation link will be sent to your inbox or check your spam mails if its not in your inbox. Make sure you click the link to confirm your subscription in order not to miss any updates from this blog. All comments (related to the post above) should be dropped via the comment section below.