Echidna Global Scholars Program
Apply For The Echidna Global Scholars Program
Echidna Global Scholars Program at Brookings Institution in USA 2022/2023 is still accepting applications from eligible applicants.
If you want to study in the United States, this is an excellent news. Brookings Institution is presently accepting applications for the Echidna Global Scholars Program. In this post, we'll go through the scholarship's value, eligibility, and application procedure in in detail.
Echidna Global Scholars Program
The Program is a Brookings Institution visiting fellowship organized by the Center for Universal Education (CUE).
The Program aims to build the ability of local leaders in low- and middle-income countries throughout the world to achieve evidence-based change in girls' education.
During their six-month Fellowship at Brookings, the students conduct individual research aimed at improving learning opportunities and life outcomes for girls and young women in low- and middle-income countries (LMICs), develop leadership and proof literacy skills, gain extensive knowledge of gender and global education issues, and expand their impact capabilities and pathways.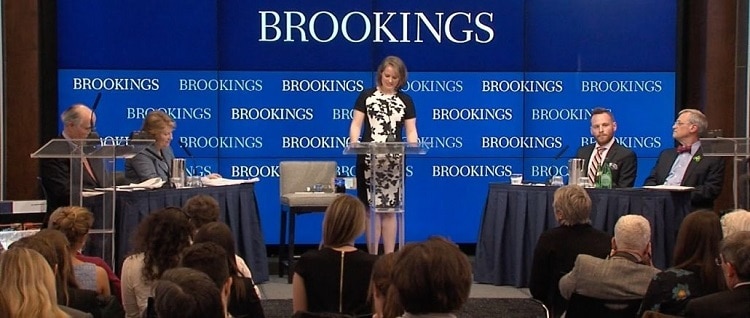 The Brookings Institution
The Brookings Institution is a Washington, D.C.-based research organization that was founded in 1916 on Think Tank Row. It largely focuses on economics (including tax policy), governance, foreign policy, global economy, metropolitan policy, and economic development in the social sciences.
The institution's declared mission is to give creative and practical ideas that achieve three broad goals: strengthening American democracy, fostering economic and social welfare security, and strengthening American democracy.
Worth of Echidna Global Scholars Program
Candidates accepted into the Program will receive a $22,500 USD stipend to help with living expenses during the residence and pre-residency periods (subject to U.S. tax withholding and reporting).
The Center for Universal Education (CUE) will pay the fees of the visa application, single-occupancy accommodation for the three-and-a-half-month stay, a limited health insurance plan, and round-trip transportation.
Related: Regent Scholarships For International Students
Eligibility for Echidna Global Scholars Program
Leaders in girls' education from low- and middle-income countries across the Global South are eligible for the Program.
Candidates should have a background in development, education, public policy, economics, or a related field, as well as at least 10 years of professional experience in research/academic, non-governmental, community or civil society organizations, or government.
A Master's degree is required to be qualified for these scholarship.
Applicants with experience in both government or academic settings and community organizations are mostly encouraged to apply.
Documents Required for Echidna Global Scholars Program
A cover letter that explains your aims and goal for the program
Your CV or resume which should include your education and professional experience.
The completed application form.
Please note that all documents must be saved with a format of Last Name_First Name_document name (for example: Doe_Jane_CV).
How to Apply
For more information on how to apply for these scholarship, visit Brookings Institute official website.
Application Deadline
The application deadline for these scholarship is December 1, 2021.
You may want to explore other U.S scholarship opportunities for international students
In order not to miss out on prompt updates from careerinfos.com, enter your email address below and hit the subscribe button beneath.
A confirmation link will be sent to your inbox or check your spam mails if its not in your inbox. Make sure you click the link to confirm your subscription in order not to miss any updates from this blog. All comments (related to the post above) should be dropped via the comment section below.