Australian Dependent Student Visa
How to apply for Australian Dependent Student Visa
Australian Dependent Student Visa is mostly sought together with other Australian Visa types. International students who enter Australia on a student visa for a 12-month or longer academic term are permitted to bring close family members as dependents. Australian dependent student visas are available for spouses, partners, and unmarried children under the age of eighteen.
Australian Dependent Student Visa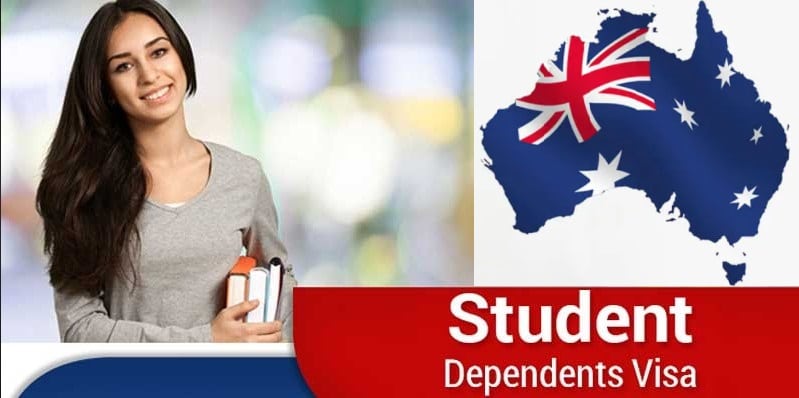 Eligibility Criteria for Australian Dependent Student Visa
The following requirements must be met in order to enter Australia as a dependent on a student visa:
For Dependent Spouse or Partner
The person who is financially reliant on you must be your husband or de facto partner (including same sex partners)
If the dependant is your de facto partner, you must have been living with him/her for at least a year and have a true and exclusive relationship with him/her.
For Dependent Child
The youngster must be under the age of eighteen and still enrolled in school (i.e. studying A-levels)
The dependent child must be your child or that of your partner
The kid must not be married, engaged to be married, or in a de facto relationship at the time of the application.
Requirement For Australian Dependent Student Visa
If you want to bring your family members to Australia as dependents on your student visa, you must declare them on your visa application form, even if they won't be able to travel with you.
They will not be able to apply for a dependent visa once you are in Australia if you do not declare all family members in your visa application.
You must list all members of your family on your initial Form 157A in your original student visa application
Documents Required
If you want to bring family members to Australia after you've begun your course, you'll need to submit the following documents:
Form 919 (Nomination of student dependents)
Form 157A (Application for a student visa)
The education provider's initial letter, which states:
a) Your current course of study
b) The length of the course and the projected finishing date
c) If you've completed all of the course prerequisites,
4. Evidence of having enough money in Australia to support your dependents
5. Officially issued birth certificates and marriage certificates are proof of your relationship with your dependents.
6. Proof of enrollment in school for your school-aged kids
7. Each dependent must provide proof of health insurance.
Rights Granted Under Australian Dependent Student Visa
Dependent partners are allowed to work in Australia. These privileges are contingent on the student's course of study. These are the rights:
A dependent partner can study in Australia for up to three months on any programme.
The dependent partner of a student seeking a bachelor's degree will be permitted to work up to 40 hours per fortnight.
The dependent partner of a student obtaining a master's or doctoral degree or conducting research will have complete and unlimited work rights.
How to apply for Australian Dependent Student Visa
To get your Australian dependent visa you will have to be nominated by your partner in his/her application for Australia student visa. On the hand, he/she will have to nominate you while already studying in Australia.
Application Process For A Dependent Student Visa
Fill out the nomination form (form 919)
Obtain the application's needed documentation.
Send the completed nomination form to your dependant in another country, together with the needed documentation.
Request that your dependant fill out the 157A Application form.
Notify your dependant that he or she must submit the form 157A Application and the form 919 Nomination, along with all necessary papers, to an Australian mission or consulate near him or her.
When submitting the application form, pay the applicable application fee.
After the Australian mission/consulate has issued the dependent visa, collect it.
Required Fees for Australian Dependent Student Visa
Check the Department of Immigration and Border Protection's website for the most up-to-date fee requirements for dependent student visas before submitting your application.
Do's and Don'ts for Dependent Student Visas
For an Australian Dependent Student Visa, you must remember the following dos and don'ts.
Dos
Even if they won't be able to accompany you to Australia, list your family members on your Australian student visa application form.
Fill out your application form completely and accurately. Incomplete forms will not be accepted under any circumstances.
When you arrive to the Australian Consulate to submit your application form, bring original copies and photocopies of any supporting papers.
Don'ts
Do not submit forged documents while applying for a dependent visa.
In your application, do not conceal or falsify information.
You may want to explore other Australian visa types and Australian Visa requirements
In order not to miss out on prompt updates from careerinfos.com, enter your email address below and hit the subscribe button beneath.
A confirmation link will be sent to your inbox or check your spam mails if its not in your inbox. Make sure you click the link to confirm your subscription in order not to miss any updates from this blog. All comments (related to the post above) should be dropped via the comment section below.