How to Immigrate to Canada : A Comprehensive Guide
FAQs On Immigrating To Canada
How to Immigrate to Canada is a major concern for most intending immigrants. The question is; Is it possible for you to relocate to Canada? The answer is most likely yes, which you may not have realized. When considering how to move to Canada, it may seem a little weird at first, but after you grasp how the Canadian immigration process works, you will have nothing to worry about.
How To Immigrate To Canada: FAQs
This article provides answers to a number of FAQs listed below;
What is the Fastest Way to Immigrate to Canada?
How Does Express Entry Work?
How Does Provincial Nominee Program Work?
Can I Immigrate to Canada Without a Job Offer?
What is the Post-Graduate Worker Permit (PGWP)?
What Are the Requirements for PGWP?
How Do I Immigrate With a Post-Graduate Worker Permit?
What is The Cost of Living in Canada?
Is Canada a Safe Haven for Immigrants?
What is the Fastest Way to Immigrate to Canada?
Although the process of working and living in Canada can be lengthy, if you follow the right protocol and qualify for the program you want to apply for, it can take as little as six months to be accepted and acquire permanent Canadian residence.
With hundreds of thousands of successful applications each year, you must be wondering if you, too, are eligible to relocate to the Great White North.
If you answered yes, you'll be pleased to learn that there are several methods to relocate to Canada, but the best programs that may get you an accepted visa quickly include the following:
Fastest Ways To Immigrate To Canada
Express Entry (EE)
Provincial Nominee Program (PNP)
Post-Graduate Worker Program
Family Sponsorship
Before deciding which program is best for you, you must first make an online application and fill out all of the needed areas to see whether you meet the minimum score needed to rank among many other successful candidates.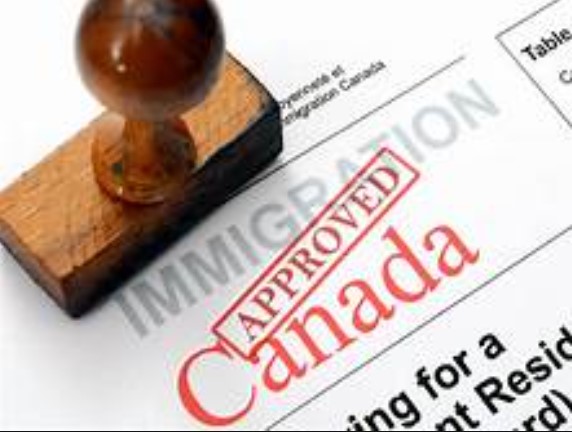 Express Entry (EE)
The Express Entry Draw is a mechanism meant to fulfill Canada's future labor market demands by accepting more qualified and talented individuals from across the world over time. Since its inception in January 2015, Canada has set a target of 195,800 applications through government economic initiatives.
With continued advancements, the Express Entry system is projected to issue even more ITAs in the coming years as Canada's global economic sector expands and thrives. The Canadian government welcomes individuals from all over the world, which contributes to the country's rich cultural variety as it continues to create the world's best immigration system.
How Does Express Entry Work?
The Express Entry procedure consists of a two-step process that begins with uploading your profile and ends with receiving an ITA. To be deemed qualified, your profile must include your language test results, educational qualifications, and a passport or travel document. If you obtain an ITA, you must accept it within 90 days and provide extra documentation, such as reference letters from each former employer, identity papers, medical screening results, and clearance certificates.
You are considered a good candidate for the three distinct Express Entry programs if you have a tertiary education, competent job experience, and moderate fluency in English, French, or both.
Canadian Express Entry Programs
Federal Skilled Worker Program (FSWP)
Federal Skilled Trades Program (FSTW)
Canadian Experience Class (CEC)
To have a successful Canada Express Entry application, you must do all needed to achieve a high score if you want your application to be accepted the first time. If you do not receive a high enough score, you can improve your English and French language abilities and repeat one or both examinations to increase your eligibility.
Furthermore, you may concentrate on acquiring new abilities that are relevant to the sector of employment you are in, which may help you secure a job offer from Canada sooner. These are only two methods for increasing your Comprehensive Ranking System (CRS) score.
Express Entry For Skilled Workers
To be considered qualified for Express Entry as a skilled worker, you must satisfy the following requirements:
Have at least one year of continuous full-time experience in a skilled occupation in the last ten years.
Prove in a language exam that you have attained the minimal score on the Canadian Language Benchmark (CLB), which is 7 in English or French.
Completed a post-secondary education that gets assessed against Canadian standards.
With these minimum requirements, you can apply to Express Entry as an eligible skilled worker.
Although you do not have to meet all of these requirements to receive an ITA, it is in your best interest to meet them as you will stand a much greater chance of getting a Canadian visa to become a permanent resident of Canada.
Express Entry Points Breakdown
You are significantly more likely to receive an ITA if you have a better CRS score. Selection criteria that may help your application stand out from the crowd include:
To be under 30 years old is preferred, but you can be as old as 44 years old and still receive the best outcome.
Have at least one Bachelor's or Master's degree, but two are preferred.
Show a moderate to high level of English or/and French language competence.
Have at least three years of experience as a skilled worker.
Additional factors
The great level of linguistic proficiency or bilingualism in English and French
A Master's or Ph.D. degree
Extensive work or educational experience in Canada
A sibling who is a permanent resident of Canada
Arranged for work with a Canadian firm
Provincial Nominee Program Nomination
For up to 12 months, Express Entry applicant profiles can stay active and rank against other candidates. The greater your score, the better.
Provincial Nominee Program (PNP)
The Provincial Nominee Program, another popular program, is primarily focused on recruiting persons from foreign nations. Because Canada is struggling to keep up with the country's rapid economic growth, the country is in desperate need of skilled workers, which means that if you are qualified or skilled in an in-demand occupational field, you are more likely to be accepted to immigrate to Canada and receive job offers quickly.
Aside from applying for an established position in your area, Canada provides excellent chances for professionals who want to advance in their careers. There are numerous choices to consider with 80 PNP programs to select from, which may be advised by a Regulated Canadian Immigration Consultant (RCIC) to choose the appropriate program for you.
How Does Provincial Nominee Program Work?
The Provincial Nominee Program in Canada operates by nominating immigrants who wish to live and work in the nation with the ultimate goal of immigrating to Canada. To begin the procedure, an applicant must select a province in which they desire to reside. This province will have an impact on the applicant's nomination application and will determine whether or not to accept the candidate based on its labor and immigration requirements..
The 6 Most Popular Provincial Nomination Programs
Alberta Immigrant Nominee Program (AINP)
Ontario Provincial Nominee Program (OINP)
Newfoundland and Labrador Provincial Nominee Program (NL PNP)
British Columbia Provincial Nominee Program (BC PNP)
Manitoba Provincial Nominee Program (MPNP)
New Brunswick Provincial Nominee Program (NW PNP)
People who apply for the Provincial Nominee Program are also eligible to apply for the skilled worker PNP. This necessitates a job offer from a local company, previous work experience in the appropriate province or territory, and the ability to adjust to the province.
Nevertheless, you can apply for the business immigration program, which requires the candidate to propose to start a new business, invest money, or form a joint venture with a local business in the appropriate province.
Duration of the PNP Application Process
The first stage in the PNP application procedure is for a candidate to be accepted by their preferred province. Depending on the province, this stage might take anywhere from two weeks to nine months. Obtaining PNP permission from a province is sometimes known as being "nominated" by a PNP.
Once approved, the next stage is to produce police and medical clearance certificates, as well as security check documents, which can take six to eight months. After completing this stage, the PNP can help a candidate in obtaining a temporary work visa before traveling to Canada.
When applying for permanent residency through a PNP for Canadian immigration, you have two choices, which include the following:
Direct application to a province/ territory
Express Entry-linked process
Once submitted, the direct application process to a province or territory can take 15 to 19 months to receive feedback on whether it has been approved, whereas the Express Entry application process, which includes two pathways, including expression of interest and application through a PNP Express Entry stream, can take six to eight months.
Can I Immigrate to Canada Without a Job Offer?
In general, the easiest method to come to Canada without a work offer is through Express Entry programs such as the Federal Skilled Worker Program (FSWP) and Federal Skilled Trades Program (FSTP). There are two more programs that are less well-known yet might provide the solution to this query. The Post-Graduate Worker Permit and the Family Sponsorship Program are two of them.
What is the Post-Graduate Worker Permit (PGWP)?
The Post-Graduate Worker Program (PGWP) is intended to assist international students who have earned a qualification from a Designated Learning Institute (DLI) in obtaining an open work permit that allows them to work for any company in Canada.
Most international students apply for the PGWP because it allows them to live and work in Canada. The validity of the open work permit is determined by the length of the study program and is limited to three years.
You will have 180 days after receiving your final grades to apply for the PGWP. If your study permission expires before you get your final grades, you have two options:
Apply for a visitor record to extend your stay in Canada, or depart Canada and apply for your PGWP.
If you stay in Canada and let your permit expire, you will have to pay additional costs to regain your status as a student in order to apply for the PGWP. To prevent unnecessary expenditures, it's preferable not to allow that happen.
What Are the Requirements for PGWP?
To qualify for the Post-Graduate Worker Permit you must have:
For at least 8 months, you must have completed a study program (degree, diploma, or certificate) at a DLI.
Been a full-time student in Canada for each semester; and Graduated from a public post-secondary school (college, trade/technical school/university; or
Graduated from a Canadian private school that offers degrees under provincial law) (as long as it leads to a degree as authorized by the province).
If your passport is not valid for the duration of your PGWP, you will only be granted a PGWP that is valid until your passport expires. To extend it, you must apply on paper.
How Do I Immigrate With a Post-Graduate Worker Permit?
With the Post-Graduate Worker Permit, you will be able to obtain valuable Canadian work experience and so qualify for the Canadian Experience Class (CEC). And if you qualify for the CEC, you might be one step closer to becoming a permanent resident of Canada.
The Canadian Experience Class (CEC) was designed to help international graduate students transition from temporary to permanent residence in Canada. For people who indicate an interest in moving to Canada, the application procedure is handled through the Express Entry system.
Applicants must have one year of competent Canadian job experience. Work experience must include:
Work Experience for the CEC must be in a full-time employment or
The equivalent time in a part-time position earned lawfully in Canada, and
Positions classified as level 0, A, or B by the Canadian National Occupational Classification (NOC).
Family Sponsorship
Family sponsorship is a common option for people to immigrate to Canada.
Adult permanent residents or citizens may sponsor a relative or spouse for immigration to Canada under the Family Sponsorship Program.
There are two major benefits to being sponsored by a qualified family member:
You will relocate to Canada as a Canadian permanent resident, and
You may do so even if you do not have a work offer.
Who Is Eligible to Sponsor?
You can sponsor your husband, partner, or dependent child if you meet the following criteria:
Be at least 18 years old.
You are a Canadian citizen, a permanent resident of Canada, or a person who has been registered as an Indian in Canada under the Canadian Indian Act.
If you are a Canadian citizen residing outside of Canada, you must demonstrate that you intend to live to Canada after the people you wish to sponsor become permanent residents.
If you can demonstrate that you are not receiving social assistance for reasons other than disability,
You can provide for the basic requirements of any individuals you choose to sponsor.
The complete application procedure for Family Sponsorship takes around a year, although it might take longer depending on the nation from which you are coming.
What is The Cost of Living in Canada?
When migrating to Canada, it is essential to conduct research on the location in which you will be residing. The cost of living is critical since you don't want to travel around the world only to discover that you aren't enjoying the high quality of life you imagined owing to financial constraints.
The cost of living in Canada varies based on your lifestyle, the city you live in, family size, and a variety of other factors. There are undoubtedly ways to live humbly and affordably.
The table below compares four of Canada's most affordable cities. Please keep in mind that the table displays an estimate rather than the real amount.
Affordable Cities in Canada

Expenses
Thunder Bay, Ontario
Halifax, Nova Scotia
Edmonton, Alberta
Abbotsford, British Columbia
Rent (3 bedrooms)
$1,614
$1,656
$1,505
$1,814
Utilities
$295
$172
$225
$110
Monthly Bus Pass
$71
$83
$98
$56
Groceries
$360
$340
$305
$350
Is Canada a Safe Haven for Immigrants?
Canada is regarded as one of the greatest country to work and live for any immigrant. This belief stems from the fact that Canada respects all people equally, regardless of ethnicity, culture, or religion.
This is especially essential for someone who is attempting to relocate to Canada from another country. Apart from seeking a better life for yourself and your family in terms of education, healthcare, and chances. There is also the desire to feel secure, welcomed, and a part of the community in which you live, which is something Canada is well-known for.
Now that you're aware of the many ways to immigrate to Canada and why it's such a good idea, the next step is to click the link below and obtain plenty of useful tips on working in Canada.
In order not to miss out on prompt updates from careerinfos.com, enter your email address below and hit the subscribe button beneath.
A confirmation link will be sent to your inbox or check your spam mails if its not in your inbox. Make sure you click the link to confirm your subscription in order not to miss any updates from this blog. All comments (related to the post above) should be dropped via the comment section below.