Study MBBS in Ukraine
How To Apply To Study MBBS In Ukraine
Study MBBS in Ukraine: The global competition for MBBS has reached new heights. With such significant hurdles to overcome, other countries have emerged as popular destinations for students pursuing their MBBS. Philippines, Russia, and Ukraine, for example. Is it, worthwhile to pursue an MBBS in Ukraine?
Is the bachelor's degree even valid? What are the requirements for studying in Ukraine, and how does it differ from regular MBBS? Let us dispel any of your reservations about academic, education quality, and the legitimacy of studying MBBS in Ukraine in this post.
Ukraine: A Hub of Medical Universities
Let's learn a little about Ukraine before we get into the study phase. Before becoming a distinct nation, Ukraine was a member of the Soviet Union for a long time. In recent years, Ukraine has emerged as a popular destination for medical study, owing to its lower cost of living than the rest of Europe and its commitment to provide the finest education possible.
With the number of international students applying to study medicine in Ukraine expanding at an exponential rate, a growing number of international students are applying to study MBBS in Ukraine.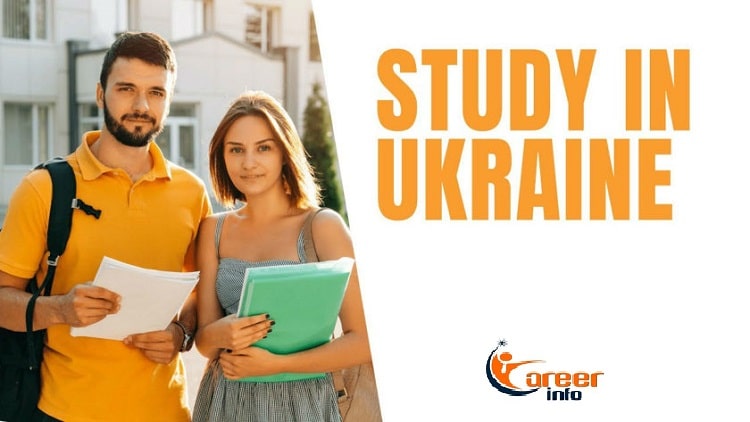 Eligibility Criteria to Study MBBS in Ukraine
Be careful to verify the prerequisites for each and every college because they vary. Most essential, you should be aware of the requirements for studying MBBS in Ukraine in order to determine whether or not you will be accepted. These are only a handful of the requirements for studying medicine in Ukraine:
Requirements To Study MBBS

Category
Minimum Requirement
Age
Must be 17-25 years
English Proficiency Test
Not required
Marks obtained in 12th standard
50% or above in PCB + English (40% for SC/ST/OBC applicants)
NEET Score
Need to qualify NEET
SAT/ACT Scores
Not required
Documents required to study MBBS in Ukraine
The university's application form—completed with accurate information.
12th board certification and a recognized board's mark sheet
Proof of a 50% grade in physics, chemistry, biology, and English is required.
A copy of a global passport with a validity term of at least one year, but preferably two or more years.
A copy of your birth certificate.
Invitation letter and visa support letter pre-paid up to $300
Six passport-sized photos are required.
Top MCI-recognized Universities in Ukraine for MBBS Study
The following are the top medical schools in Ukraine:
Crimea State Medical University
Danylo Halytsky Lviv National Medical University
Crimea State Medical Institute
Gorky's Donetsk State Medical University
Danylo Halytski Lviv State Medical University
Dnipropetrovsk State Medical Academy
Donetsk State Medical University
Kharkiv National Medical University
International Academy of Ecology & Medicine, Kharkivske, Ukraine
Kharkiv National University
Fee Structure of Ukraine Medical Colleges
The following is the cost structure for MBBS courses in Ukraine:
Cost of Studying MBBS in Ukraine

Average tuition fee
3900-4000 USD (per annum)
Average Hostel fee
450-500 USD (per annum)
Total yearly average fees
4500 USD (per annum)
Total course fees
27,000 USD (6 years)
How To Apply To Study MBBS In Ukraine
The admission process is simple and does not need passing an entrance exam (except for NEET). To begin, go to the official website of the university to which you are applying and fill out the online application form.
The admissions process is based on your qualifying requirements as well as the availability of seats.
Related: Top Ten German Universities To Study Medicine
Benefits to study MBBS in Ukraine
There are no entry exams.
In contrast to a number of other nations, you do not need to pass any entrance exams as a medical student in the Ukraine. However, you must pass the NEET test. Certainly, this is one of the reasons why international students come to Ukraine to study MBBS. In order to study MBBS in Ukraine, no admission exams are required, and students can pursue any of the college's associated courses.
Low Tuition Fees
The cost of studying MBBS in Ukraine is quite affordable. Ukrainian medical colleges have cheaper tuition prices than other private medical schools throughout the world, making them more affordable to international students.
Fee waiver Scholarships for Students
The most significant advantage of studying medicine in Ukraine is that one is eligible for 100% fee waiver scholarships. Ukraine, as previously stated, offers inexpensive tuition prices. Following that, a total fee waiver would benefit a large number of students. This is why Ukrainian institutions are attracting an increasing number of international students.
World-wide acceptance of certificates
Ukrainian doctorate certificates are recognized internationally, allowing one to practice medicine anywhere in Ukraine and throughout the world.
Quality Education
Ukraine offers high-quality education at an economical cost. Above all, its high-quality research and beautiful campuses are a good investment.
Scope of MBBS from Ukraine
As previously stated, Ukraine's medical degrees are internationally recognized. As a result, you can practice medicine anywhere in the globe with your medical license.
Because the degree is valid elsewhere in the globe, you must pass the United States Medical Licensing Examination to practice in the United States (USMLE).
Summary
You should consider studying MBBS in Ukraine now that we've debunked the fallacies about credential validity and other career options. Ukraine is quickly rising to become one of the world's top education-based countries, as one of the next centres for medical studies.
Do not let misinformation or a lack of understanding prevent you from taking advantage of such excellent prospects to study abroad. Rather, work toward your goal of becoming a doctor while keeping an eye on your wallet.
In order not to miss out on prompt updates from careerinfos.com, enter your email address below and hit the subscribe button beneath.
A confirmation link will be sent to your inbox or check your spam mails if its not in your inbox. Make sure you click the link to confirm your subscription in order not to miss any updates from this blog. All comments (related to the post above) should be dropped via the comment section below.