Birmingham International Excellence Scholarships
Apply For Birmingham International Excellence Scholarships
Birmingham International Excellence Scholarships in UK is open for application from eligible applicants for the 2022/2023 academic session.
If you want to study in the United Kingdom, this is fantastic news. The Birmingham International Excellence Scholarships application is currently open. In this post, we'll go through the scholarship's value, eligibility, and application procedure in detail.
Birmingham International Excellence Scholarships
The scholarships are available for engineering students pursuing a bachelor's degree. The scholarship is given to outstanding international undergraduate students who seek to study at the School of Engineering.
These scholarships are only for one year and are not renewed.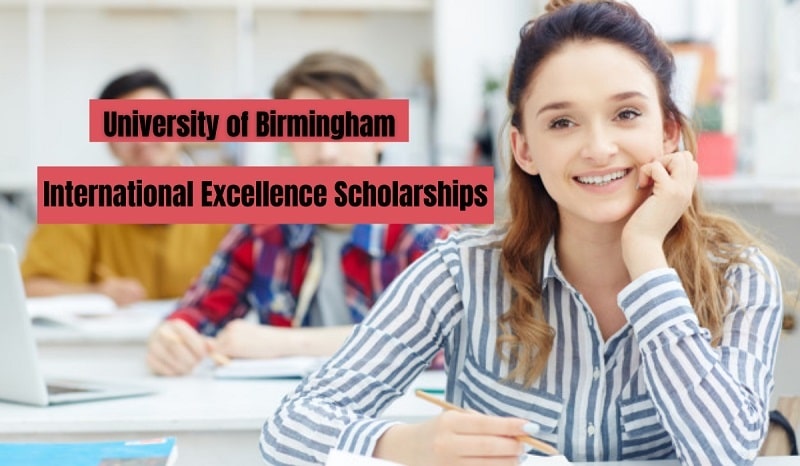 University of Birmingham
The University of Birmingham is a public research university in Birmingham, England. It is located in Edgbaston. The university received its royal charter in 1900 as a successor to Queen's College, Birmingham established in 1825 as the Birmingham School of Medicine and Surgery, and Mason Science College founded in 1875 by Sir Josiah Mason, making it the first English civic or 'red brick' university to receive its own royal charter.
Both the Russell Group of British research universities and the international network of research universities are founding members of the university.
Former British Prime Ministers Neville Chamberlain and Stanley Baldwin, British musician Sir Edward Elgar, and eleven Nobel Laureates are among the university's academics and alumni. The university's main campus is located in Edgbaston, about 3 miles (4.8 km) south of Birmingham city center.
Related: Global Merit Awards At University Of St. Andrews
Worth of Birmingham International Excellence Scholarships
Successful candidates will receive £1,500 towards their tuition costs as part of the Birmingham International Excellence Scholarships. Please be aware that the money will be sent directly to the University of Birmingham on behalf of the prize recipient.
Eligibility Criteria
To be eligible for the scholarship:
Each candidate must be classed as Overseas for fee purposes.
You must have made a program in the School of Engineering of your firm choice
Each candidate must have achieved A*AA/AAAA at A Level in accepted subjects, or equivalent qualifications to be qualified for the scholarship.
You must be in receipt of a fully-funded fees scholarship from an external body.
How to Apply
If you are interested and qualified for the scholarships, visit the University of Birmingham official website for additional information and to apply.
Application Deadline
The application deadline for the scholarship is not stated because the application is always open to non-EU nationals.
You may want to explore other trending UK scholarships
In order not to miss out on prompt updates from careerinfos.com, enter your email address below and hit the subscribe button beneath.
A confirmation link will be sent to your inbox or check your spam mails if its not in your inbox. Make sure you click the link to confirm your subscription in order not to miss any updates from this blog. All comments (related to the post above) should be dropped via the comment section below.