Dundee Entrant Scholarships In UK 2023
Apply For The Dundee Entrant Scholarships To Study In UK
International College Dundee Entrant Scholarships at University of Dundee UK is open for application from eligible applicants for 2023/2024 academic session.
Do you wish to study in the United Kingdom? We are pleased to notify you that the University of Dundee is accepting applications for International College Dundee Entrant Scholarships. In this post, we'll go through the scholarship's value, eligibility, and application procedure in in detail.
Dundee Entrant Scholarships
International College Dundee Entrant Scholarships are available for Master's degree programs in the fields listed below. The University of Dundee is a Scottish public research university located in Dundee. It is a red brick institution that was founded in 1881 as a university college thanks to a contribution from the famous Baxter textile manufacturing family.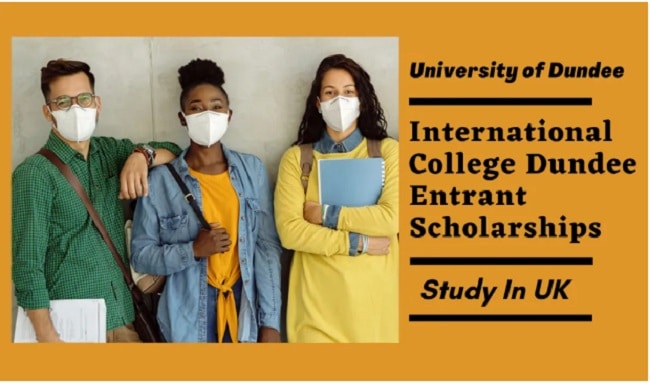 University of Dundee
For the most of its early years, the University of Dundee was an integral institution of the University of St Andrews, with United College and St Mary's College being in St Andrews itself. The University of Dundee was granted autonomous university status by royal charter in 1967 after tremendous development, but maintaining much of its old tradition and governance structure.
Ninewells Hospital, which contains the university's school of medicine; Perth Royal Infirmary, which has a clinical research center; and Kirkcaldy, Fife, which houses part of the university's school of nursing and health sciences.
The University of Dundee was ranked 16th globally and first in the United Kingdom in the 2016 THE's 150 Under 50 Rankings, which include institutions under 50 years old. The university's strongest disciplines, according to the 2018 Times Higher Education World University Rankings by Subject, are Life Sciences, which are ranked equal 55th.
Related: University of Strathclyde Childcare Funding In UK
Worth Of Dundee Entrant Scholarships
Successful candidates of International College Dundee Entrant Scholarships in UK will receive about £4500 per year of study from University of Dundee.
Eligibility for Dundee Entrant Scholarships
Candidates applying for International College Dundee Entrant Scholarships can be either domestic or international students.
You are expected to have an excellent academic record to be eligible for the scholarship.
Each candidate of International College Dundee Entrant Scholarships must be a student studying at University of Dundee a Master's degree in:
Eligible Courses For Dundee Entrant Scholarships
Art and Design
Biomedical Engineering
Medical Imaging
Civil Engineering
Structural Engineering
Education
Business (Accountancy / Economics / Finance / International Business)
Electronic Engineering
Mechanical Engineering
Industrial Engineering
Energy Petroleum
Mineral Law
Law
Nursing
Health Sciences
Social Work
How to Apply
If you are interested and eligible for the International College Dundee Entrant Scholarships, visit the University of Dundee official website for additional information and to apply.
Application Deadline
The deadline for the scholarship is not specified as the scholarship is always open.
You may want to explore other UK Scholarships Options
In order not to miss out on prompt updates from careerinfos.com, enter your email address below and hit the subscribe button beneath.
A confirmation link will be sent to your inbox or check your spam mails if its not in your inbox. Make sure you click the link to confirm your subscription in order not to miss any updates from this blog. All comments (related to the post above) should be dropped via the comment section below.