German Citizenship Test
Sample Question And Answers For German Citizenship Test
There are 33 multiple-choice questions in the German citizenship test. To pass, you must properly answer 17 of the 33 questions. The test questions are based on German laws, customs, society, and way of life.
Every year, a large number of migrants in Germany opt to become citizens. Before you immigrate to Germany, be aware that passing the German citizenship test is one of the requirements for becoming a German citizen. Continue reading to learn more about German Citizen Test.
German Citizenship Test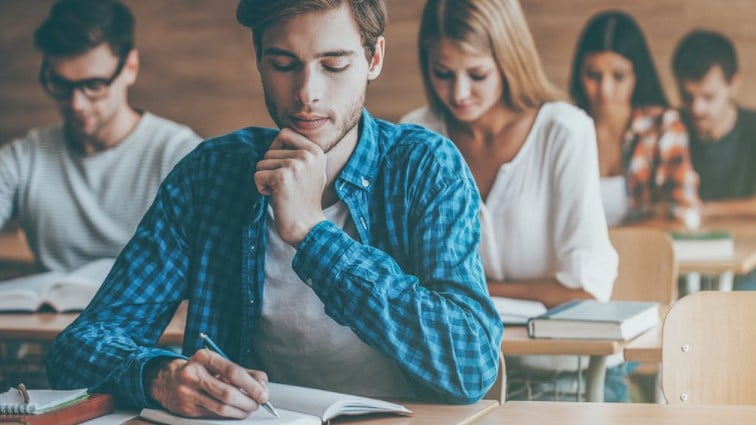 The German citizenship test consists of 33 multiple-choice questions and lasts one hour. The test's questions are on German society, laws, and norms, as well as how to live in Germany. To pass the test, you must properly answer at least 17 questions. Learn how to apply for a German student visa.
People Exempted From German Citizenship Test
Only the following persons are excluded from this test:
Minors or individuals under the age of 16.
Individuals who are unable to take the exam due to illness, disability, or advanced age.
Individuals having a higher education degree in law, politics, or social sciences from a German university.
German Citizenship Test – Sample Questions and Answers
Here's an example of the kinds of questions you could be asked:
Q1. In Germany, parents of a child can decide whether or not their child attends ——— classes in school until his/her 14th birthday.
History
Politics
Religion
Language
Correct Answer: Religious Classes
Q2. Which country shares a border with Germany?
Hungary
Spain
Portugal
Switzerland
Correct Answer: Switzerland
Q3. What is meant by the right to freedom of movement in Germany?
Individuals can choose where they want to live
Residents can convert to another religion
Individuals can switch jobs
Residents can walk around in public
Correct Answer: Individuals can choose where they want to live.
Q4. German citizens can openly criticize the government because
They have the right to vote
Religious freedom
They pay taxes
Freedom of speech
Correct Answer: Freedom of Speech
Q5. The first chancellor of the Federal Republic of Germany was ———
Konrad Adenauer
Helmut Schmidt
Kurt Georg Kiesinger
Willy Brandt
Correct Answer: Konrad Adenauer
Q6. A social market economy refers to an economy that is ———
Based solely on demand and supply.
Based on foreign demand.
Planned and controlled by the state.
Based on demand and supply, but the state maintains a degree of equality.
Correct Answer: Based on demand and supply, but the state maintains a degree of equality.
Q7. What is the German constitution called?
The People's Law
The German Law
The Federal Law
The Basic Law
Correct Answer: The Basic Law
Q8. The Federal Republic of Germany has ———
12 districts.
An East and a West state.
16 federal states.
16 free states.
Correct Answer: 16 Federal States
Q9. The Federal Republic of Germany is one of the founding members of
NATO
The European Union
The United Nations
The Warsaw Pact
Correct Answer: The European Union
Q10. What was German currency known as until 2002?
Deutsche Mark
Deutsches Geld
Reichsmark
Reichsgeld
Correct Answer: Deutsche Mark
Next Step After Passing The German Citizenship Test
The person receives a Naturalization Test Certificate after passing the German citizenship test. A copy of this certificate should be provided to the Naturalization Office where the application was originally submitted. It is noteworthy that the original document should not be sent.
Benefits of Being A German Citizen?
There are a few privileges that are exclusively available to citizens and are not available to permanent residents. These are some of the opportunities:
Right to move freely
The right to consular protection
Right to become a civil servant
The right to vote
Right to apply for any job in Germany
How to Become a German Citizen?
Naturalization, being born on German land, or being born to German citizens are all ways to get German citizenship. To be eligible for naturalization, an applicant must meet the following requirements:
Have spent at least 8 years in Germany with a valid residence permit
Pass a citizenship examination
Have resided in Germany for at least 7 years with a valid German visa/residence permit and completed an integration course
Be able to support himself/herself and his/her family financially
Be competent in German to at least B1 level
Have no felony convictions on your record
Being a law-abiding citizen is essential.
Any previous citizenship must be renounced.
You may want to explore how to get a Germany dependent visa
In order not to miss out on prompt updates from careerinfos.com, enter your email address below and hit the subscribe button beneath.
A confirmation link will be sent to your inbox or check your spam mails if its not in your inbox. Make sure you click the link to confirm your subscription in order not to miss any updates from this blog. All comments (related to the post above) should be dropped via the comment section below.