How To Migrate To Germany
Immigration Paths To Germany
There are several options on how to migrate to Germany. Immigrants can work, study, start a business, or reunite with relatives in Germany. Immigrants account for 12% of the German population. This is so because naturalization is achievable after 8 years of lawful residence in Germany. Continue reading to learn how to migrate to Germany.
Relocating To Germany
Some visitors travel to Germany with the aid of Schengen Visa just to admire the country's beauty, while others come to settle down.
Here are a few things to consider if you're considering relocating to Germany.
When it comes to international migration, Germany is one of the most popular locations on the planet.
Migrants accounted for 12% of Germany's overall population in 2017. This equates to around ten million individuals.
While other nations have been attempting to prevent migrants out, Germany has been marketing itself as being an "immigrant country" in order to combat its low birth rate. You may want to learn about countries with the most immigrants.
Related: How To Get Germany Dependent Visa
Migrate to Germany
People who wish to relocate to Germany will find that the nation has a strong economy, a decent education system, job possibilities, and a comfortable lifestyle – everything you could want in a country to live in.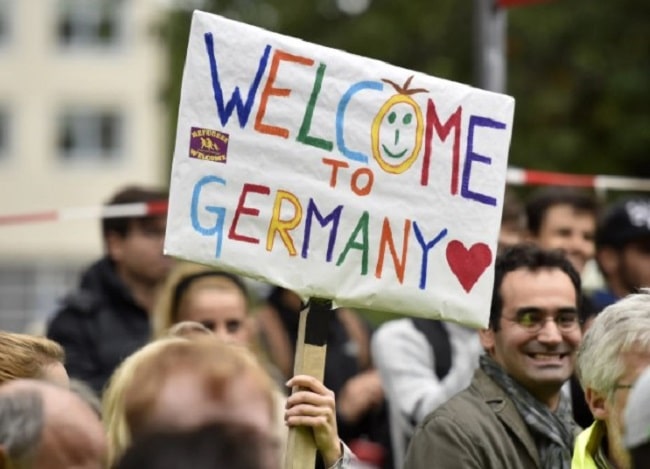 Why Migrate to Germany?
People go to Germany for a variety of reasons. The most prevalent reason is better work prospects. There is a scarcity of qualified persons and competent employees in Germany. Engineers, medical workers, IT experts, and other professions may readily find work in Germany. Germany also encourages entrepreneurship, making it an ideal location for investors and entrepreneurs looking to start their own enterprises.
Another significant motivation for migration to Germany is education. Germany not only has some of the world's best schools, but it also provides free education to its inhabitants. This is especially true in government-supported schools. Tuition may be charged at private colleges and universities, although financial help is often accessible. Most students who come to Germany to study get a job and stay after they earn their degree. Keep reading to learn how to migrate to Germany.
Different Means And The Process Of Migrating To Germany
There are a variety of reasons why individuals move to Germany, and there are a variety of means to do so. The migration procedure is heavily influenced by the reason for the person's decision to relocate to Germany.
1. Migrating for Work
It is not possible to relocate to Germany and then seek for work. To move to Germany as a skilled worker, you must first locate a job that welcomes migrants in Germany. After that, you can apply for a German work visa. You may want to explore German Visa types.
Requirement For A German Work Visa
You'll need the following items to apply for a German work visa:
Two copies of the completed application forms
Valid passport
Letter of intent from the German employer or employment contract
Two color, passport photographs
Proof of residence in the area where you plan on staying
Travel insurance
A visa fee of EUR 60 is payable when applying for this visa. Non-EU citizens will also need to apply for a work permit once they reach Germany.
2. Migrating as an Entrepreneur to Germany
To immigrate to Germany as an entrepreneur, the applicant must have a company concept that satisfies Germany's requirements and benefits the German economy. In addition, the applicants must have documented evidence that they are completely supported by a bank loan or their own funds.
A migrant entrepreneur must make a minimum investment of EUR 1 million. At least ten German nationals must also be employed by the company. Entrepreneurs can apply for a working visa in Germany as well as a work permit for self-employment.
3. Migrating to Study in Germany
In order to pursue higher education in Germany, you will need a German student visa. This visa is usually only valid for three months. If the course term is longer than three months, most students must apply for a residence permit when they arrive in Germany. After finishing the course, the student is allowed to stay in Germany for a set length of time in order to look for work.
Documents Required For German Student Visa
Two copies of the completed visa application form
Valid passport
Admission letter from the University or correspondence from Two recently taken passport photographs
University proving the probability of admission.
Certificates of all levels of education earlier completed
Health Insurance
A visa fee of EUR 60 is payable when applying for this visa.
Proof of means of subsistence
4. Migrating to Reunite with Family
In many cases, just one family member may relocate to Germany at first. A German resident's spouse and children under the age of 16 can petition for immigration to join their family in Germany under current German visa regulations. To be eligible for the German dependent visa, the applicant must show that he or she is married to a German citizen or was born in Germany to German parents.
Children under the age of 16 do not need to be able to communicate in German, while children above the age of 16 must be able to do so. A spouse who wishes to join the rest of their family in Germany must have at least an A1 level of German proficiency. Spouse visas are subject to the same restrictions. This implies that if one spouse obtains a visa allowing them to work in Germany, their partner will be able to do so as well.
5. Naturalization
Any legal immigrant who has resided in Germany for at least 8 years can apply for German citizenship if they satisfy a few basic requirements.
Requirements For Naturalization In Germany
Unless they are unable to work, the person cannot rely on assistance as their primary source of income.
The individual must be able to communicate in B1 level German.
Unless excused due to age, illness, or handicap, the individual must pass a citizenship exam.
The individual must not have been convicted of a crime.
All previous citizenships must be renounced unless:
He or she is a European Union citizen.
The individual must take an oath of allegiance to the German constitution.
He or she possesses a 1951 convention travel document and is a refugee.
The individual is a Swiss Confederation citizen.
He or she is a citizen of a nation where it is exceedingly difficult to renounce citizenship.
He or she has a family connection to the previous citizenship.
For political or economic reasons, he or she cannot relinquish previous citizenship.
Renouncing previous citizenship will result in financial hardship.
After two years of marriage and three years of residence in Germany, a German citizen's spouse or same-sex partner may be naturalized.
You may want to also explore how to become an American citizen
In order not to miss out on prompt updates from careerinfos.com, enter your email address below and hit the subscribe button beneath.
A confirmation link will be sent to your inbox or check your spam mails if its not in your inbox. Make sure you click the link to confirm your subscription in order not to miss any updates from this blog. All comments (related to the post above) should be dropped via the comment section below.