Scholarship in Policy Analysis
Apply For Scholarship in Policy Analysis At Pardee RAND Graduate School
Scholarship in Policy Analysis at Pardee RAND Graduate School USA is open for application for the 2022/2023 academic session.
If you want to study in the United States, this is fantastic news. We are pleased to notify you that the Pardee RAND Graduate School is accepting applications for the Scholarship in Policy Analysis. So, in this essay, we'll go through the scholarship, its value, eligibility, and application procedure in further detail.
Scholarship in Policy Analysis
The scholarship covers full tuition for the first year, partial tuition for the second year, and reduced tuition after that.
Working on RAND projects of the student's choice can also lead to a research fellowship, which pays the remaining tuition and offers a stipend to cover living expenses.
The Policy Analysis Scholarship includes extensive health insurance and other perks, including paid parental leave.
You'll be able to utilize a laptop computer and receive assistance with attending conferences and traveling to other RAND locations.
Each candidate will be given the option of subsidized accommodation in West L.A., which is only a short distance from school.
After admission, the Scholarship in Policy Analysis supports a paid visit to Pardee RAND for a preview weekend in March.
The Policy Analysis Scholarship helps students pay for their tuition while also getting a yearly stipend for living expenses, allowing them to graduate debt-free.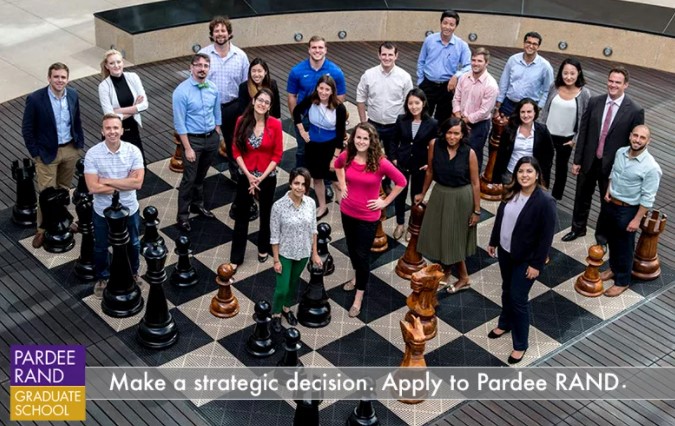 Pardee RAND Graduate School
The Pardee RAND Graduate School is a highly selective, multidisciplinary PhD program focused on policy analysis and how it may influence the world. The university offers a full-time Ph.D. degree in policy analysis, which is the country's first and biggest of its type.
The RAND Corporation, a nonprofit, nonpartisan research organization that helps improve policy and decision-making via research and analysis, supports the school with its intellectual capacity and resources.
The Pardee RAND Graduate School is a private graduate school in Santa Monica, California, linked with the RAND Corporation. The school's campus is shared with the RAND Corporation, and the majority of the faculty comes from RAND's 950 researchers. The 2018–2019 student body consists of 116 men and women from 26 different nations.
The RAND Graduate Institute first opened its doors in 1970. (RGI). Frederick S. Pardee, a former RAND researcher and donor, was honored in 2004 when the institution was given its current name.
In 2013, the Pardee RAND Graduate School announced the Pardee Initiative for Global Human Progress, a global development initiative. In policy analysis, the institution provides a Doctor of Philosophy (Ph.D.) degree. After two years of coursework and partial completion of the Ph.D. requirements, students are given the Master of Philosophy (M.Phil.) degree. The first PhD was conferred in 1974.
Related: International Education Scholarships
Eligibility for Scholarship in Policy Analysis
To be eligible for Scholarship in Policy Analysis;
You must be available to participate in our full-time combined research-and-study program at RAND's headquarters in Santa Monica, California.
Each candidate must have completed a bachelor's degree; an advanced degree and/or some work experience is applicable.
You must display strong quantitative skills, although all majors and disciplines welcome to be eligible for Scholarship in Policy Analysis.
Documents Required for Scholarship in Policy Analysis
You need to complete an online application.
A Resume or Curriculum Vitae.
You also need three essays to understand your reasons to work in the field of policy analysis.
Your test scores on the GRE or GMAT (can be waived); TOEFL or English proficiency test for some international students.
You also need three letters of recommendation and school transcripts.
How to Apply RAND Graduate School
If you are interested in Scholarship in Policy Analysis and you are eligible for the scholarship, visit Pardee RAND Graduate School official website for additional information and to apply.
Application Deadline
The application deadline for the scholarship is January 6, 2022.
You may want to explore other U.S scholarship opportunities.
In order not to miss out on prompt updates from careerinfos.com, enter your email address below and hit the subscribe button beneath.
A confirmation link will be sent to your inbox or check your spam mails if its not in your inbox. Make sure you click the link to confirm your subscription in order not to miss any updates from this blog. All comments (related to the post above) should be dropped via the comment section below.