TOEFL Comprehensive Guide for Test Takers
All You Need To Know About TOEFL
TOEFL Comprehensive Guide for Test Takers is compiled for students who intend to study abroad, in institutions that requires evaluation of their English proficiency.
The TOEFL, or Test of English as a Foreign Language, is a standard test used to assess non-native speakers' English language competence in order to gain admission to English-speaking universities/institutions. Learn more about TOEFL Comprehensive Guide for Test Takers.
TOEFL Comprehensive Guide for Test Takers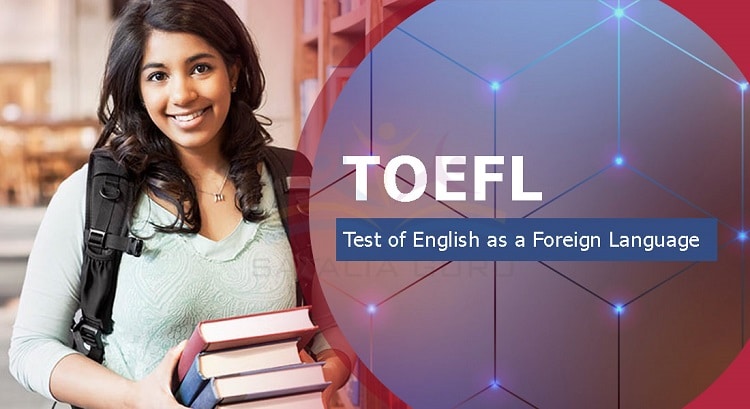 Types of TOEFL Test
There are two varieties of TOEFL exams: TOEFL PBT and TOEFL iBT, as well as alternative TOEFLs such as TOEFL Junior and IPT. Let's look at the two most prominent TOEFL types:
TOEFL PBT: Paper-Based Test
Offline mode is used for the Paper-based Test. It has three sections with a total duration of 2 hours 25 minutes. It is only done in regions where internet access is not accessible. The exam pattern for the TOEFL PBT exam is shown here.
PBT TOEFL Exam Pattern

Section
Question Types
Number of Questions
Duration
Reading
3 Reading Comprehension Passages with ten questions each
30 MCQs
54 minutes
Listening
2 Conversations with three lectures and a total of 28 questions
28 MCQs
41 minutes approximately
Writing
1 Integrated Task and 1 Independent Task
2 Constructed Responses
50 minutes
TOEFL iBT: Internet-Based Test
The Internet-based TOEFL consists of four sections: reading, listening, speaking, and writing, and takes four hours to complete. It is one of the most popular TOEFL exam formats, having taken the role of the computer-based examination, which has been discontinued since 2006. Check out the following features of the iBT TOEFL exam:
iBT TOEFL Exam Pattern

Section
Question Types
Number of Questions
Duration
Reading
3-4 Reading Comprehension Passages
Ten questions/passage
54-72 minutes
Listening
4-6 lectures and 2-3 conversations
6 questions/lecture
41-57 minutes
The speaking topic or academic issue
The candidate needs to speak on a
4 Tasks
17 minutes
Writing after a reading passage and classroom lecture
Given an opinion or provide a logical analysis
2 Tasks
50 minutes
Other Types of TOEFL Exam
Now that you're familiar with the two major type of TOEFL examinations you might take to enroll for a program overseas, you should also be aware of three lesser-known variants. These are the following:
TOEFL Junior Tests
The TOEFL Junior Tests assess middle school pupils aged 11 and above on their English proficiency. It is available in two formats: paper-based and computer-based. This test is divided into four sections: reading comprehension, listening comprehension, speaking, and writing.
TOEFL IPT
IPT is for Institutional Testing Program, and it is widely used in academic settings to test non-native English speakers' English competence.
CBT (Computer Based Test)
This was formerly a popular TOEFL test, but it has since been superseded by the Internet-based Test, and CBT was phased out in 2006. You may want to learn about exams that qualifies you to study abroad
How Should I Register for the TOEFL?
Before you begin, make sure you have the following items:
A debit/credit card, electronic check, PayPal® account, or TOEFL registration voucher are all acceptable methods of payment.
To register for the test, applicants in Mainland China can go to the TOEFL China website.
Learn about all of the fees and payment alternatives available in each location.
An identifying document (ID) that you intend to bring to the test.
The name you give while registering must perfectly match the name on the ID you get at the test center.
You can transmit your scores to up to four different institutions.
Step 1: Create an ETS Account
Log in or download the free TOEFL official app from Google Play or App Store if you already have an ETS account and move on to the next phase.
Fill in the needed personal information on the form of identification you will use to take the TOEFL.
Sign up for the TOEFL Search Service.
Create an account by entering a username and password, reviewing your information, and clicking "Submit."
Step 2: Select a Date and Test Center
Select the "Register/Find Test Centers, Dates" button on your TOEFL Home screen.
Click "Find Test Centers and Dates" after specifying your test date and location.
Choose a test facility and a date for the test. Then select "Show Test Times and Register" from the drop-down menu. When you've found a time that works for you, click the "Register" button.
Step 3: Complete Your Registration
Review the terms and conditions before you register.
You may register at any anytime by visiting this website or downloading the free TOEFL official app from Google Play or the App Store.
The deadline to register is seven days before the test date (not including the test day)
You must pay a US$40 late charge if you register more than two days before the test date.
You must pay a fee of US$60 before the rescheduled deadline, which is two days prior to the test.
The fee depends on the location where you will be taking the test. Following your selection of a testing facility and date, the price will be shown.
TOEFL Registration Payment Methods
Credit/debit cards (American Express®, Discover®, JCB®, MasterCard® or Visa®)
Electronic check (e-check)
PayPal®
TOEFL voucher
NOTE: Please check the ETS website to determine if your region has any payment limitations.
How to Plan for TOEFL
The TOEFL iBT® Home Edition is ideal for those who choose to take their test at home rather than in a testing facility.
Offered everywhere that TOEFL® testing usually is available, based on the country of your account address, with the exception of Mainland China and Iran.
Identical to a test completed at a testing facility in terms of structure, content, and on-screen experience.
ProctorU® allows you to take the test on your own device at home while being watched by an online human proctor.
Available 24 hours a day, four days a week, with appointments starting as soon as the next day after you register.
TOEFL Do's and Don'ts
The following are the Dos and Don'ts for the examination.
Dos
Prior to the Exam
Perform a last equipment check. Before attempting to check in for your test, look for and rectify any problems. You must settle any issues prior to your scheduled appointment.
Close any apps or browsers that aren't required for the exam. This can aid in the prevention of bandwidth concerns.
Make sure that any other internet-connected gadgets in your home are turned off.
Gather all of the items you'll need for your exam. (All other contents are strictly forbidden.)
Passport or other valid form of identification
Note-taking materials are permitted, such as a whiteboard or a plastic transparency sheet that may be erased in front of the proctor.
For check-in, use your cellphone or a hand-held mirror.
Make sure you're dressed suitably and that the proctor can see your ears and face. Wearing jewelry or other accessories is not recommended.
Make sure your testing area complies with all environmental regulations, such as:
The room is calm and well-lit.
There is no clutter on the table or in the surrounding area.
The proctor will be able to see your table and chair because the door to the room is visible.
During the Test
If you experience a technical problem during the exam, speak out and wave to the camera to alert the proctor. (If you lose your internet connection for a brief period of time, you will be instantly reconnected to the proctor once it is restored.) Your proctor will reopen your exam if it is possible. If you are unable to reconnect and communicate with the proctor, please contact ProctorU at +1-855-772-8678.)
Ensure that the proctor can see you at all times. Suspicious actions could invalidate your test.
If you need to contact the proctor during the test, utilize LogMeIn chat to obtain their attention. A proctor's response might take 30–60 seconds.
The blue owl will hop up and down if the proctor tries to talk to you.
Don'ts
At any point throughout the exam, including the 10-minute pause, do not utilize any prohibited materials, such as pre-written notes, mobile devices, or textbooks.
Any screen-sharing or remote-access software (Zoom, SkypeTM, TeamViewerTM, Microsoft TeamsTM, and Apple Remote DesktopTM) must be disabled before the test. Throughout the test, it must be deactivated. During the test, make sure the software does not open automatically.
In your test, there may be references to wearing a headset. Ignore that; the TOEFL iBT Home Edition does not allow headphones.
Don't attempt to communicate with anyone other than the proctor.
Wearing jewelry or other accessories is not recommended.
Following the Listening phase, there will be a 10-minute break during which you may leave your seat. You must be punctual in your return. There are no unscheduled breaks permitted.
You'll be able to check your unofficial results for the Listening and Reading portions when the test is finished. Then you'll be given the choice of canceling or reporting your results.
For illegal access, ETS keeps track of testing locations and device reuse. Score delays and cancellations may occur if shared testing equipment and repeated testing venues are misused. It's possible that this will affect your ability to take future ETS tests.
How to Prepare for the TOEFL Test
Understand the TOEFL Format
Just like IELTS, Unexpected TOEFL problems are not enjoyable. Please acquaint yourself with the TOEFL's core features and scoring structure before taking the test. You'll know what to anticipate on test day if you know how the exam is constructed, and you'll be able to prepare accordingly—and more confidently.
Set a target score
By surpassing this goal, you boost your chances of being accepted to not just one, but all of your institutions!
Allow yourself enough time to prepare
In most cases, three to six months of preparatory time should adequate. However, the actual time periods will vary based on your English proficiency and the amount of time you have to prepare.
Generate a checklist
You only get one chance to listen to audio clips on the TOEFL. Then you'll have to respond to questions, write a paper, or give a presentation on the topic you heard about. Taking confident notes and documenting all pertinent information in real time can aid you in your TOEFL preparation and future studies.
Choose an early test date.
Your TOEFL scores will arrive to your selected colleges on time if you take the test early. Beginning 13 days following your exam, your TOEFL scores are automatically mailed to the institutions you selected at enrollment.
Customize Your Study Routine
This means you'll have more time to practice your abilities and a better chance of doing well on all four TOEFL parts.
Make Use of High-Quality Materials
Official materials are by far the finest available (those created by ETS). Official TOEFL prep books, such as The Official Guide to the TOEFL and Official TOEFL iBT Tests Volumes 1 and 2, are also available. Full-length practice exams and hundreds of practice questions are included in these publications, which typically cost between $15 and $25.
Study with Practice Tests
Practice tests can help you better comprehend the different sorts of questions, the examination setting, and the limits you'll experience on test day.
What are the TOEFL Eligibility Requirements?
To begin, you must realize that the TOEFL (both TOEFL-IBT and TOEFL-PBT) is available to anybody.
You can take this exam to earn your TOEFL score if you are a high school student or are going for a higher degree. The exam assesses your English language ability to work or study in the United States. The TOEFL score is widely recognised by both domestic and international institutions.
What Does It Take To Get A TOEFL Exemption?
Some overseas candidates are not required to submit a TOEFL score by a few universities. The following are some of the sections:
Non-native English speakers having diplomas/degrees from English-speaking post-secondary institutions in Canada, England, the United States, Ireland, New Zealand, and Australia
Non-native speakers who have finished a two-year program in which English was the primary language of teaching
Students who have moved from Canadian or American institutes with well-evaluated academic course work and who fulfill the exam criteria
Non-native English speakers who took the TOEFL during the last two years
If you are a non-native English speaker who has successfully completed academic work in English-speaking schools in an English-speaking country for a period of time, generally two years.
Have you written the TOEFL test previously? Please drop your comments below to aid other readers digest this post on TOEFL Comprehensive Guide for Test Takers
In order not to miss out on prompt updates from careerinfos.com, enter your email address below and hit the subscribe button beneath.
A confirmation link will be sent to your inbox or check your spam mails if its not in your inbox. Make sure you click the link to confirm your subscription in order not to miss any updates from this blog. All comments (related to the post above) should be dropped via the comment section below.