Study Work and Live In Australia
Live In Australia - Concise Guide
The majority of individuals wish to study, work, and live in Australia. As an international student, Australia is a fantastic location to work. You have the option of working while learning. This might be a good way to supplement your income while also getting a flavor of Australian culture. Continue reading to learn more on Study, Work and Live In Australia.
Study, Work and Live In Australia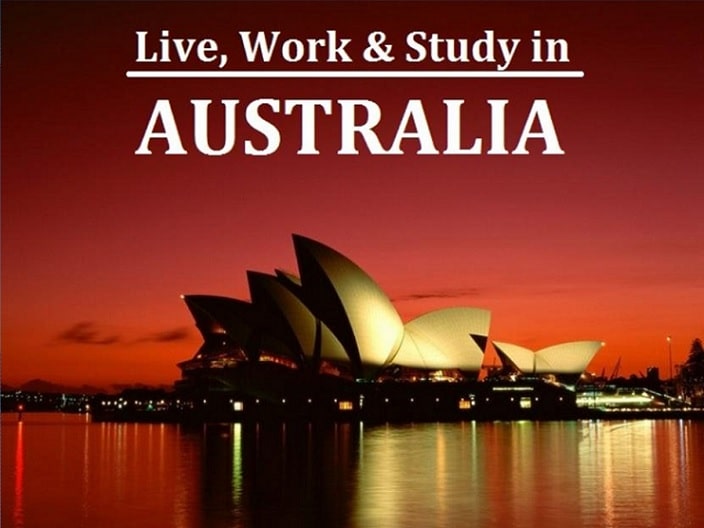 Study In Australia
As a student worker in Australia, you will be supported at every step of the way. Government and corporate organizations, as well as your educational institution, are always willing to help. Scholarships for international students in Australia are also available to help you relax while studying in Australia.
Internships, job experience, and volunteer opportunities are frequently available via your educational institution. Many towns and states also create and operate internship programs or student entrepreneurship initiatives to help you get started with your own business.
Working In Australia
Your working visa documents are the first item you'll need in order to consider a job in Australia. Depending on your position, you can apply for a visiting, student visa, temporary resident, or migration visa. See our page on Australia Visa Types for more information.
Wages In Australia
Graduates may expect to earn roughly $63,000 per year, whereas retail employees can expect to make around $45,000 per year. Managing directors, on the other hand, make between $150,000 and $350,000 each year. Expat American CEOs of major Australian firms make millions of dollars a year (including tens of millions in bonuses in the form of share incentives/options and performance-related bonuses), and executive pay in Australia are rapidly catching up with the rest of the globe.
Working hours In Australia
In Australia, working hours vary depending on your company, your job, and the industry in which you work. In 1981, a nationwide 38-hour work week was established, which has subsequently been lowered to 37 hours.
Many others, however, work longer hours, notably factory workers, who frequently work ten or more hours of overtime each week. (According to a recent poll, about a third of full-time workers work more than 48 hours each week.)
A typical blue-collar working day (without overtime) runs from 7 or 8 a.m. to 3.30 or 4.30 p.m., whereas most offices and stores operate from 8.30 or 9.30 a.m. to 4.30 or 5.30 p.m., with an hour for lunch. Learn about job hunting in Australia.
Ideal Work For International Students In Australia
These industries are good for students because of their flexible hours and abundance of opportunities:
Services – childcare, aged care and cleaning
Hospitality – cafes, bars, restaurants, delivery
Tutoring – home classes, tutorials
Farming and fruit-picking – seasonal work
Administration and clerical work
Retail – including supermarkets, department stores, boutiques
Volunteering Opportunities In Australia
Volunteering and internships can help you gain valuable professional experience.
Students can also volunteer with charities and non-governmental organizations, which is a terrific opportunity to meet new people, obtain practical job experience, and give back to the community.
Visit the following centres to explore volunteer opportunities in each state and territory in Australia:
Volunteering Centres In Australia

Territory/State
Volunteering Centre
New South Wales (NSW)
The Centre for Volunteering NSW
Queensland (QLD)
Volunteering Queensland
South Australia (SA)
Volunteering SA & NT
Tasmania (TAS)
Volunteering Tasmania
Victoria (VIC)
Volunteering Victoria
Australian Capital Territory (Canberra, ACT)
Volunteering and Contact ACT
Western Australia (WA)
Volunteering WA
Northern Territory (NT)
Volunteering SA & NT
Source: Govolunteer
Holiday Work in Australia
International students can apply for a variety of visas that allow them to work while on vacation or studying in Australia. More information about working holiday visas requirement may be found on Australia visa requirement
Working in Australia After You Graduate
If you want to work in Australia after you graduate, you'll need to apply for a new working visa before your current student visa expires. As a recently graduated overseas student, you may be entitled for the following benefits:
If you hold a Bachelor's, Master's, or Doctoral degree, you can apply for the Post-Study Work stream of the Temporary Graduate Visa (subclass 485).
State and territory government nomination for skilled and business migration.
To apply for clearance to stay in Australia as a professional worker by submitting an Expression of Interest through the Australian Government's Skill Select program.
Tax File Number
Your nine-digit tax file number (TFN) is perhaps the most significant number you'll ever obtain in Australia. If you don't have one, you'll be taxed at the highest rate (47%) on all of your earnings (it's that crucial!). There are both personal and business tax file numbers.
Why I Need A Tax File Number In Australia
A TFN is required to;
Claim unemployment and illness benefits,
Make any investments,
Enroll in a fee-free higher education course.
It's necessary when filing your yearly income tax return and
When you start or change employment
How To Apply A Tax File Number
Your local Australian Tax Office can provide you with a TFN application form (ATO).
You must show documentation, such as a birth certificate, driver's license, or passport with a valid visa.
You should get your TFN within two weeks of submitting your application.
The Australian Taxation Office (ATO) has a pamphlet called Applying for Your Tax File Number that details the process.
Visit the Department of Home Affairs to learn more.
Live In Australia
Living in Australia will be a new experience, but there are resources available via your institution and other organizations to assist you in adjusting to life in Australia.
You will have a great time in Australia since it is one of the happiest nations in the world and we have five of the top 30 best cities for students.
Whether you are studying for a few months or a few years in Australia, little research and planning can help you have a safe and pleasant study experience.
In order not to miss out on prompt updates from careerinfos.com, enter your email address below and hit the subscribe button beneath.
A confirmation link will be sent to your inbox or check your spam mails if its not in your inbox. Make sure you click the link to confirm your subscription in order not to miss any updates from this blog. All comments (related to the post above) should be dropped via the comment section below.