Working in Germany
How To Find A Job In Germany
Working in Germany is the desire of most individuals. Germany has the world's fourth largest economy and the largest in Europe. It has one of the lowest unemployment rates in the EU. Unemployment in Germany was recently around 5.8% on average, with several places such as Munich and Berlin having significantly lower rates. Germany is home to a plethora of regionally and internationally famous enterprises, all of which offer numerous work opportunities.
These features, along with low living expenses, bright future possibilities, excellent higher education, and a world-class healthcare system, have made Germany a magnet for foreigners seeking for best paying jobs in Germany.
Working In Germany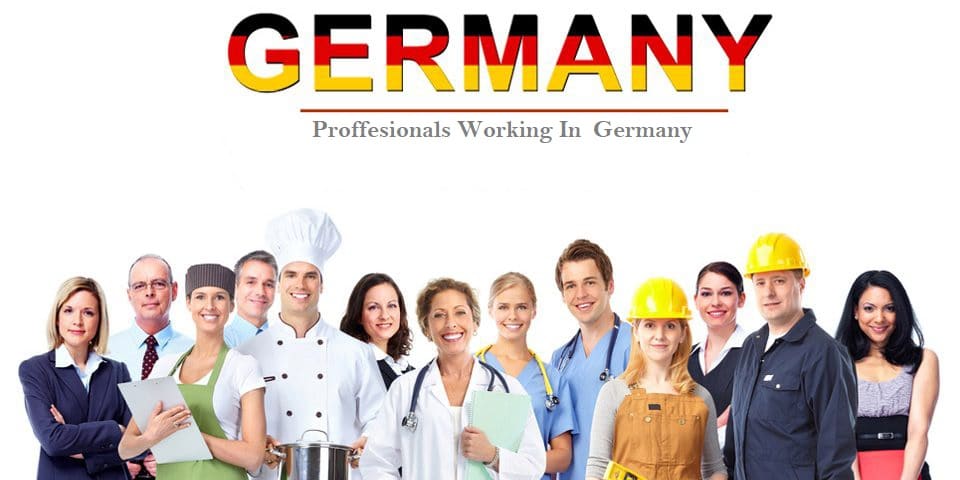 Why Work In Germany?
As a developed country, the demand for educated professionals willing to take on major responsibilities in many areas is greater than ever before. This post is for you if you hold a qualification recognized in Germany and are seeking for a job and a long-term career.
Am I Eligible To Work In Germany As A Foreigner?
Everyone who has been granted a work and residency permit by German authorities is authorized to work in the country. However, various groups of applicants are subject to varied regulations and limitations based on their nationality and special agreements struck between Germany and the relevant country.
Who Are The Eligible Workers In Germany?
There are three types of foreign employees that are eligible to work in Germany:
1. EU and EEA nationals
EU and EEA nationals are covered under the EU's Freedom of Movement Act, which allows them to work and live in Germany without first obtaining a work and residence permit. If you are a citizen of one of these countries, you can enter Germany to look for work by simply presenting a valid ID. However, after you arrive in the nation and settle in a specific location, you must register your residency with the local administration for foreigners.
2. Australians, Israelis, Japanese, Canadians, Koreans, New Zealanders, and Americans
You can enter Germany without a visa and then apply for a work and residence permit if you are a citizen of one of these countries. You may acquire your residence and work permit as soon as you immigrate to Germany by contacting a local office for foreigners. It's important to note that even if you've found work, you won't be able to start working until you've obtained your work and residence permits.
3. Non-EU nationals
You must apply for a visa to work in Germany if you are from a nation outside of the EU. Because short-stay visas cannot be converted to resident visas, we recommend that you double-check the correct German visa type for the purpose of your visit to Germany. After receiving your visa and arriving in Germany, you must contact the appropriate authorities to get your work and residence permits. Authorities will need you to produce proof that you are employed by a local firm in Germany when applying for a work and residence visa.
Working hours in Germany
Employees in Germany work an average of five days per week, or approximately 38 hours each week.
Saturdays and Sundays are typically off days, although your contract may dictate otherwise. Working hours in Germany are flexible, and employees are permitted to work up to 48 hours a week under current labor laws.
Types of Residence Permits In Germany
According to the Immigration Act, commonly known as the Resident Act, you will be entitled to one of the following residence titles based on the purpose of your stay to Germany.
Visa pursuant,
Temporary residence permit,
Settlement permit,
EU long-term residence permit
Working In Germany As A Foreign Academic
In general, highly qualified immigrants have a higher employment rate in Germany. You must first have your qualifications recognized in Germany before you may work as a foreign academic in Germany. You can apply for an EU Blue Card once your qualifications have been translated into the German qualification framework.
Prospects for International Students In Germany
International students are legally allowed to look for work in Germany following graduation. If you're one of these students, we recommend contacting the Foreigners' National Authority and ask about how to obtain a work visa. This type of permission will allow you to stay in Germany for up to 18 months in order to look for work. If you are able to locate one in your industry and are offered a valid contract, you will be eligible for an EU Blue Card. You may want to explore tips on getting a job in Germany.
Working Opportunities For Non-EU Graduates
You can still acquire a job and a residence permit in Germany if you hold a qualification from another country. However, your qualifications must first be evaluated using the German qualification system. If your academic qualifications are deemed equivalent to those necessary in Germany, you are entitled to apply for a work and residence visa.
If your credentials are not recognized in Germany, you may be required to attend short-term training to prepare for the job market. With a short-term residence permit, you can stay in Germany for this period of time.
What Professionals Are In-demand In Germany?
Health care practitioners, engineers, and IT specialists are among the most in-demand occupations in Germany.
Working Demography in Germany
In terms of demographics, Germany is becoming older. A significant part of the population is elderly and unable to work. In the medical industry, Germany is witnessing an exponential deficit, which is expected to persist for many years. However, this elderly population need ongoing medical care, which can only be provided by competent personnel. As a result, skilled medical experts are in high demand in Germany, and career possibilities in this field are plentiful.
How To Find A Job In Germany
We had arrived at the most crucial stage of working in Germany as a foreigner. Now that you've learned about all of the necessary processes and stages for working in Germany, you might be wondering how to get work in Germany.
Fortunately, completing this assignment is not difficult. In addition to a large number of job openings in Germany, you will also find a wealth of useful tools to assist you in your job search.
Working In Germany – Top Job Sites
Here are some helpful sites to help you with your job search.
Federal Employment Agency
European Employment Service (EURES)
Local Job Portals
Job Requirements and Application process
It's time to start applying for jobs in Germany now that you've discovered one. The following documents are require;
Education qualifications
CV
Cover Letter
Language Skills
Computer Skills
Relevant Additional Skills
The application can be submitted online or by the mail. If you're going to upload them online, you'll need to scan them in PDF or JPG format first. It's worth noting that certain employers may ask you to submit a job application in person. Additionally, certain firms may invite you to an interview. Learn how to prepare for a perfect job interview.
In order not to miss out on prompt updates from careerinfos.com, enter your email address below and hit the subscribe button beneath.
A confirmation link will be sent to your inbox or check your spam mails if its not in your inbox. Make sure you click the link to confirm your subscription in order not to miss any updates from this blog. All comments (related to the post above) should be dropped via the comment section below.