Highest Paying IT Jobs in Canada
Highest Paying IT Jobs in Canada is a top searched item by both residents and immigrants. The IT industry, which is ranked as one of the most in-demand in Canada, is the ideal location for experts to work, and this is unlikely to alter anytime soon. One of the reasons Canada has such a high need for IT experts is because, while there are local Canadian citizens who graduate, the US seeks them out. Of course, this creates a significant vacuum in the market for qualified immigrants to fill. Some freelance job websites also provide opportunities for IT enthusiast.
IT jobs in Canada, being one of the most in-demand sectors, provide some of the most competitive wages and are also expanding to attract qualified people to work in Canada.
In-Demand IT Jobs in Canada
Despite the fact that many young Canadians are moving to the United States to start a new life in pursuit of better pastures, Canada's IT sector continues to thrive. Combine the strong need for talented IT workers with the very quick Express Entry procedure, and you might be a permanent resident, living and working in a beautiful, progressive, and multicultural nation in as little as four to six months. You can also view useful tips on how to get a job in Canada
Highest Paid IT Positions in Canada

Role
Average Salary
Developer/ Programmer
$110,000
Senior Software Engineer
$100,000
IT Project Manager
$91,985
Network Administrator
$75,000
IT Business Analyst
$70,817
Quality Assurance Analyst
$65,000
Data Analyst
$60,145
Technical Support Specialist
$52,500
What Top IT Companies in Canada Are Currently Hiring?
While searching for highest paying IT jobs in Canada, it's noteworthy that the firm for which you work is important since it directly translates into how much money you can earn. If you work for Canada's number one IT firm, you will most likely be paid far more than if you worked for Canada's 20th most popular IT company. Aside from the firm for which you work, where you work will also suggest how much money you may earn every year. Because many foreigners desire to work and come to Canada to enhance their career, prospects, and general financial position in order to improve their quality of life, the firm you end up working for is quite essential.
According to some of the country's local employees, the top 10 IT companies to work for provide some of the highest paid employment in Canada. In no particular order, the top ten IT firms are listed below:
| | |
| --- | --- |
| Top IT Firms In Canada | Attributes |
| Apple | Best known for high end gadgets (Iphones, Macbooks etc) |
| SAP | One of the big players in enterprise softwares that caters for payroll solutions etc. |
| Microsoft | Known for it's remarkable windows programme and softwares. |
| Ubisoft | A big player in the gaming industry. |
| EA | Also a major player in the gaming industry. |
| Ceridian | A major payroll solution provider |
| PointClickCare | A cloud-based healthcare software provider |
| Telus | Wireless network provider |
| Shopify | An e-commerce giant. |
| Fortinet | A cybersecurity firm |
Top IT Firms In Canada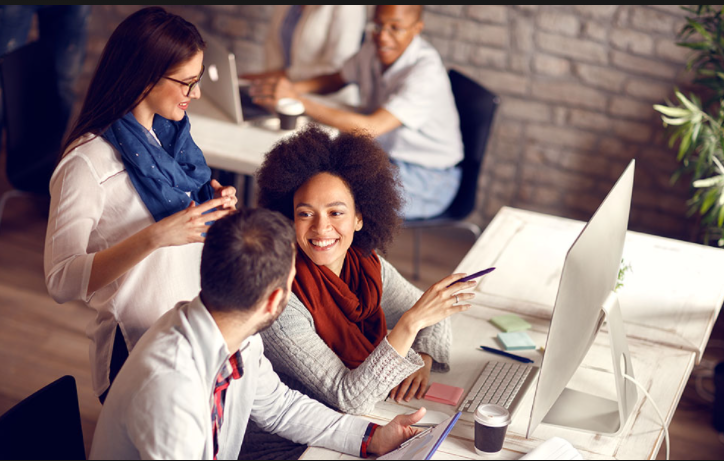 Apple – This well-known company need no introduction. It is a fantastic firm to work for that has a great culture yet sets a high standard for its hiring procedure. Apple's headquarters are in Ontario, however there are Apple shops all throughout the country.
SAP – A German-based multinational software business that competes with Microsoft in Canada. It has a 91 percent acceptance rating among employees. The firm has eight offices across the country, including British Columbia, Alberta, Quebec, and Ontario. In addition, there are SAP training facilities and learning institutes in Ontario.
Microsoft – A favourable work atmosphere, with 85% of workers stating that they are satisfied with the firm. The company is also one of the world's most inventive technology businesses, providing IT workers with numerous possibilities and some of the top incomes in the sector. Microsoft has four offices in Canada, one in Saskatchewan, one in Quebec, and two in Ontario.
Ubisoft – Known as one of the gaming industry's legends, with 74% of workers suggesting working at Ubisoft to their friends and family. Ubisoft has five offices in Canada, including Manitoba, Ontario, and Quebec.
EA – Like Ubisoft, EA is a gaming firm best recognized for its video games. Working at EA provides a fantastic work/life balance by presenting a demanding and competitive workplace. EA has 39 offices worldwide, including one in British Columbia.
Ceridian – A worldwide leader, Ceridian employs over 2,000 people in Canada and is continually evolving as a tech titan. The firm is a payroll solutions provider that provides several chances for IT experts who are in charge of developing, maintaining, and upgrading these solutions. The company has offices in Newfoundland and Labrador, Quebec, and Ontario, among other places. The firm provides one of the highest paying IT jobs in Canada
PointClickCare – Has an employee approval rate of 80% as a Cloud-based healthcare software supplier. The firm has six sites in Canada and the United States, including two offices in Toronto and Prince Edward Island.
Telus – Another well-known firm, Telus is a wireless network provider that provides a dynamic work atmosphere with plenty of potential for advancement. The firm has offices throughout Canada, including Quebec, Ontario, Manitoba, and Saskatchewan.
Shopify – With 17 offices globally, Shopify is an e-commerce behemoth and a formidable force. The firm has an approval rating of 80% among its employees. Their offices are in both Quebec and Ontario.
Fortinet – As an IT services business that has been in operation since 2000, Fortinet has achieved significant advances in terms of employee approval, breaking into the top ten IT companies to work for in Canada. Their headquarters are in Quebec.
If you are an intending immigrant, you might want to get an overview of how to get accredited to work in Canada.
In order not to miss out on prompt updates from careerinfos.com, enter your email address below and hit the subscribe button beneath.
A confirmation link will be sent to your inbox or check your spam mails if its not in your inbox. Make sure you click the link to confirm your subscription in order not to miss any updates from this blog. All comments (related to the post above) should be dropped via the comment section below.