Work in Canada As A Real Estate Agent 2023
Relocate To Canada As A Real Estate Agent
For individuals with an aptitude for selling and a passion for beautiful properties, working as a real estate agent in Canada is a dream come true. Have you worked in the real estate sector before and are seeking for a change of pace? If that's the case, you might wish to seek for work in Canada as a real estate agent.
Well over 95 percent of real estate brokers operate in the rental and leasing industry, with anything from 200 to 50,900 agents working across Canada's provinces and territories. Do you want to introduce your sales expertise to Canada? Take a look at the top five provinces in Canada with fantastic career prospects and how to get there.
Work in Canada As A Real Estate Agent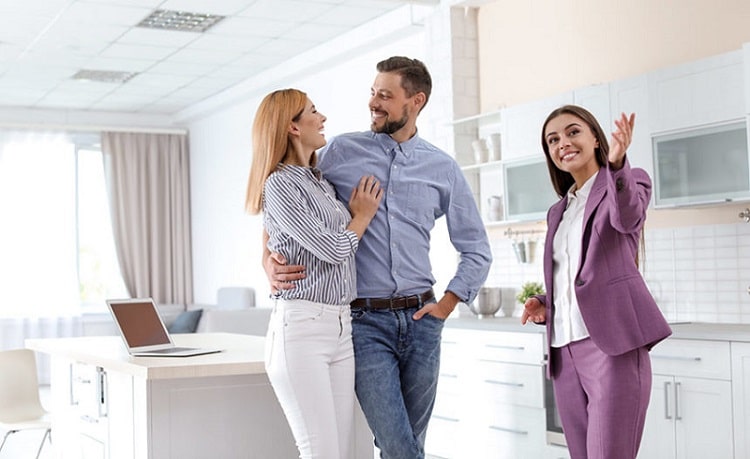 Where to Find Work in Canada as Real Estate Agent
1. British Columbia
Real estate agents are on the list of in-demand vocations in five Canadian provinces, including British Columbia. Working as a real estate agent in British Columbia, Canada, might make you about $90,000 per year! In British Columbia, around 20,000 individuals work as real estate agents, with more than 95% of them working in renting and leasing. According to Job Bank Canada, job prospects are excellent in the following BC regions:
BC Regions With High Prospects For Real Estate Agents
Cariboo Region
Kootenay Region
Lower Mainland-Southwest Region
Nechako Region
North Coast Region
Northeast Region
Thompson-Okanagan Region
Vancouver Island and Coast Region
2. Manitoba
Another province that is searching for competent and experienced real estate sales agents is Manitoba. In Winnipeg, Manitoba, you can expect to earn roughly $71,371 if you work in Manitoba. In the province, roughly 1,850 individuals work in this field, with renting and leasing accounting for nearly all of them. The following Manitoba regions have good career prospects:
Manitoba Regions With High Prospects For Real Estate Agents
Interlake Region
North Central Region
North Region
Parklands Region
South Central Region
Southeast Region
3. Ontario
Ontarian real estate brokers earn an average of $75,000 a year and have high job prospects in the province's following regions:
Ontorio Regions With High Prospects For Real Estate Agents
Hamilton-Niagara Peninsula Region
Kingston-Pembroke Region
Kitchener-Waterloo-Barrie Region
London Region
Muskoka-Kawarthas Region
Northeast Region
Northwest Region
4. Prince Edward Island
If you want to live on the seaside, Prince Edward Island (PEI) might be the perfect area for you to hunt for real estate agent jobs in Canada.
In Prince Edward Island, the average yearly pay for agents is $95,164. In general, there are plenty of career opportunities throughout the province.
5. Yukon
Although Yukon may not be on everyone's list of Canadian destinations, it is an excellent opportunity for real estate brokers and salespeople. Working in Yukon, you may make roughly $75,409 per year. Keep reading to learn more about work in Canada as a real estate agent
Work Permit & Immigration Options for Real Estate Agents
Express Entry – Federal Skilled Worker Program
Real estate agents can apply to work in Canada through the Federal Skilled Worker Program as highly skilled workers (FSWP). To be eligible for this program, you must first complete the pre-qualification requirements. Before receiving their Comprehensive Ranking System (CRS) Score, FSWP candidates must score at least 67 out of a potential 100 points.
The CRS is a system used by the government to rank possible permanent residence candidates based on five key criteria:
Ability to settle in Canada.
Age
Education
Language ability
Skill & work experience; and
Your Express Entry profile will be submitted into a draw pool with other applicants after you get your CRS score. Those who score the highest on the profile will be sent an invitation to apply (ITA) for permanent residency in Canada. And if your CRS score falls short, you have an infinite number of opportunities to improve your CRS score and increase your chances of being invited to apply for permanent residency in Canada.
The Provincial Nominee Program
There are 11 Provincial Nominee Programs (PNPs) in Canada through which you may apply for permanent residency; however, five of them have designated real estate brokers as an in-demand vocation. What does this imply for you personally? As an experienced agent with a work offer in Canada, you may be able to enter the country through one of the following PNPs:
If you really want to work on the shore, you may apply for permanent residency on Prince Edward Island through the Atlantic Immigration Pilot (AIP), which has the same six-month processing timeframe as the Express Entry system.
Start-up Visa Program
In Canada, between 21 and 48 percent of real estate brokers and salespeople are self-employed. As a result, if you want to work alone, you have the option to do so. However, you'll need to have a broker's license. However, in order to establish your own realtor firm, you must apply for a Canadian visa under the Start-up Visa Program.
Requirements for a Start-up Visa
There are a number of conditions that must be satisfied, including:
Have a letter of support from a designated organization;
Play an active role in the running of your business;
Possess at least 10% voting rights;
Have more than 50% attached to outstanding shares (with the designated organization);
Must be residing in Canada;
Have enough settlement money to support yourself and your family.
Meet the minimum Canadian Language Benchmark (CLB) level 5;
Canadian Work Permit Options
If you don't qualify for any of the aforementioned programs or are searching for a more temporary employment to determine if Canada is the right fit for you, you might apply for a temporary work permit in Canada.
If you have a job offer, you must apply for an employer-specific work permit, which will allow you to work in Canada for the duration of your employment offer. You'll also be limited to working for the company that gave you the job. If you decide to hunt for a new employment in Canada, you will need to apply for a new work permit.
Explanatory Video On Becoming A Real Estate Agent In Canada
FAQS On How To Get Job As A Real Estate Agent
How much does a real estate agent make in Canada?
You might make anything between $24,746 to $134,783 per year, depending on the province or territory you live in. Of course, your experience and the province in where you work will play a role.
Can a foreigner become a real estate agent in Canada?
Yes. Foreigners can work for a company or operate independently in Canada by obtaining a broker's license in the province or territory where they plan to work.
Is real estate in Canada in high demand?
Yes. Real estate brokers are in high demand in at least five Canadian provinces. British Columbia, Manitoba, Ontario, Prince Edward Island, and Yukon are the five provinces and territories.
Do you need a real estate license in Canada to sell houses?
Yes. To legally act as a real estate agent in Canada, you must first get provincial or territorial license.
In Canada, how long does it take to obtain a real estate license?
To obtain your realtor license, you must first complete a pre-registration phase before applying for one. You must finish your courses in six to twelve months and get a 70% or higher in your exams.
Are you ready to relocate to Canada?
If you wish to work as a real estate agent in Canada, the possibilities are endless. You can seek for permanent residency, work as a contractor for a corporation, or create your own real estate company. It's all up to you. All you have to do now is obtain a provincial or territory driver's license and you're ready to go! Learn more about how to get a job in Canada.
In order not to miss out on prompt updates from careerinfos.com, enter your email address below and hit the subscribe button beneath.
A confirmation link will be sent to your inbox or check your spam mails if its not in your inbox. Make sure you click the link to confirm your subscription in order not to miss any updates from this blog. All comments (related to the post above) should be dropped via the comment section below.