How To Immigrate To Yukon
Yukon Provincial Nomination Program
How to immigrate to Yukon is mostly surfed by intending immigrants. In most cases, prospective immigrants search for information on how to immigrate to Yukon, eligibility criteria, work in Canada etc. Immigrants who wish to immigrate to Yukon can do so through the Yukon Provincial Nominee Program (Yukon PNP).
About Yukon Province
Yukon is well-known for its mineral richness, limited population, and vast stretches of untouched wilderness. Whitehorse, Yukon's capital city, is home to more than two-thirds of the entire population. Almost one-third of the population is of indigenous descent. The remainder of the population is composed of European descendants or people of mixed aboriginal and immigrant ancestry.
Why immigrate to Yukon?
Because Yukon is so sparsely inhabited, there are several chances for skilled and semi-skilled immigrants to make it home. You may want to explore highest paying trade jobs in Canada or best provinces to apply for social works jobs in Canada.
How To Immigrate To Yukon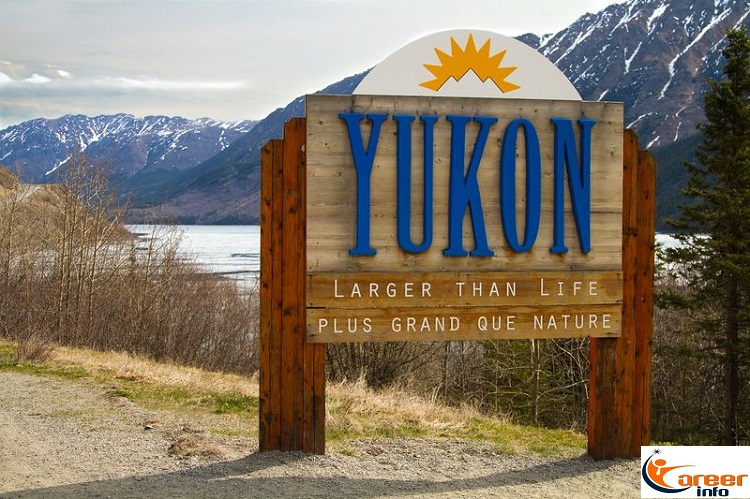 Yukon Provincial Nomination Program
The Yukon Provincial Nominee Program is the major immigration program. Yukon PNP offers many categories in which an individual may be eligible for immigration.
The Yukon Provincial Nomination Program is divided into five streams:
Yukon PNP Categories
Business Nominee Program
Skilled Worker Program
Critical Impact Worker Program
Express Entry
Yukon Community Pilot
Business Nominee Program
If you want to start your own firm as a foreign entrepreneur in Yukon, the Business Nominee Program is ideal for you. However, you must first ensure that both you and your planned firm fulfill a lengthy list of standards.
Eligibility Criteria For The Business Nominee Program
If you want to apply for this stream, you must meet all of the personal qualifying conditions listed below.
Obtain a minimum of 65 points on the evaluation grid;
Have a high school diploma or the equivalent in Canada;
If your line of work necessitates further education, you must have it as well.
Have at least three years of experience in company management or entrepreneurship;
Posses at least five years of experience in your field;
Not be a refugee or applicant of refugee status in Canada;
The Canadian government must never have refused you immigrant status.
Posses no active applications for any other immigration programs or streams;
Have a minimum net worth of CAN$500,000, as well as a letter from a Yukon-based accounting company stating that you obtained the money legally.
Intend to reside, live, and operate your company in Yukon on a permanent basis.
Hold a job in your company that is classified as NOC 0 or A;
Have not yet purchased or started a new business at the time of your application; and
Show your desire to spend at least CAN$300,000 in your firm over the next two years in a business plan.
Skilled Worker Program and the Critical Impact Worker Program
You should apply for the Skilled Worker stream if you have a job offer for a position in the National Occupational Classification (NOC) A, 0 or B categories.
Eligibility Requirement For The Skilled Worker Program
To immigrate under this category, you must:
Have a valid student visa or a Temporary Work Permit (TWP) granted by the relevant authorities if you are already in Canada.
Not be a tourist or someone claiming refugee status.
Have a job offer from a Yukon business that satisfies all of the nomination conditions;
Demonstrate job experience or education that qualifies you for the role.
Be able to provide verification of educational qualifications in accordance with the program's criteria. If you graduated from a school outside of Canada, you will need to get an Education Credential Assessment (ECA) to demonstrate this.
Meet the linguistic requirements for your position's responsibilities. You may find additional information about this criterion in the province's Application Handbook.
Eligibility Requirement For the Critical Impact Worker Stream
In addition to the qualifications listed above, if you are applying under the Critical Impact Worker category, you must:
Have worked for the same employer offering the permanent employment on a valid work visa for at least six months prior to the application,
Achieve a minimum score of 55 points on the Yukon Nominee Program Pre-Assessment points grid; and
Have a minimum of 55 points on the Yukon Nominee Program Pre-Assessment points grid.
Yukon Community Pilot
Working in an occupation for at least 30 hours per week is one of the conditions for becoming a permanent resident under the YPNP. The Yukon Community Pilot permits applicants who have received a provincial nomination from the Yukon government to work two or three jobs at the same time in order to satisfy that criterion. The employment must be for continuous (non-seasonal) labour in one of the participating sectors.
Participating Communities of the Yukon Community Pilot Stream
Whitehorse
Dawson City
Watson Lake
Carmacks
Haines Junction
Carcross
Express Entry
Eligible applicants who want to enter the federal Express Entry pool but want to live and work in Yukon can apply through the Yukon Express Entry stream (YEE).
The stream allows the province to nominate people who are already in Immigration, Refugees, and Citizenship Canada's (IRCC) Express Entry pool to assist them in effectively settling and integrating into Yukon's labor market and communities.
Eligibility Criteria For Express Entry Stream (YEE)
To immigrate under this category, you must:
Comply with the conditions of one of three federal economic immigration schemes;
Have completed the online Express Entry application will provide you with a profile number and, if appropriate, a Job Seeker Validation Code.
Posses enough money to sustain themselves and any accompanying family members when they arrive in Canada;
Have a legitimate employment offer for permanent, full-time work from a Yukon firm.
Why Immigrate to Canada through the YPN Program?
The Yukon Provincial Nominee Program (YPN) is a fantastic method to start a new life and work in Canada because it is one of the simplest provinces to come to in Canada. Yukon province is a popular location for potential immigrants since it has more employment possibilities. You may want to explore other Canada Provincial Nomination Programs.
In order not to miss out on prompt updates from careerinfos.com, enter your email address below and hit the subscribe button beneath.
A confirmation link will be sent to your inbox or check your spam mails if its not in your inbox. Make sure you click the link to confirm your subscription in order not to miss any updates from this blog. All comments (related to the post above) should be dropped via the comment section below.