How to Apply for a Canadian Visa from Ghana
How to Apply for a Canadian Visa from Ghana is a reoccurring topic among young Ghanaians. In recent years, most Ghanaians have been concerned about how to apply for a Canadian visa from Ghana. This article describes how to apply for a Canadian visa from Ghana, as well as the most frequent immigration and visa programs for Ghanaians.
Canadian Visa/Permit
A Canadian visa or permit enables you to visit the nation to work, study, visit, immigrate, or establish a company. Every year, hundreds, if not thousands, of Ghanaians apply for Canadian visas in order to pursue better professions, education, and quality of life in Canada. The great news is that Canada is now accepting over one million immigrants via a range of immigration and visa programs. You might want to know how to immigrate from Ghana to Canada#
Top Reasons You Should Apply for a Canadian Visa from Ghana
Obtain Excellent Healthcare at No Cost
In Canada, your family's health will always come first. If you migrate to Canada from Ghana, you will be provided with all medically required treatment at no cost. This includes surgery, childbirth, and doctor visits, among other things. Canada boasts one of the world's greatest public healthcare systems, as well as some of the best medical personnel.
Job Opportunities
Ghana's economy, like most African nations, has struggled to produce enough jobs for its population, particularly its youth. Canada, on the other hand, is dealing with the inverse situation. It has more than enough employment and enterprises; it just doesn't have enough individuals to fill open positions due to an aging population and underpopulated rural areas. You might want to access top job search sites in Canada.
Appreciate Equality in a Multicultural Country
You will never face prejudice or homophobia in Canada because you are free to express yourself. Canada takes pride in being one of the most cosmopolitan countries in the world, and it is home to a large and thriving Ghanaian ex-pat population.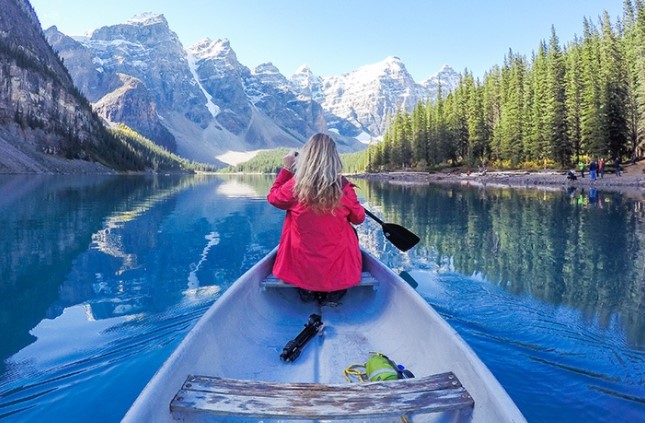 How to Apply for a Canadian Visa from Ghana
Step 1: Determine the Canadian visa or program you are eligible for.
First and foremost, you must determine the visa type you are eligible for before applying for a Canadian visa from Ghana. This is a critical stage that serves as the basis for your trip to Canada. Not everyone is eligible for all sorts of visas, and many applications are turned down.
Ghanaian candidates who are successful, employ the professional services of Regulated Canadian Immigration Consultants (RCICs) to assist them in determining the best-suited visa type based on their needs and aspirations.
Popular Types of Canadian Visas
Express Entry
Ghanian applicants can apply for a permanent residency visa through the Express Entry immigration system, which can process skilled worker applications in as little as six months. Since you do not need Canadian job experience to be eligible for Express Entry, you can apply immediately from Ghana. However, you must have either a professional, management, trade, or technical job experience. You might want to explore easiest ways to relocate to Canada.
Student Permit
Every year, thousands of students from all around the world attend Canadian institutions and colleges. They not only gain internationally recognized qualifications, but they also have a few interesting alternatives following graduation. Graduates can apply for Post-Graduate Work Permits to begin their careers anywhere in Canada. Certain students with appropriate degrees, such as medical graduates, can apply for permanent resident visas through Provincial Nomination Programs in the province where they studied.
Work Permit
A work permit is required if you wish to work in Canada. Because many Canadian immigration categories require you to work in Canada for a specific length of time before applying for permanent residency, this is the most common visa category.
Top Canadian Immigration Pilots Programme
Atlantic Immigration Pilot
Agri-Food Pilot
Saskatchewan Truck Driver Pilot
Caregiver Pilot
Step 2: Gather Supporting Documentation
Once you've decided on the best Canadian visa type for you, you'll need to gather supporting documentation for your application. Here is a list of possible supporting papers. Please keep in mind that depending on your visa type, various papers may be required.
Canadian Visa Supporting Documents
Resume/CV
IELTS/TEF Language Test Results
Valid Passport
2 Passport Size Photos
Proof of Valid Job Offer (if applicable)
Proof of Funds (Bank Statements)
Family/Dependants Information
LMIA Document (if applicable)
Education Credential Assessment (if applicable)
Letter of Acceptance (Student Visa)
Step 3. Apply for Your Canadian Visa from Ghana
It is now time for one of the most essential stage in your Canadian adventure; in addition to picking the suitable visa type, you must apply to the appropriate agency (provincial or federal) with all of your supporting papers and a properly filed application. Your application might be refused due to a minor mistake.
After applying for your visa or immigration program, you will be told if your application was successful, and you will be able to pack your belongings for a new life in Canada. You might want to know how to get accredited to work in Canada and how to immigrate to Canada from Ghana.
In order not to miss out on prompt updates from careerinfos.com, enter your email address below and hit the subscribe button beneath.
A confirmation link will be sent to your inbox or check your spam mails if its not in your inbox. Make sure you click the link to confirm your subscription in order not to miss any updates from this blog. All comments (related to the post above) should be dropped via the comment section below.