How to Immigrate to New Brunswick
New Brunswick Provincial Nominee Program (NBPNP)
.How to immigrate to New Brunswick is now easier than you know. You may improve your chances of learning everything you need to know about how to immigrate to New Brunswick by studying more about how to migrate to Canada.
New Brunswick stands itself as the only Canadian province having official languages in both English and French. As a cosmopolitan province, it has a lot to offer immigrants, besides a friendly community of different Canadians.
How to Immigrate to New Brunswick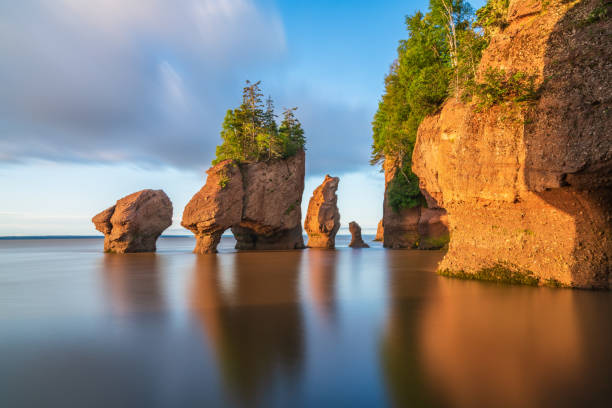 New Brunswick's Best Immigration Programs
To be eligible for a Canadian visa to immigrate to New Brunswick as a foreign citizen, you must first understand the New Brunswick Provincial Nominee Program (NBPNP).
New Brunswick Provincial Nominee Program (NBPNP)
This Provincial Nominee Program was created to address New Brunswick's labor market needs. Jobs are made accessible based on the needs of the province, and there is an increased need for people in specialized sectors with specific qualifications.
How Do I Apply For The Provincial Nominee Program In New Brunswick?
You must have the following to submit a successful application to New Brunswick:
Satisfy the qualifying conditions.
You must have a genuine job offer from the province.
Have a desire to live and work in the province
New Brunswick Provincial Nomination Streams
NBPNPS Immigration Streams
Express Entry Labour Market Stream
Post-Graduate Entrepreneurial Stream
Skilled Workers with Employer Support Stream
Entrepreneurial Stream
Express Entry Labour Market Stream
A program designed for candidates who want to apply for a Provincial Nomination. This is possible through the Express Entry Mechanism's Expression of Interest system.
Post-Graduate Entrepreneurial Stream
Assuming you hold a diploma from a recognized New Brunswick institute and have acquired or launched a business in the province, this Canadian immigration scheme may be ideal for you.
Skilled Workers with Employer Support Stream
The program is intended for anyone who has a permanent and full-time employment offer from a New Brunswick firm.
Entrepreneurial Stream
An immigration pathway for applicants with the appropriate abilities and purpose to operate a business in New Brunswick. The Canadian government encourages these sorts of initiatives because they demonstrate that an applicant is committed to actively contributing to the growth of the province in which they choose to live as well as the Canadian economy.
What is an alternative option to immigrate to New Brunswick?
Aside from the New Brunswick immigration stream program, the Atlantic Immigration Pilot Program is also a viable alternative for New Brunswick immigrants.
Why Should I Immigrate To New Brunswick?
Because New Brunswick is growing, the province requires more qualified workers than ever before, especially with new firms entering the market on a regular basis.
As an aspiring immigrant, you can get permanent residency in New Brunswick if you have the necessary education and job experience. This is due to the fact that each Canadian province need applicants in a variety of professions. You may want to explore top job search sites in Canada.
While immigration may be a complicated procedure with many criteria, demonstrating your desire to contribute to the Canadian economy increases your chances of having your Canadian visa application approved.
You may receive a stamp of approval from the Canadian government just by presenting the appropriate credentials, which include skillset in your field of specialization, simply because you are likely to find a job in Canada.
In order not to miss out on prompt updates from careerinfos.com, enter your email address below and hit the subscribe button beneath.
A confirmation link will be sent to your inbox or check your spam mails if its not in your inbox. Make sure you click the link to confirm your subscription in order not to miss any updates from this blog. All comments (related to the post above) should be dropped via the comment section below.