Nigeria Youth Investment Fund NYIF 2023
Completing NYIF Online Application Form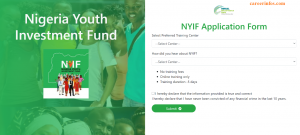 Nigeria Youth Investment Fund (NYIF)
I want to share with you quickly how to apply online for the Nigeria Youth Investment Fund 2023.
If you want to apply for the 2023 NYIF, you can get started on the Nigeria Youth Investment Fund Portal through https:/nyif.nmfb.com.ng.
About NYIF Initiative
The Nigerian Youth Investment Fund (NYIF) was set up as an initiative of the Federal Ministry of Youth and Sports Development (FMYSD) and funded by the Central Bank of Nigeria (CBN) to invest in youth ideas to build sustainable businesses that can activate enterprise and increase job opportunities in Nigeria.
Like most SMEs loans, the fund is dedicated to investing in the innovative ideas, skills & talents of Nigerian youths aimed at turning them into entrepreneurs, wealth creators and employers of labour, contributing to national development.
Requirements For The NYIF Initiative
Individuals / Non-registered Businesses
Applicants must be Nigeria citizen
Individual within the age bracket of 18 to 35 years
Has a valid BVN and means of ID
Provision of Business plan Summary or Completed Questionnaire
Entrepreneurship Training Certification from FMYSD Entrepreneurship Development Institutes (EDIs)
Registered Businesses
Formal business enterprises (Youth owned enterprises), duly registered with the Corporate Affairs Commission (CAC)
Business plan Summary or Completed Questionnaire
Valid Bank Verification Number (BVNs) of Directors
Provision of Tax Identification Number (TIN)
Entrepreneurship Training Certification from FMYSD EDIs.
NYIF Online Application Form
The following are key steps to adhere to:
Get Trained – Applicants to attend a compulsory entrepreneurship training with an approved Federal Ministry of Youth & Sports Development (FMYSD) EDIs
Apply For Loan – Successfully trained prospective applicants proceed to NIRSAL Microfinance Bank (NMFB) portal to apply for the loan.
Submit An Application – Eligible applicants should submit applications successfully on NMFB's portal.
Approval – NMFB conducts loan assessment in line with Risk Assessment Criteria and programme guideline, make appropriate decision and forward recommended applications to CBN for final approval.
Disbursement – CBN reviews applications and gives final approval for disbursement to NMFB.
Applying For The NYIF – Completing The Nigeria Youth Investment Fund Online Form
Once the Nigeria Youth Investment Fund (NYIF) portal connection above is opened in your web browser, click the "APPLY NOW" button to start the NYIF application process.
The first page of the NYIF application portal needs you to fill in the following:
First name, first name
Middle Name
Surname
BVN
Recommended: Best Freelance Job Websites
After filling in the above info, click NEXT
If the BVN given is right, your date of birth will be pre-filled automatically on the next page. So, you are just going to be asked to enter your:
E-mail address
Telephone number
Gender
Residential Address
State
LGA
Apply For Federal Mortgage Loan
Once you've finished providing the above details, click NEXT
On the third tab, you will need to pick the following from the drop-down list:
Geo-Political Zone;
State of Origin;
LGA;
Educational degree.
Click the NEXT button when you are done.
The last tab will prompt you to pick your preferred training center, how you learned about the Nigeria Youth Investment Fund before proceeding with the submission of the Nigeria Youth Investment Fund application form.
Go to site Nigeria Youth Investment Fund NYIF
Apply For The Graduate Entrepreneurship Fund Loan
In order not to miss out on prompt updates from careerinfos.com, enter your email address below and hit the subscribe button beneath.
A confirmation link will be sent to your inbox or check your spam mails if its not in your inbox. Make sure you click the link to confirm your subscription in order not to miss any updates from this blog. All comments (related to the post above) should be dropped via the comment section below.