Statement of Purpose for Masters
How to Write An Outstanding SOP
This post contains processes on how to write a statement of purpose for masters application as well as a detailed sample of a masters SOP. Please read on to learn more on how to write a statement of purpose for masters
Statement of Purpose For Masters
When requested to submit a statement of purpose, you must explain why you choose a certain course to the admissions committee. In addition, a top-notch SOP should include the following:
Education background, career aspirations, academic achievement, professional experience, etc.
The statement of purpose is primarily focused on your academic/professional skills and is all about what you want to achieve in your career.
Personal Statement
A personal statement is a piece of writing in which a candidate must discuss their personality as well as their academic background. You are advertising yourself in a personal statement by demonstrating why you are the best candidate for your chosen course.
In summary, a personal statement should include information about yourself, your aims and ideals, your motivations, the reasons for your chosen course, and its significance in the larger world.
Statement of Purpose Vs Personal Statement
Students who want to study abroad are sometimes perplexed by the terms "statement of purpose" (SOP) and "personal statement." Many people believe that these terms have the same meaning, but is this true?
Well, you'll find out as you go through this article.
When you dig deeper, you'll notice that the two terms are not at all interchangeable. A statement of purpose, also known as a statement of intent, is one of the most crucial prerequisites for applying to any foreign institution to study for a master's degree.
After you've grasped the differences between a SOP and a personal statement, the important commonalities between the two remain in demonstrating that you're the best candidate for admission.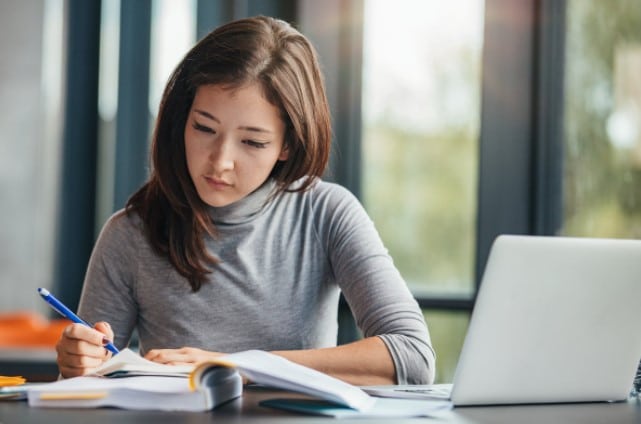 Things To Note Before Writing A Statement of Purpose
A flawless result is not guaranteed by having a thorough knowledge of a statement of purpose. Writing a statement of purpose is a time-consuming process. Make sure you allow adequate time for the process, which might take up to 6-8 weeks in some situations. As a result, before you begin writing your statement of purpose, do the following preparatory work:
#1 Research your university and program properly.
Pay special attention to any mission statements on the school's website. Take some time to learn about your department and the faculty members' research specialities.
#2 Examine how and why you'd be a good fit for the university and program.
It isn't enough to wish to go to a certain institution only on the basis of its reputation. You should continuously consider how and why you might fit in as a student while learning about the institution, its staff, and your program of interest. These will be useful when you write your SOP.
#3 Create a list of any school-specific criteria for your statement of purpose.
This differs from one school to another. So, if the standards and rules are clearly defined, pay close attention to them. If you're not sure what the school wants from your statement of purpose, ask an authorized person at the school for clarification.
Related: Exams To Study Abroad
Tips For Writing An Impressive SOP
When writing a SOP for a Masters program, keep the course you're applying for in mind. Here are some crucial things to think about:
#1 Adhere to the points that the admissions committee is looking for:
In the process of writing to impress the committee, you may become overwhelmed and carried away. That is a sensation I completely understand. Your SOP, on the other hand, should be brief, describing your research interests, future plans, and any other information that may aid the admissions committee in determining why you choose their institution.
#2 Stay Genuine and Unique
Be sincere, original, and real in your writing. Readers, not to mention authorities who have become specialists after reading hundreds of applications each academic session, may detect a lack of genuineness. This makes spotting errors and insincerity at a glance a breeze for them. As a result, making your writing stand out will provide you an advantage.
#3 Create a captivating first paragraph:
The first paragraph is always crucial in any piece of writing. It decides whether a reader will continue reading or abandon the book. As a result, begin with an engaging introduction to assist you catch the attention of admissions authorities. The most effective technique to create an introduction is to tell a tale. Write about an occurrence or event that motivated you to follow the course you've chosen.
#4 Mention Your Objectives:
Introduce your career ambitions and explain how the specific program will assist you in achieving your career goal after you've shared your motivation for taking the course. Make sure your goals are relevant to the program you're applying to.
#5 Error Free
Furthermore, your statement of purpose should be devoid of spelling and grammatical errors, avoid clichés and repetitive language, avoid too casual language, have a positive and confident tone, and be no more than 1½ pages long.
Related: Masters Degree To Study Abroad
Structure of a Master's Statement of Purpose
A statement of purpose, like any other piece of writing, should include at least 4 and no more than 5 paragraphs.
First paragraph:
The first paragraph is the introduction, and it is your job to establish a good first impression on your reader. Aren't we all aware of the adage regarding first impressions? I'm sure you do. You should begin by simply introducing yourself and explaining why you are thrilled to apply to this program. You must also explain to readers what you want to achieve with your chosen program in a clear and simple manner. Whatever the case, the authorities must know what you plan to achieve if you are allowed.
Second paragraph:
You explain why you're pursuing the stated aim in this section. The institution wants to hear why you are interested in furthering your studies. Use this paragraph to strongly show your commitment to achieving your objectives, regardless of your field.
Third paragraph:
This is where you discuss your academic achievements. Some colleges may not require this on your application, but those that do want you to show that you have a strong grasp of the discipline before accepting you.
Fourth paragraph:
Here's why this is the ideal program for you, as well as how the department's aims coincide with yours. To impress the admissions staff, some candidates utilize this place to creatively exhibit their knowledge of the school and department. You can intelligently discuss the achievements of alumni you admire.
Fifth paragraph:
This is the SOP's conclusion and summary. This paragraph allows you to go over all of the major points once more before neatly concluding the argument. While it's vital to reiterate the most significant components of your objectives, this section should be kept brief because it includes no new information. The idea is to be as brief as possible.
How To Format Your SOP For Masters
Your SOP can be written in a variety of ways. The overall framework for a statement of purpose for masters, on the other hand, is comparable to that of any other piece of academic writing. The majority of postgraduate applications are submitted electronically to the institution. Consider the following options if this is the case:
1-inch margins on all sides
12 point Times New Roman font
5 line spacing
This format will make it simpler to read your work. Unfortunately, you are unlikely to receive additional points for your overall aesthetic layout.
Related: Career Choices And Subject Required
A Sample Of Statement of Purpose
A Statement of Purpose for Masters in Architecture may be found below:
I was 15 when I first noticed my cousin making lovely sketches on a sketch pad. He would cuss and bemoan the outcome on occasion. I asked him why he behaved the way he did a couple times, and he always explained. Then I believed I had a good grasp on what it all meant.
Years later, as I stood beside the sick bed, I saw why he had thrown away certain paintings. My friend had suffered a series of burns as a result of a home fire. If the apartment hadn't been poorly laid out, he might have been able to flee.
I was encouraged to commit to a future in architecture while I wandered around the room in agony. At the time, I had utopian notions of developing grandiose structures that would transform a city.
When I was helping at ABC Homes, a women's shelter, in my second year of college, I had a tremendous breakthrough. The shelter was located in a poorly ventilated structure with a broken air conditioning system. A little park with big trees nearby provided some solace for the individuals who stayed.
I peeked out the window one afternoon while working the afternoon shift there at the height of summer to see bulldozers in the park. It was being demolished to make way for yet another structure. A year later, I saw the finished structure. Witnessing this injustice, while learning about how climatology, materials technology, and engineering mechanics interface with urban planning and architectural design on a daily basis, sparked my interest in sustainable design.
How can we, as architects, ensure that we cause the least amount of harm to communities and ecosystems? What eco-friendly alternatives can architects provide to handle the environmental changes of the twenty-first century?
How can we design buildings to be energy and resource efficient in the long run without losing immediate economic viability? These inquiries bothered me at the time. Fortunately, I've been looking for solutions to these concerns throughout my academic career.
Some of these problems were answered by the extensive program I studied at XYC College of Architecture in New York. As my interest in sustainable building grew, I became increasingly concerned about architecture's social and anthropological influence.
Cutting-edge design methodologies and their application to sustainable design piqued my curiosity. I attended the New Era Architectural conference in xyz city during my junior year of college. In fact, it was during this conference that I met Professor R.K.O, a renowned architect and emeritus professor at XYZ University's Architecture Department.
One of the most illuminating experiences of my life was having a long conversation with him. He exposed me to the works of many top architects who are making a meaningful contribution to environmentally sustainable urban planning, and we talked about our common enthusiasm for ecologically efficient and socially harmonious architectural solutions.
One of my primary motivations for applying to your M.Arch program is the opportunity to learn from and work directly with him. His cutting-edge design theories hold a lot of promise for environmentally friendly building. I'd want to learn from him and interact with him in order to further my interest in these subjects. I'm also quite interested in the breadth of study provided by your broad curriculum, which focuses on both the newest architectural advances and socio-economic changes in the field.
I believe I am an ideal candidate for your master's program because of my excellent academic background in both the technical and socio-economic elements of architecture, as well as my dedicated desire for future sustainable architectural solutions. This education is just what I require to move forward in my career. Eventually, I want to focus on low-cost, sustainable urban development for socioeconomically deprived areas.
Conclusion
A declaration of purpose is not the same as a personal statement, as this post has shown. It is, nevertheless, a piece of writing that every student who wishes to study abroad must submit. The goal is to learn why you chose to study in the nation, why you choose the program, and what you plan to achieve with it in the future. The university wants to make sure you're the best candidate for admission, therefore you must persuade them through your writing.
You may want to explore postgraduate scholarship opportunities
In order not to miss out on prompt updates from careerinfos.com, enter your email address below and hit the subscribe button beneath.
A confirmation link will be sent to your inbox or check your spam mails if its not in your inbox. Make sure you click the link to confirm your subscription in order not to miss any updates from this blog. All comments (related to the post above) should be dropped via the comment section below.