TVET Colleges: Courses and Requirements 2023
Enrolling At A TVET College
TVET Colleges also known as 'Technical and Vocational Education and Training was approved at the World Congress on TVET in 1999 in Seoul, Republic of Korea .
The congress agreed that the acronym TVET should be broad enough to include other terms such as Workforce Education (WE), Technical-Vocational Education (TVE), FET, and others that had previously been used to designate similar educational and training activities.
TVET Colleges
The term TVET is in line with other types of education and training e.g. Vocational Education but is also used as an umbrella term to encompass education and training activities.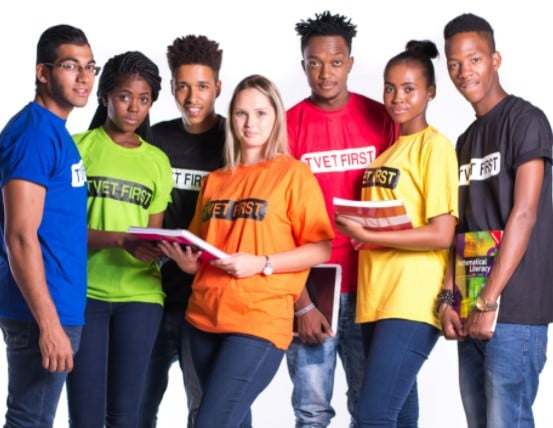 Aims and Purposes of TVET
Technical and Vocational Education and Training (TVET) serves multiple purposes.
Youth Employment Preparation
This is a major goal of TVET. This takes the shape of mastering fundamental information and scientific ideas as well as acquiring and developing work-related abilities. Work is a wide term that encompasses both conventional work and self-employment. TVET programs frequently contain entrepreneurial training to encourage self-employment. Linked to this is the social reproduction and transformation of occupational and vocational practices.
Providing employees with vocational training
The next is to provide workers with ongoing vocational training. Workers used to be guaranteed a job for life, with full-time employment, defined occupational duties, and well-defined career routes. This isn't the case anymore. Rapid developments in technology and related styles of employment characterize the knowledge-based global economy. Workers are frequently deemed redundant and unemployed.
Youth Professional Development
Continuing professional development is a related role. Rapid technological development necessitates people updating their knowledge and abilities on a regular basis. Unlike in the past, when a job might be retained for a lifetime, it is now usual to change careers several times. In two ways, TVET allows us this flexibility. One is to provide broad technical knowledge and transversal abilities that may be used to a variety of vocations.
Assisting People With Birth Disabilities
At the same time, TVET helps people to overcome difficulties resulting from their birth circumstances or earlier educational experiences. From a development standpoint, TVET promotes economic growth by boosting worker productivity. The benefits of increased output far outweigh the expenses of training, resulting in economic development.
Advancing Socio-Economic Progress
TVET, like any other kind of education, aids socioeconomic development by increasing individuals' capacity to embrace socially beneficial behaviours. TVET, like all other forms of education, aspires to build a broad variety of human capabilities that define an educated person. As a result, providing a broad basis of knowledge aims to promote critical-creative thinking. TVET also attempts to improve skills in effective communication and interpersonal relationships.
Also See: FirstRand Oxford African Studies Scholarship
How To Enroll In A TVET College
After reading a little about TVET colleges, many people may want to attend for one reason or another, but are unsure if they are eligible to do so. As a result, this post offers information about the prerequisites for admission into TVET colleges, which are listed below.
Admission Requirements To TVET College
Below are what are required of prospective students for Admission
The minimum requirement proposed by the Department of Higher Education for admission is Grade 11.
Applicants should have no criminal record
Not younger than 17 years
Must be a South African citizen
Must have no visible tattoos
Other qualification specific requirements must be met e.g. SETA requirements
Required Documents For Admission Into TVET Colleges
However, all students will be required to submit the following
A certificate of Good Conduct, from their previous institutions of learning or place of work
Certified copy of last school report original must be presented on application
8 certified copies of ID (where a student is 16 years or older) original must be presented on application
Parents or guardians must accompany the Applicant in order to verify the correctness of personal details being given, in the case where students are a minor or where the parent or guardian is providing the financial support.
Other Required Documents
Students will be chosen based on their likely capacity to finish the course based on their highest qualifications and other relevant attributes.
Transfer students from another TVET college must provide the following documents:
A letter to confirm that they have been de-registered at the previous institution
A Certified copy of Identity Document
A report of their academic history on a College letterhead, including Internal Continuous
Assessment (ICASS) and Integrated Summative Assessment (ISAT) results
The student's Portfolios of Evidence for all subjects from the previous institution, if transferring during an academic year.
Competency Tests – NCV
Signed application form by the Student
Correct parent/guardian details must be provided and verified at the time of registration.
Competency Test For TVET Program
The goal of the competence exam is to guarantee that the student is put in the most appropriate program for him or her. The student must take a competence exam to evaluate his or her ability in English, which is the College's language of teaching. The National Department of Education and Training requires competency exams as a condition of admission, and it is critical that they be administered in the best interests of students and the College.
Completion of competency examinations is also required in the following subjects:
Mathematical Literacy
Vocational subjects, in specialised fields
Students who are not successful in the competency test will be directed towards other study options.
List Of Courses At TVET Colleges
It's one thing to meet the requirements for admission to TVET institutions; it's quite another to determine which programme to apply for. TVET colleges provide students with a diverse selection of vocational courses that prepare them for a variety of jobs.
At TVET colleges, there are four basic categories of qualifications available:
National Certificate Vocational qualifications
Report 191 Programmes,
The National Introductory Certificate (N4) and National Certificates (N4).
Also See: Courses At Oxbridge Academy
1. National Certificate Vocational (NCV) Programmes
National Certificate Vocational (NCV) programs normally start after grade 9 and last three years, taking you from a NQF level 2 (grade 9) to a NQF level 4 qualification. This is the same level as a regular matriculation, which means you may apply to most technical universities and certain university courses.
The following NCV qualifications are offered by TVET colleges:
NCV Qualifications – TVET
Electrical Infrastructure Construction
Civil Engineering and Building Construction
Education and Development
Engineering and Related Design
Drawing Office Practice
Hospitality
Tourism
Information Technology and Computer Science
Management
Office Administration
Finance, Economics and Accounting
Marketing
Mechatronics
Primary Agriculture
Primary Health
Process Instrumentation
Safety in Society
Process Plant Operations
2. Report 191 Programmes
These engineering-focused programs prepare you for a variety of engineering vocations or a national diploma in engineering studies. These courses are not equivalent to degrees given by South African universities, but they do qualify you to pursue a national diploma in engineering and then a BTech degree in engineering. The following are the 191 Report programs that may be studied:
TVET – Report 191 Programes

National Certificates:
N1: Engineering Studies
N2: Engineering Studies
N3: Engineering Studies
Multi-Disciplinary Drawing Office Practice
Non-national Certificates:
Engineering Certificate of Competency
Installation Rules
Specialised Electrical Installation Codes
3. National Introductory Certificates and National Certificates
After completing either an NC(V) or a Report 191 qualification, you can pursue National Introductory Certificates and National Certificates. National Introductory Certificates are frequently used to qualify you for a National Certificate without having to repeat some of your post-secondary education.
TVET colleges in South Africa offer the following National Introductory Certificates:
National Introductory Certificates – TVET
N4: Art and Design
N4: Business Studies
N4: Clothing Production
N4: Educare
N4: Food Services
Related: Nursing Colleges In Johannesburg
The following National Certificates are offered by TVET colleges in South Africa:
National Certificates – TVET
N4: Art and Design
N4: Business Management
N4:Financial Management
N4: Clothing Production
N4: Educare
N4: Engineering Studies
N4: Farming Management
N4: Fertilizer Manufacturing
N4: Management Assistant
N4: Hair Care
N4: Hospitality and Catering Services
N4: Human Resource Management
N4: Interior Decorating
N4: Legal Secretary
N4: Marketing Management
N4: Medical Secretary
N4: Popular Music: Composition
N4: Popular Music: Studio Work
N4: Public Management
N4: Popular Music: Performance
N4: Textiles
N4: Tourism
N4: Public Relations
Related: List of TVET Colleges In South Africa
What Are The Benefits Of Going To A TVET College?
TVET colleges provide a diverse range of credentials.
You will be able to study for a career path that is suitable for you and your lifestyle.
The government subsidizes 80 percent of tuition expenses at public TVET colleges for all programs.
In comparison to other kinds of collegiate and post-secondary education, attending a TVET institution is exceptionally cost effective.
TVET colleges are a wonderful alternative for someone who isn't sure if university education is right for them and would rather get certified in a certain subject in order to accomplish a specific career.
Also Read: Lucrative Jobs For School Dropouts
In order not to miss out on prompt updates from careerinfos.com, enter your email address below and hit the subscribe button beneath.
A confirmation link will be sent to your inbox or check your spam mails if its not in your inbox. Make sure you click the link to confirm your subscription in order not to miss any updates from this blog. All comments (related to the post above) should be dropped via the comment section below.