Jobs for School Dropouts 2023
Searching For Lucrative Jobs For Dropouts
Jobs for School Dropouts seem to to be in abundance for dropouts who really want to make a difference by being gainfully employed.
Spite of strong rivalry for a higher education, there are still others who are not fortunate enough to continue their studies and will most likely drop out.
One would believe that such people have little chance of a good future since they lack a credential that would allow them to find suitable job.
Why Get a Degree in the First Place?
The significance of earning a degree cannot be overstated. It provides various chances for the privileged, such as good job prospects. Many people struggle to go to school because they believe that having a degree is the only way to have a decent life.
Is It Possible For School Dropouts To Make Money?
Although graduating from a higher education institution opens up a plethora of work prospects, you may still make a good living by landing a jobs for school dropouts. Even if you drop out of college today, it does not rule out the possibility of returning later to pursue a degree. Keep reading to have a grasps of top jobs for school dropouts.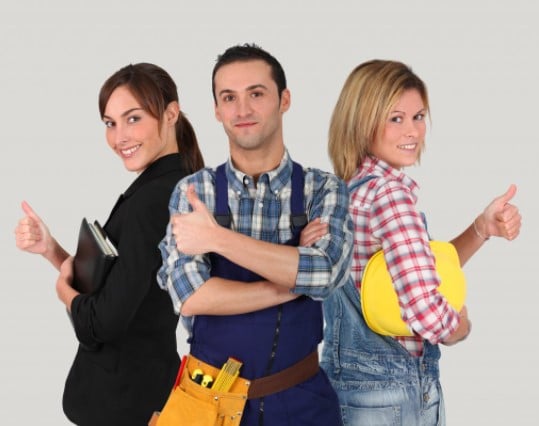 Jobs For School Dropouts
Sales Representative
Driving
Solar Installation
Automotive Mechanic
Massage Therapy
Photography
Operator of Heavy Equipment
Plumbing
Hotel Manager
Office Manager
Writing
Waste Disposal Personnel
Sommelier
Also Read: Best Courses To Study For Jobs
Working As A Dropout
These, as well as a slew of others not listed, are decent jobs that a dropout may readily land. However, getting these jobs is still difficult. As a dropout, chances are you may still compete with someone with higher qualifications.
Sales Representative
By default, everyone is assumed to be a salesperson.
For school dropouts, this is a frequent job. A sales representative, often known as a sales executive, is a person who sells goods and services to other businesses, government organizations, and a variety of other entities in addition to customers.
In any corporation, this is a critical position. To put it another way, salespeople are frequently crucial to the success of a company. See how to work as a salesperson.
Driving
Don't get things all mixed up. Even recent college graduates have taken up driving as a full-time job. Thousands of people are eager to pay for your services, which you should be aware of. What is important is that they arrive safely at their destination.
Truck drivers are among the highest-paid workers in the transportation industry. Truck drivers are responsible for transporting items from one location to another. If you have no prior driving experience, you may want to consider taking driving lessons.
Solar Installation
Solar installers are responsible for installing and maintaining solar photovoltaic panels and systems on a variety of structures and building roofs. They measure, cut, and fasten the frame together. Solar installers must also verify that their work complies with all safety regulations and may be required to undertake electrical work on the site. Even if you don't have a qualification, you'll be OK with correct coaching.
Automotive Mechanic
Mechanics have traditionally been linked with the less educated since the dawn of humanity. Despite the fact that it is a common fallacy, automotive mechanic is another extremely lucrative career that school dropouts who are interested in this sector could explore.
They primarily evaluate a vehicle's engine, as well as its electrical and mechanical components. They also assess whether systems require repairs or upgrades, as well as perform periodic maintenance to extend the life of a vehicle.
How can I improve my skills as a mechanic?
Although a degree is not required, working under the guidance of an experienced mechanic can help you enhance your abilities in this field. You can also specialize in certain automobiles, which can help you develop in your automotive repair career. Checkout mechanical engineering jobs you may want to consider.
Massage Therapy
Don't obsess about the fact that you are a school dropout. Higher qualifications have no bearing on this position. Instead of worrying about not getting a degree, enroll in a massage therapy school that will provide you with both training and certification.
Massage therapists move their clients' muscles and soft tissues with their hands. Kneading muscles and soft tissues of the body using their hands, fingers, forearms, elbows, and even feet. This aids in the relief of pain, the healing of injuries, the improvement of circulation, the reduction of tension, the enhancement of relaxation, and the overall wellbeing of customers.
Photography
Photography is listed in no particular order on the list of occupations for school dropouts. A photographer is a professional who captures photographs with a digital camera utilizing photography and lighting expertise as well as equipment.
They examine the arrangement of a photograph and utilize photo-editing software to enhance the subject's overall look. Being a dropout shouldn't imply that your services are shabby.
Is photography a lucrative job for a school dropout?
Yes, this work is financially rewarding enough. There is a market available as long as there are events. All it takes to perfect the act is for you to realize that the sky is not just your limit.
How can I increase my chances of landing a job as a photographer?
Short courses, seminars, and workshops can help you improve and grow your employment chances as a photographer, even if you dropped out of school.
Operator of Heavy Equipment
It's natural to assume that this position is mostly for engineers, but don't overthink it. To make a livelihood at this work, you don't need to know anything about engineering.
Heavy construction equipment and machineries are driven and controlled by equipment operators. Trucks, bulldozers, and forklifts are among the equipment used. They use this technology to assist in the construction of structures including roads, bridges, and buildings.
How do I become an operator of equipment?
Many employees are expected to have a high school education or equivalent, while some are educated on the job. You can acquire on-the-job training to assist you gain additional exposure. You're good to go as long as you're coordinated, clever, and pay attention to details.
Plumbing
Dropouts may make a lot of money in this field. Plumbers work with pipes and drainage systems. They install and repair them. Plumbers collaborate with various electricians and general contractors.
Plumbers are frequently treated with less respect since they are considered a low-wage occupation. The good news is that plumbing has evolved into a more business-oriented profession. Learn how to work as a plumber.
Hotel Manager
A hotel or other lodging institution's seamless functioning is ensured by a lodging manager. They make certain that the guests have a good time. Cleaning rooms, fixing hotel costs, addressing tourist queries, monitoring and overseeing members of staff, and many more responsibilities are typical.
Office Manager
Being a high school dropout does not rule out the possibility of finding work in an office. The administrative functions of an office are organized by office managers. Supervising the work of the administrative staff, receiving guests, and maintaining employee calendars are just a few of their responsibilities.
Writing
Anyone, regardless of qualifications, may now work as a writer. Surprisingly, the majority of writing specialists never studied it in school.
Because there are so many distinct parts of writing, such as academic, copywriting, content writing, ghost writing, technical writing, and so on, this vocation is so broad. Companies and people are on the search for writers on a daily basis.
 Waste Disposal Personnel
This would seem to be the ideal career for a dropout, right? Sorry to disappoint you, but it appears that even graduates engage in this job.
These professionals gather and dispose of garbage. They might operate in recycling facilities, conduct septic pumping, or provide other garbage disposal services. Waste disposal employees earn an average of $25 per hour, despite the fact that a high school certificate is frequently prerequisite. This, I suppose, is profitable enough.
Related: Best Careers in Commerce
Sommelier
Do you know that you can land a job doing wine tasting as a dropout? A sommelier may work at a restaurant, aiding customers in selecting the appropriate bottle of wine for their meal.
In most cases, a graduate degree is not necessary to work as a sommelier. Taking an official sommelier training, on the other hand, is a great way to improve your chances of landing a good job.
Tips For Succeeding As A College Dropout
Here are a few tips to help you flourish as a dropout without causing too much tension:
1. Remain humble
It's critical for a college dropout to maintain humility and be willing to start with an entry-level employment. Being unemployed due to a lack of a degree is already a handicap, so keep your head down and work hard to expand your horizons.
2. Be willing to learn more.
Continue studying through internet videos and tutorials even if you don't acquire or don't have any possibility of receiving a formal degree. This might assist you in improving your abilities. Concentrate on it and get experience.
3. Look for a mentor.
Because you won't have any classmates or professors to turn on for advice, it's critical to surround yourself with people who can help you improve both personally and professionally. Find a mentor in your future field who shares your interests and learn from them. You can find mentors on platforms like LinkedIn
4. Envisage freelancing, apprenticing or volunteering
There is no better method to get experience than via freelance work and volunteering.
When searching for a job as a college dropout, it's critical to demonstrate that you have the experience that companies are seeking for. Look for internships, freelancing, and volunteer opportunities that you can include on your CV. This sort of experience might assist you in finding a better job as a school dropout. You may want to explore freelance job websites to apply for jobs as a dropout.
Summary
Dropping out of school isn't the end of the story. People may have led you to believe that getting a higher education is all you need to be successful, but that is not the case. Thousands of recent university graduates are struggling to make ends meet and some of them end up with jobs for school dropouts. This isn't to say that obtaining a degree isn't important.
Also Read: How to make money online
In order not to miss out on prompt updates from careerinfos.com, enter your email address below and hit the subscribe button beneath.
A confirmation link will be sent to your inbox or check your spam mails if its not in your inbox. Make sure you click the link to confirm your subscription in order not to miss any updates from this blog. All comments (related to the post above) should be dropped via the comment section below.