Work In Canada As A Plumber
Immigrate to Canada as a Plumber
Work in Canada as a plumber is open to skilled and experienced plumbers interested in immigrating to Canada. Plumbers are in high demand in at least four of Canada's 11 provinces and territories, and it's also a lucrative profession.
What Is A Plumber's Salary In Canada?
Plumbers may make anything from $39,000 to $65,072 per year on average, with expert plumbers earning up to $97,500.
Why Should I Immigrate to Canada as a Plumber?
The main attraction is that the regions with the most demand for plumbers pay the highest wages in the country. This implies that if you apply for permanent residency in a province that needs plumbers, not only will your application be prioritized, but you may also be able to earn one of the best salaries for your profession in Canada.
Continue reading to learn all you need to know about becoming a plumber in Canada.
Work In Canada As A Plumber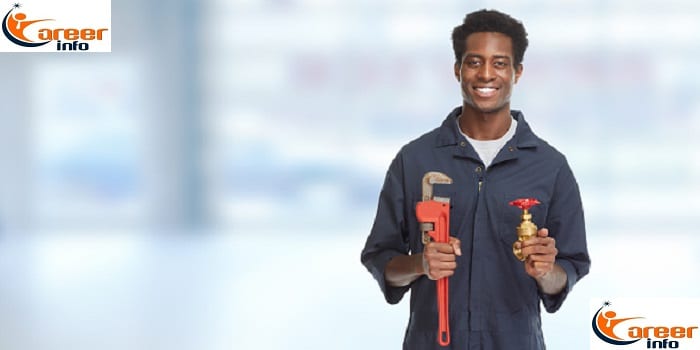 Jobs in Canada for Plumbers
Hundreds of opportunities are now available for experienced and skilled plumbers who want to immigrate to Canada. Finding a job in Canada is definitely as difficult as the Canadian immigration process itself; but, internet platforms such as eJobbo make contacting potential Canadian companies more easier and less complicated. You may want to explore top tips for finding work in Canada.
How to Find a Plumbing Job in Canada
When looking for a job in Canada, one of the greatest places to start is with your current location. Make some inquiries about living in your chosen province or territory, as well as affordability depending on your expected wage. British Columbia, New Brunswick, Ontario, and Manitoba are among the most in-demand provinces for plumbers.
What is the average plumber pay in Canada?
The average salary in the four provinces where plumbers are in great demand are listed below:
Average Salary by In-demand Provinces for Plumbers

Province
Average Salary (CAD)
New Brunswick
$45,884
British Columbia
$61,932
Manitoba
$66,300
Ontario
$66,300
Are Plumbers in High-Demand in Alberta
We'd like to point out that, while plumbers aren't in great demand in Alberta, they do pay the highest national average for plumbers, with an average yearly income of $74,100. For more information about immigrating to Alberta, click on the link.
What Tools Do I Need to Work as a Plumber in Canada?
Aside from your wrench and spanner, you'll need to make sure you satisfy all of the criteria to not just immigrate to Canada as a plumber, but also to work in Canada.
Depending on the province or region you choose to live in, these criteria may change. It's crucial to remember that your occupation will be ranked by the Canadian Immigration system based on your skill level and type.
What is the NOC Code for Plumbers?
The National Occupation Classification (NOC Code) for plumbers is 7251. This includes, for example, maintenance and general plumbers, apprentices, and plumbing mechanics. Because plumbers have a B skill level, you may be able to apply for nearly any top immigration program.
Requirements for working as a plumber in Canada
Some of the requirements for plumbers who wish to live and work in Canada are listed below.
Secondary or high school graduation;
Work experience (typically at least one year, depending on the program and province/territorial requirements);
Certification as a journeyman or lady in machining, tool and die manufacturing, or any similar metalworking craft;
Apprenticeship of four to five years or a mix of work experience and industry training (NOC7251);
Nova Scotia, Prince Edward Island, New Brunswick, Quebec, Ontario, Saskatchewan, and Alberta all need trade certification.
In Newfoundland and Labrador, Manitoba, British Columbia, Yukon, the Northwest Territories, and Nunavut, trade certification is accessible but not required; and
Work In Canada As A Plumber – How Can I Evaluate My Credentials?
The following is a list of authorized organizations to evaluate your credentials/qualifications:
International Credential Evaluation Service.
Comparative Education Service – University of Toronto School of Continuing Studies;
International Credential Assessment Service of Canada;
World Education Services;
International Qualifications Assessment Service (IQAS); and
How Can I Apply for a Canadian Visa, as a Plumber?
As a plumber, you may immigrate to Canada in a variety of ways, but the secret to a good visa application is to choose the immigration program that best suits your needs. Regulated Canadian Immigration Consultants, or RCICs, are the ideal people to ask about this since they are experienced and equipped to conduct an in-depth eligibility assessment.
However, the top four options for becoming a plumber in Canada are summarized here.
Top 4 Immigration Options For Plumbers
Express Entry system;
Provincial Nominee Program;
The Rural and Northern Immigration Pilot;
Atlantic Immigration Pilot.
Express Entry
For aspirants from all around the world, Express Entry is a procedure that has made Canadian immigration considerably more accessible and faster. It oversees three Canadian federal economic immigration programs, notably the Federal Skilled Worker Program (FSWP), the Federal Skilled Trades Program (FSTP), and the Canadian Experience Class (CEC) Program. It is without a doubt one of the most effective approaches to come to Canada. Plumbers are categorized as part of NOC Major Group 72, which includes the industrial, electrical, and construction professions, which means you may be able to use the FSTP to apply for a Canadian visa.
How Can I Immigrate As A Plumber Under The Express Entry Process?
To be included into the weekly Express Entry drawings, you must first establish an Express Entry profile with information about your age, language skills, and qualifications, among other things. Your profile will be rated and given a score based on your Comprehensive Ranking System (CRS). You will get an Invitation to Apply (ITA) for permanent residence in Canada if your score meets or exceeds the minimal CRS cut-off level.
Provincial Nominee Program
The Provincial Nominee Program (PNP) permits qualified foreign employees to immigrate to Canada if they have a full-time employment offer. This is primarily determined by whether or not your profession is in high demand in that province or region. Each province or territory has its own PNP, as well as particular labor needs and standards to meet in order to be considered for a provincial nomination (PN).
How can I apply for a PNP as a plumber?
If you get a PN, you'll get 600 more CRS points, thus ensuring that you'll get an ITA for permanent residency. As previously said, the majority of plumber employment in Canada can be located in British Columbia, Manitoba, Ontario, and New Brunswick, therefore it may be a good idea to check into these four PNPs if you want to work to Canada.
The Rural and Northern Immigration Pilot
As a professional plumber, you may be eligible to apply for permanent residency in Canada under the Rural and Northern Immigration Pilot (RINP), a pilot immigration program for talented foreign workers with a legitimate full-time employment offer. Plumbers are in high demand in 11 of the RINP's member towns, four of which are in Manitoba and British Columbia.
Atlantic Immigration Pilot
As previously noted, plumbers are categorized as NOC skill level B and are in high demand in New Brunswick, which means that if you have a legitimate work offer in this Atlantic province, you may be able to apply for a Canadian visa through The Atlantic Immigration Pilot. It is a community-led and employer-specific pilot program that aids talented people in immigrating to Canada.
In order not to miss out on prompt updates from careerinfos.com, enter your email address below and hit the subscribe button beneath.
A confirmation link will be sent to your inbox or check your spam mails if its not in your inbox. Make sure you click the link to confirm your subscription in order not to miss any updates from this blog. All comments (related to the post above) should be dropped via the comment section below.