How Make Money Online in Nigeria 2023
Easy Ways to Make Money Online in Nigeria
How to make money online in Nigeria has remained a trending topic. Amidst being Africa's largest economy and having an ever-increasing GDP, Nigeria's currency continues to depreciate due to sustained double-digit inflation. Furthermore, a shortage of work leads to Nigeria's alarmingly high unemployment rate.
The great news is that you can build your own full-time job even if there aren't any available.
We don't want your skills to go to waste, so we've compiled a list of smart methods to earn money without having a regular job. Keep reading to learn smart ways on how to make money online in Nigeria.
How can I easily earn money online in Nigeria?
You're halfway to generating money online if you have a computer and a functional Internet connection. The rest is just a matter of locating channels that will compensate you for your time. The following options will answer your question on how to make money online in Nigeria.
#1. Trading in bitcoin
Since high inflation rates and bank inaccessibility render dealing with naira difficult, it's the ideal time to consider cryptocurrencies as a viable option, since these digital assets are decentralized, immune to economic downturns, and can be exchanged instantaneously.
You may get bitcoin in a variety of ways using peer-to-peer markets like Binance, including cash transfers, cash deposits, and so on. You can make a lot of money if you play about with exchange rates, bitcoin pricing, and foreign exchange rates.
When one of your direct referrals executes a transaction, you may earn a 10% commission through the Binance Referral Program.
2. Providing feedback on websites and mobile apps
Websites aren't flawless from the start. The popular websites we use now have undergone decades of revisions and remodifications as a result of user input.
Spend 10-20 minutes navigating websites and telling them what you think of it to help the future tech powerhouses. Through services like UserTesting, you may earn up to $60 for each test by providing feedback on their surveys or tasks.
Related: Top Remote Tech Jobs
3. Participating in online polls and watching videos
There's more simple methods to make quick money online than viewing movies. Brands have given users over $56 million in cash incentives for doing online surveys, reading emails, playing video games, and watching videos on InboxDollars — in return for grocery store discounts or freebies from popular brands.
What you're doing is significant and reciprocal, aside from the money. Your replies to surveys will help large businesses better build goods that are tailored to your preferences, which you – the end user – will eventually appreciate.
4. Indulging in popular video games
While some applications reward you for playing simple, possibly monotonous games on your phone, Mistplay rewards you with gift cards for playing cool and well-known games. Words With Friends 2, Yahtzee, Clash Royale, Star Wars, and more popular games are available.
You will be rewarded more as you play more games. What's more? Aside from Amazon, Starbucks, and Google Play gift cards, you can also get your Xbox, Nintendo, and PlayStation rewards
5. Looking for your next buy on the internet
It's hard to believe, but search engines know you better than your closest relatives or friends. Every question you want answered, and every thing you've wanted to buy for a long time, all become search results — and search engines are now prepared to pay to understand these consumer habits!
When you search on Qmee, you'll see some sponsored results with price tags that indicate how much money you'll make if you click on them. You may either click on them to gain rewards right away, or you can save money by using Qmee's discounts and promotions.
Related: Best Courses To Study For Jobs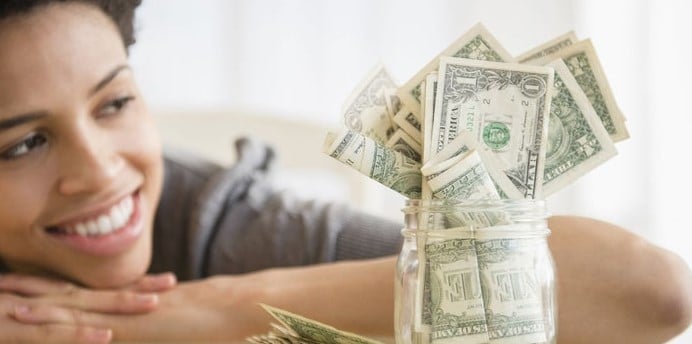 How can a student make money in Nigeria?
Although the aforementioned quick money gaming strategies are real, it may take a few weeks or months until the profit is large enough to buy a few meals. In this part, we'll show you a couple methods that will earn you money online in Nigeria.
1. Teaching English Language Online
Isn't it amazing to be able to use a talent you already have to make a difference in other people's lives while also generating some additional money? Teachers can engage with students who speak English as a second language through websites like TeacherOn. You may establish your own hours and begin teaching anywhere you are after you've joined up. Everything is done over the internet, and you choose your own hours.
On TeacherOn, teachers may earn up to 10,000 naira per hour while watching their students progress through time.
Related: Jobs For English Majors
2. Translating content
You'll find hundreds of thousands of job ads for translation, interpretation, copywriting, and editing when you visit freelance websites like TranslatorsCafe. The nature of the projects on these locations might vary substantially. For instance, one project can be completed entirely online while another requires in-person participation. Each project's specialization may vary, and it may include sectors such as entertainment, gaming, medical, and law, to mention a few.
This is the place to go if you're learning a language at school and want to put your skills to the test with some real-world practice. For certain projects, compensation is negotiable
3. Working as a freelancer in a variety of fields
If you go to sites like Upwork, Freelancer, or Fiverr, you'll find job advertisements looking for help in a variety of professions. The following are a some of the most well-known:
Digital marketing – As more companies seek to establish an online presence, services such as SEO, email marketing, and social media marketing are in high demand.
Copywriting – There are a variety of writing projects available, ranging from blogs to sales copy and product descriptions, that you can do in a few hours.
Video Editing: Many entrepreneurs and influencers are searching for freelancers to create motion graphics, how-to films, and other similar projects.
Related: Best Freelance Job Websites
4. Offering to sell your old textbooks for Amazon Gift Cards
We've all been there: college textbooks are large and hefty, and they're only utilized for a semester or two at most. Why not trade them in for gift cards on Amazon Trade-In once you've absorbed all of the information from them? You can then use the gift cards to buy the next textbooks or devices you'll need for school. On their page, you can see how much your books are worth
5. Selling your notebooks
The scribbles you write during class are really not only for late-night blitz study sessions; they may also be used to earn money online! Sites like Nexus Notes and Stuvia are marketplaces where you can post your notes and get paid if someone else downloads them. However, make sure your notes are of good quality and readable – no one wants to spend 10 minutes trying to figure out a phrase!
6. Composing a voice-over
Each of us has our own distinct voice. Commercials, animation, video games, narrators, storytellers, and teachers, among other things, are always in need of audio talent on sites like Voices.com. Approachable, authentic, conversational, pleasant, and credible are among the most popular styles they want. Try online acting now if you have a quiet space and want to experience how your voice can express thoughts.
7. Riding your cherished bike to deliver packages
Do you own a motorbike and love riding around on it? If so, join Kwik, a Nigerian on-demand delivery platform, as a Kwikster. After Kwik verifies your paperwork and licenses, you'll receive your green uniform and begin providing high-quality services. When someone need your assistance, you will be alerted and given a time and place to pick up and ship the item.
8. Uploading data
We understand that as a student, you will most likely have to deal with big volumes of data on occasion for school tasks. Check out websites like Smart Crowd and Clickworker if you think you're detail-oriented and want to get paid for entering data. Users can sign up to accomplish tiny jobs, such as data research and data input, as part of a larger project. Pay varies depending on the project.
9. Merchandising
We all have something we could live without, yet it may very well be someone else's favorite item. Profit from your possessions by selling them on e-commerce platforms like Jumia and Konga. These two websites are among Nigeria's most popular e-commerce destinations, allowing individuals and small enterprises to sell their wares.
Dropshipping allows you to create an internet business without having to touch the items personally. You purchase things through a third party, such as a manufacturer or wholesaler, and have them sent to your consumers via this technique. This allows you to experiment with fresh product ideas without having to buy and pay for them upfront.
10. Performing tasks for large corporations
Could you picture making money by snapping images at a store or answering questions about a certain product? Big firms are now prepared to pay you to do market research using tasking apps like FieldAgent and BeMyEye if you're also willing to execute on-demand work. These assignments normally take 8-10 minutes and pay between $3 and $12 USD.
11. Scanning barcodes
In a similar vein, the National Consumer Panel conducts extensive market research for major corporations, and they're now curious about what you buy every time you go to the grocery or the mall. What you tell NCP will help firms better analyze customer behavior, allowing them to produce even better goods for you! For each bar code you scan from your purchase, you'll earn points, which will ultimately be converted into gift cards.
12. Renting out your dorm for films
List your room on JJMedia Group now if you've talked to your roommates and they're cool with you renting out your boys' room as a prospective film set. You never know, your dorm room can end up being the setting for Nollywood's next Pitch Perfect!
13. Investing with an easy-to-use app
Although investing may appear to be difficult for a twenty-year-old, it is actually not that difficult with Acorns' assistance and simple navigation. When you spend $10.23 at the grocery store, for example, this app's "round-up" feature adds 77 cents to your Acorns account. If you're a student under the age of 24 with a.edu email address, the $1 monthly membership charge is also waived. Prepare to save hundreds of dollars every year by using the app!
14. Earning cash back bonuses
You'll probably never buy an original-priced goods again after learning about Rakuten cashback benefits. Not only can you get discounts from well-known retailers like Amazon and Macy's, but you also earn a cashback balance from Rakuten, which you may collect by PayPal or check.
15. Make money from selling your photographs
Instead of publishing your images on Instagram for likes, upload them to Foap to turn them into a source of revenue. If someone wants to use one of your images, they'll pay you a license fee, and you'll get half of that price every time they sell something using your photo. With only a picture of your meals, winter boots, holiday season events, and anything else is in demand, your pocket money may really balloon.
16. Assisting physicians with their paperwork in a virtual capacity
There is never enough time for doctors to spend with their patients. By becoming a virtual medical scribe on iScribes, you can help them change this and deliver better patient care. Your task is straightforward: take care of physicians' paperwork and documentation whenever you have spare time and in the comfort of your own room, and gain exposure to the highly sought-after medical profession!
17. Transcribing snippets
Consider working as a transcriptionist for some quick income if you can pay attention and type quickly. You may transcribe 2-4 minute audio recordings in whatever language you're proficient in for $15 to $25 per hour on services like TranscribeMe. But be sure your grammar and spelling are correct!
18. Become a virtual tutor
Maybe you're proficient in French, Spanish, or another foreign language, or maybe you're artistically inclined. You may make money as a student by becoming an online tutor and teaching things you know well. To assist people achieve the degree of expertise they require on a specific subject, you may offer webinars or hold one-on-one workshops.
Tutor.ng, Tutoria, and UpskillTutor are just a few of the websites that may help you immediately connect with potential students. Simply study for prospective examinations in the topic area in which you wish to teach!
How can the creative and tech-savvy earn money online in Nigeria?
So far, we've discussed some quick and smart ways to create money online and as a student. What if you have some valuable, one-of-a-kind abilities that you'd like to market? Here are some ideas for what you can do with your creative mind and hands:
1. Vlogging
With over a billion hours of video watched every day on YouTube, vlogging is a great way to start a company. Try submitting some video material to your YouTube account if you have a niche in a certain industry and are comfortable speaking in front of a camera. Although it takes time and effort to establish a significant following, those who are skilled in video editing and marketing methods will be able to profit from YouTube's ad and sponsorship programs.
2. Create your own lucrative online course
Maybe you've got some great video editing talents and want to share them with others in a systematic way? You get compensated when others buy your course, and you're not alone; there's a Facebook community of Udemy instructors who assist each other improve their videos.
3. Publish e-books
So you've found your area and have some intriguing things to tell, but you don't enjoy looking at yourself on a rectangle screen? Let's see if we can turn our exploits into an eBook. You may publish in less than 5 minutes using Amazon's Kindle Direct Publishing (KDP) technology, and your book will be available in Kindle shops throughout the world within 24-48 hours. Set your own list pricing and modify your books whenever you want using this platform's flexibility.
4. Creating and distributing profitable internet articles
Anyone may write and monetise their blog entries on online content-sharing platforms like HubPages if they are useful and valuable to readers. Allowing Google AdSense and the HubPages Ad Program to post adverts and products on your article allows you to make money as a Hubber. Some Hubbers have been able to make almost $1,000 every month! This is a legit option on how to make money online in Nigeria.
5. App development
Because more people are going mobile these days, businesses are striving to develop mobile applications to better serve their consumers. If you have a talent for programming, app development might be a good fit for you because of the numerous options it provides in the long run. Gun.io and X-Team are two renowned freelancing venues for programmers to consider.
6. Making your own broadcast
There are so many ways to express yourself! If not through video or text, how about a broadcast? Radio.co, for example, allows you to launch a free internet radio station and interact with listeners all around the world. They also provide some great metrics that may help you manage your station and target audience more effectively.
7. Creating and selling designs
Start selling your graphic designs on the Nigerian website Printivo if you have a creative muscle and want others to utilize them in their business cards, t-shirts, posters, banners, and coffee mugs. When a user is interested in your design templates, they will place orders after tweaking the wording and elements.
8. Affiliate marketing
If you appreciate a product or an app, why not tell your friends and family about it and be paid for it? Affiliate marketing entails "wingmaning" a product and a new user in exchange for a percentage of the revenues.
Commission rates vary, but they can add up to a substantial sum of money. In addressing the question on how to make money online in Nigeria, affiliate comes top of the chat.
9. Producing music
Anyone may write their own song and upload it to YouTube so that others can judge their taste. Using famous platforms like YouTube and Spotify, your music have the potential to reach millions of people, resulting in a large profit. This is a sure plug on how to make money online in Nigeria.
Which innovative methods do you use in Nigeria to make money? Please let us know in the comments section below!
Are you into freelancing? You may want to explore some of the best freelancing job websites
In order not to miss out on prompt updates from careerinfos.com, enter your email address below and hit the subscribe button beneath.
A confirmation link will be sent to your inbox or check your spam mails if its not in your inbox. Make sure you click the link to confirm your subscription in order not to miss any updates from this blog. All comments (related to the post above) should be dropped via the comment section below.