Best Careers in Commerce 2023
Careers for Commerce Students
This post provides a list of the best careers in commerce and Commerce Student Careers for the year 2023.
Best Careers in Commerce
From the time when people traded by barter through the time when a method of exchange (money) was discovered, people have been trying to figure out how to properly exchange products without problems, which they have been able to do over time. This means that business has existed since the beginning of time.
What is Commerce?
The exchange of products and services between firms or entities can thus be characterized as commerce. This means that commerce is primarily concerned with the distribution of goods rather than the production of them. In any event, countries are concerned with regulating trade in such a manner that it improves citizens' well-being by creating employment and generating valuable goods and services.
As a result, commerce contributes to the prosperity of nations and an improvement in the quality of life, but it may also lead to negative externalities if left unchecked or unregulated.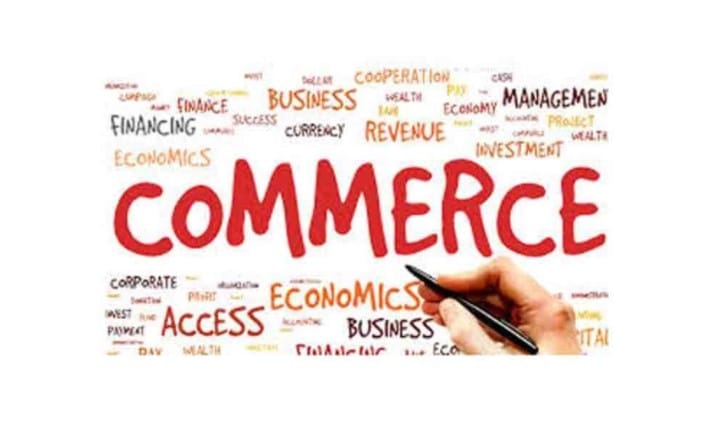 What is the relevance of Commerce?
Presently, business has developed, and it is no longer considered in the same light as it was in the past, thanks to technological advancements. Commerce has evolved from the conventional form of exchange, which favored mostly large corporations, to a type of commerce that allows for the computerized purchase and sale of items through the Internet.
In contrast to conventional commerce, e-commerce allows individuals to trade value for products and services with few or no restrictions.
This article offers information about the best careers in commerce, based on the relevance of trade to man and the world at large. As a result, below is a list of prospects for pursuing a career in commerce.
List of Best Careers in Commerce
Investment Banker
Stockbroking
Chartered Accountant
Marketing Manager
Actuarial Science
Insurance Underwriter
Asset Manager
Economist
Public Relations
Consultant
Tax Policy Analyst
Teaching
Risk Analyst
Entrepreneur
Source: Glassdoor
Investment Banker
Professionals that specialize in corporate financial analysis are known as investment bankers. Their key responsibilities include raising finance to fund corporate operations, raising money from capital markets, and structuring acquisitions and sales for clients.
A financial analyst/investment banker's primary responsibility is to assess and comprehend how firms have invested their resources and if such investments are financially viable. They must also comprehend how current investments and future financial decisions will effect the organization's short- and long-term growth.
Aside from the aforementioned responsibilities, they are also responsible for creating weekly, monthly, and yearly financial predictions.
How Do I Become An Investment Banker?
There is no specific professional route to pursue in order to become an investment banker. A bachelor's degree in accounting, economics, or commerce is required, such as BSc Banking and Finance, MSc Finance, Bachelors in Accounting, or Investment Banking. In addition, internships with investment banks or certification programs like the CFA course can help you grow in this career.
Related: Best Paying Jobs In Germany
Stockbroking
Another popular career option in the field of commerce is stockbroking. These individuals are in charge of purchasing and selling stocks on behalf of their clients. They may also be involved in advisory work on occasion.
You can work for yourself or for a company as a stock trader, buying and selling equities. Bonds and other financial products are also available for purchase and sale by traders. Trading is a fast-paced, competitive, and high-pressure profession that is best suited to individuals with outgoing personalities.
How Do I Become A Stockbroker?
This industry has relatively little supervision, so if you're self-disciplined and determined, this is the commerce career for you.
To succeed in this career, one must be adaptable and proficient in Commerce disciplines such as Economics, Accounting, and Corporate Laws, among others.
Chartered Accountant
One of the most popular Commerce careers is Chartered Accountancy. Using this skill to launch a career in commerce may be quite rewarding. A chartered accountant is a professional accountant who specializes in accounting, auditing, and taxation, as well as serving as a manager and corporate caretaker.
As an accountant, you'll be in charge of establishing, maintaining, and evaluating internal accounting rules and control processes.
How Do I Become A Chartered Accountant?
Accountants must be knowledgeable in financial accounting, management accounting, cost accounting, record keeping, reporting, financial statements, and generally accepted accounting principles in order to function as accountants. However, if you want to advance in this field, you may get a CA, CPA, or ACCA certification.
Related: Highest Paying IT Jobs In Canada
Marketing Manager
Marketing is the process of persuading and convincing people to acquire a product or service using any available approach. Nowadays, marketing is carried out in a variety of methods. It has progressed beyond the conventional approach of transporting things from one site to another in order to find purchasers.
Marketing has evolved in recent years. Because of technological advancements, marketing can now be done from any location via an internet medium, and many social media platforms have made establishing a career in this industry quite common and simple. This is where E-commerce, as a type of business, comes into play.
Marketing Managers, on the other hand, are in charge of planning, organizing, estimating, and marketing enterprises based on customer, competition, and corporate research. Marketing managers analyze and predict demand for a company's products and services, as well as devise strategies for growing earnings, investments, and stock ownership.
How Do I Become A Marketing Manager?
If you have the capacity to persuade others, speak easily with individuals you don't know, are analytical, have a solid numerical background, and can think outside the box, then marketing is a great career choice in commerce for you.
To drive sales and maximize profit, marketing managers employ a variety of advertising and public relations strategies. To achieve the specific skills and knowledge needed to develop career in commerce, marketing managers need at least a bachelor's degree in marketing, public relations, or a similar discipline.
Actuarial Scientist
An actuarial scientist is an accredited mathematical expert who has the expertise to illustrate and manage uncertainty and financial risk.
They play an important part in a variety of industries, including business, trade, government, stocks, and insurance. Actuarial science, on the other hand, is the science/art of calculating and estimating the risk in a scenario, whether it's a business investment, an insurance investment, or a stock/bond investment.
They also work for the government. Actuaries in the federal government may assess proposed Social Security or Medicare modifications or undertake economic and demographic studies to forecast future benefit commitments. They may evaluate and control the rates charged by insurance businesses at the state level.
Are Actuaries In High Demand?
Actuaries specialize in the analysis of uncertain future occurrences for insurance and pensions organizations, although they may operate in a variety of industries. Because they are highly talented individuals, they are frequently in high demand.
How Do I Become An Actuary?
There are many career opportunities in insurance firms if you wish to pursue a career in commerce in this field. In addition, one can work as a consultant in both the public and commercial sectors.
One of the most prevalent industries in which banking and finance graduates find work is actuarial science. Actuaries are experts in assessing financial risks and advising clients on how to manage and mitigate them. To evaluate and manage risks for businesses, they integrate risk analysis abilities with in-depth understanding of Probability, Economics, Mathematics, Finance, Computer science, and Statistics. Actuaries guarantee that solid investments are made and that commercial and corporate objectives are met.
Insurance Underwriter
This is yet another career in commerce. An underwriter considers the risks involved in safeguarding the policyholder based on characteristics such as age, health condition, and occupation when deciding whether or not to accept applications for insurance coverage.
Underwriters are responsible for preparing insurance policies, gathering and analyzing statistical data on potential policyholders, and conducting risk evaluations. This entails determining whether the insurance firm can afford to take on these policyholders' risks. The underwriter will then price the insurance rates based on this judgment.
Insurance underwriters are experts tasked with determining a potential client's risk characteristics, evaluating and analyzing the risks of insuring persons and assets, and determining insurance premium.
How Do I Become An Insurance Underwriter?
Because the role needs data analysis and interpretation, insurance underwriting demands a person who is focused on skill development, has a solid analytical foundation, and a computer literate. You can also apply for the role on some of the best job sites.
Asset Manager
Firms and individuals use these professionals on a daily basis to manage, assess, and expand their owned and leased assets. Assets might range from tangible real estate to intellectual property.
Asset managers' responsibilities and needs may differ from one circumstance to the next. The main role, however, is to keep track of the assets, execute them, negotiate with clients, and provide asset advice.
How Do I Become An Asset Manager?
In general, those working in this field must have a bachelor's degree in finance, business, or accounting.
They are responsible for managing funds and achieving financial objectives based on the customers' objectives and risk-taking capabilities.
Economists
Economists gather and analyze data, explore trends, and evaluate economic concerns in order to better understand the production and distribution of resources, products, and services.
Many economists work for the government at various levels, researching problems such as employment, taxation, and interest rates.
A profession as an economist is tough and intriguing, despite being entrusted with studying a wide range of topics relating to the country's overall economic operations. With so many critical aspects impacting a country's economy, including as employment, inflation, banking, and so on, these professions are needed practically everywhere.
How Do I Become An Economist?
A bachelor's degree in math or economics is required for many of the entry-level roles in government agencies. Economists are essential to commerce.
As a result, you may make a living as an economist. Economists analyze market data and employ actuarial models and statistical analysis to comprehend and explain economic patterns, as well as monitor market circumstances in order to assist businesses in maximizing profits.
Public Relations Officer
PR is the practice of influencing how others view an organization in order to preserve or improve its reputation. Public relations is concerned with how businesses connect with the public, market themselves, and create a favorable image.
Information must be communicated to the public in the realm of business. As a result, PRO is one of the best career in commerce.
How Do I Pursue A Career In Public Relations?
Copywriting and research are significant responsibilities for PROs, as are contacting journalists to urge them to use online advertising, preparing press releases and newsletters, and blogging and writing social media material.
If you possess those skills, then you can pursue a career in commerce by becoming a Public Relations Officer.
Consultant
Consultancy is a job that allows you to provide professional advise to others who are working in a certain industry. It is a set of career skills that may be learned through a combination of official training, on-the-job training, mentorship, and individual learning. Consultants might operate independently or as part of a team. Working for a business might lead to a career as a management consultant.
Management consultants assist businesses in resolving issues, creating value, maximizing growth, and improving overall performance. They find answers to company problems and give recommendations for adjustments to make.
How Do I Become A Management Consultant?
Management consultancy may be a lucrative career path. This sector has a lot of competition, and those with higher degrees have an easier time breaking into it. As a result, if you want to develop in this field, earn a higher certification to go along with your banking and finance degree.
Tax Policy Analyst
A tax policy analyst is responsible for studying and investigating issues connected to the government's taxation policies, as well as developing the organization's policy framework to ensure that all policies are in sync. Modeling tax outlooks, as well as monitoring and assessing the impact of government taxing measures, are the key responsibilities of a tax policy analyst.
How Do I Become A Tax Policy Analyst?
To work as a tax analyst, you'll need a bachelor's degree in accounting, as well as certifications such as CA (Chartered Accountant), CPA, and others, as well as job experience. A master's degree is beneficial but not required.
As a task analyst, you should be able to assess data connected to extremely complicated technical work, have a working understanding of predictions and data sources for estimating tax revenues, and communicate well to understand and resolve difficulties with other companies about taxation policy.
Teaching
The world of business is vast, and not everyone will choose a job that needs them to be in the office every day. Some people will be obliged to pay others for the information they have about trade. As a result, teaching is a vital career in commerce.
Numeracy is always a top focus in elementary and secondary schools; nevertheless, this makes highly intellectually capable graduates with a desire to teach in great demand. You could be cut out for a career as a high school teacher if you appreciate the challenge of making arithmetic and other commerce-related topics clear to pupils of all ages and abilities.
How Do I Pursue A Career In Teaching?
A formal teaching qualification is required to pursue a career in teaching, but some states allow people who already have a bachelor's degree in another field to take a fast track to certification and begin teaching right away. However, if you must teach at the university level, a postgraduate degree is highly recommended.
Risk Analyst
As a risk analyst, you'll advise organizations on the risks of new and existing projects, as well as identify elements that might harm the company's bottom line. Operational and financial hazards are examples of these dangers.
A risk analyst assesses financial papers, economic circumstances, and potential clients in order to assist businesses in determining the degree of risk associated in a given business choice. Risk analysts are most commonly found in banks and insurance businesses, although they may be hired by any organization that deals with big sums of money. This profession also rank as one of the highest paying finance jobs in the UK.
How Do I Become A Risk Analyst?
Risk analysts are required to have excellent organizational and decision-making abilities, as well as a clear business sense, the ability to interpret complicated numerical data, and excellent communication skills.
To analyze business decisions, you should be able to utilize software applications such as Excel and do comprehensive research. If you possess those skills, then you can pursue a career in commerce by becoming a risk analyst.
Entrepreneur
Entrepreneurship is presently one of the most popular and lucrative careers in commerce. Starting a business is an adventure in and of itself, but having a great business concept is a surefire way to be highly successful. Starting a business is not simple at first, and failures are unavoidable. Your success stories will undoubtedly outnumber your failures if you are consistent and determined.
This career path is not only adaptable, but it also allows you to be your own boss. Being devoted to something might pay you more than a white collar job.
How Do I Become A Successful Entrepreneur?
There are no specific requirements for being an entrepreneur, but you must be familiar with business and management, as well as financial management and planning. Be rest assured that this is one of the best careers in commerce worldwide. You may want to know how to combine work and study since it is required for you to stay updated with relevant trends.
Careers for Commerce Students
Are trending careers feasible for commerce students?
Aside from the above-mentioned careers in commerce, there are a variety of others that you can pursue after finishing a degree or course in the field of commerce.
Commerce has evolved into a wide industry with a plethora of job options, many of which have a high likelihood of paying well.
Whatever professional path you choose, keep in mind that it will be rewarding as long as it qualifies among best careers in commerce.
If you already have a business degree, you're off to a strong start in your career in commerce.
Otherwise, you may want to checkout career choices and subject required to enable you qualify for a career in commerce.
In order not to miss out on prompt updates from careerinfos.com, enter your email address below and hit the subscribe button beneath.
A confirmation link will be sent to your inbox or check your spam mails if its not in your inbox. Make sure you click the link to confirm your subscription in order not to miss any updates from this blog. All comments (related to the post above) should be dropped via the comment section below.