UHR Scholarships for International Students
Apply For UHR Scholarships for International Students
UHR Scholarships for International Students at Swedish Defence University in Sweden for the 2022/2023 academic session is currently open for application.
If you want to study in Sweden, there is some good news. UHR Scholarships for International Students at the Swedish Defence University is accepting applications from suitable applicants. In this post, we'll go through the scholarship's value, eligibility, and application procedure in in detail.
Swedish Defence University
The present Swedish Defence University marks the latest development in a long line of military education tradition.
The Swedish Defence University trains and educates domestic and international military and civilian personnel. The University also offers training for career and reserve officers of the Swedish Armed Forces.
Graduates contribute to the handling of crisis situations and security challenges on a national and worldwide level. A bachelor's degree in Military Science is granted to successful applicants. The course, however, is spread out across six semesters. 180 credits are granted for successfully completing all modules.
UHR Scholarships for International Students
UHR Scholarships for International Students is managed by the Swedish Council for Higher Education (UHR). The application and selection process amidst admitted students to the Swedish Defence University is being handled by the university.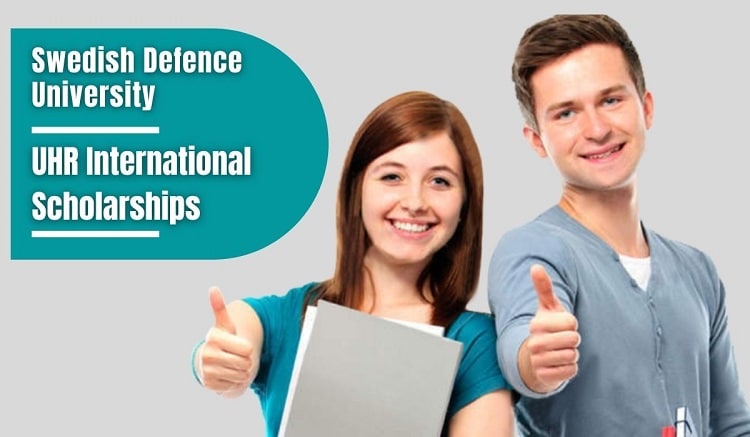 Related: University of Twente Scholarships
Worth of UHR Scholarships for International Students
UHR Scholarship may only be used to pay all or part of the tuition fees and may not be used for accommodation or other suchlike costs.
The scholarship covers the tuition fee for both academic years of the master's program.
Application Criteria
The scholarship programme is aimed at well-qualified students from countries, other than EU/EEA countries and Switzerland (in accordance with Regulation 2010:543), who wish to study at Swedish universities or colleges.
Only candidates in the current application round can apply for the scholarship since the scholarship is aimed for newly admitted students.
How to Apply
To apply for these scholarship,
Visit Swedish Defence University website.
Each candidate are expected to submit his/her UHR scholarship application between 1 December 2021 – 10 February 2022 for candidates in the application round 15 October 2021 – 15 January 2022.
Only candidates to Swedish Defence University's Master program (60-120 ECTS) can apply.
Application Deadline
The application deadline is February 10, 2022.
Visit the Swedish Defence University official website for additional information and to apply.
You may want to explore other scholarship opportunities in Europe.
In order not to miss out on prompt updates from careerinfos.com, enter your email address below and hit the subscribe button beneath.
A confirmation link will be sent to your inbox or check your spam mails if its not in your inbox. Make sure you click the link to confirm your subscription in order not to miss any updates from this blog. All comments (related to the post above) should be dropped via the comment section below.