Federal Government BEA Scholarship 2022
Apply For BEA/FSB Scholarships To Study Abroad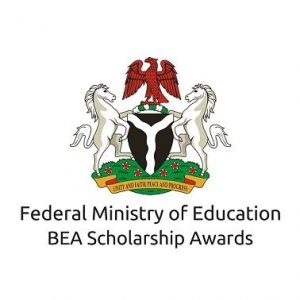 Federal Government BEA Scholarship for 2022 has commenced. Applications are invited from interested and qualified Nigerians to participate in the 2022 Nomination Interview for Bilateral Education Agreement (BEA) Scholarship Awards for undergraduate and postgraduate studies abroad. The deadline for submission of applications is 31st January 2022 See more details below…
Federal Government BEA Scholarship
The Federal Government BEA Scholarship awards which  takes effect from the beginning of the academic session are made to eligible Nigerian youths who meet up with specified eligibility criteria recommended by the Federal Ministry of Education. The scheme is to assist scholars in the payment of tuition fees and for their personal maintenance.
As part of measures to improve efficiency and integrity of the selection processes, the Computer Based Test (CBT) have been adopted for the conduct of the 2022 Bilateral Education Agreement (BEA) nomination interviews.
Field of Study For The BEA Scholarship Award
The award is open to prospective candidates in the following field of study
Undergraduate Level: Engineering, Geology, Agriculture, Sciences, Mathematics, Languages, Environmental Sciences, Sports, Law, Social Sciences, Biotechnology, Architecture, Medicine (very limited), etc; and
Postgraduate level: Masters Degree and Ph.D in all fields.
Note: The eligible programmes for the scholarship awards are:
Undergraduate studies tenable in  Russia,  Morocco, Algeria, Serbia, Hungary, Egypt, Turkey, Cuba, Ukraine, Japan, and
Postgraduate studies tenable in Russia (for those whose first degrees were obtained from Russia), China, Hungary, Serbia, Turkey, Japan, Mexico, South Korea and other countries as specified by the Federal scholarship board.
Relevant Link: UBA Campus Ambassador Award
Eligibility Criteria for the BEA/Federal Scholarship Board Award
Postgraduate Scholarship:
All applicants for Postgraduate degree courses must meet up with the following criteria:
Applicants must hold a First Degree with at least 2nd Class Upper Division.
Applicants who are previous recipients of Foreign Awards must have completed at least Two (2) years post qualification or employment practice in Nigeria.
A knowledge of the Foreign language of the donor country is desired particularly for those applying for Russian Award.
Applicants must have completed NYSC.
Age limit is 35 years for Masters and 40 years for Ph.D.
Undergraduate Scholarship:
All applicants for undergraduate degree courses must meet up with the following criteria:
Possess a minimum qualification of Five (5) Distinctions (As & Bs) in the Senior Secondary School Certificate, WAEC or NECO (May/June) only in the subjects relevant to their field of study including English language and Mathematics.
Certificates should not be more than Two (2) years old (2020 & 2021).
Age limit is 22 years (minimum age of 17 years and maximum 20 years old at the time of taking up the award).
Be in the 2nd year of their studies or above and must have at least 4.0 C.G.P.A on a 5 point Scale or its equivalent in previous academic years' examinations.
Note (For all Applicants):
Since the BEA countries are non-English speaking, applicants should be prepared to undertake a mandatory one year foreign Languare course of the country of choice which will be the standard medium of instruction.
All applicants for Hungarian Scholarships must visit the Hungarian Scholarship website:  
Complete the application form online
Print the completed form and bring to the interview venue.
Required Documents for The BEA Award
Candidates are advised to submit two sets of the printed and endorsed form with the rest of the following document at the venue of the interview.
Two sets of Photocopies of Educational Certificates and Testimonials of previous schools attended with the originals for sighting; Only one certificate is accepted i.e WAEC of May/June for Undergraduate applicants;
Two copies of Birth Certificate from National Population Commission;
State of origin/LGA certificate duly signed, stamped and dated;Four (4) coloured passport sized photographs on white background; and
Postgraduate applicants will be required to submit Academic transcripts and NYSC discharge  or Exemption certificates only.
Note:
Candidates nominated by the Board will be required to submit to Federal Scholarship Board the following:
Authenticated copies of academic certificates;
Data page of current International passport; and
Specified Medical Reports from Government hospitals.
Police Clearance Certificate where necessary.
Application Procedure/Process For BEA/FSB Award
Prospective Candidates are advised to:
Click on Read more on Federal Scholarship Board ICON on the Home Page:
Read Guidelines and then Complete the Application Form online
Print the completed Application Form
Submit two sets of the Printed Application Forms at the venue of the interview as scheduled below.
Date/Time of Interview
visit this page to see the date/schedule of BEA/FSB interview can 
GENERAL NOTICE: During the application candidates are expected to indicate the Centre of choice for the Computer Based Test (CBT)
Application Deadline
All entries must be sent on or before the 31st of January, 2022
Note/Warning
This particular application does not attract any processing fee.
Applicants are advised to be beware of fraudsters.
Double Entries will be disqualified.
Please subscribe to this blog in order to get prompt updates on the FSB/BEA Scholarship. If you find this post helpful, use the share button below and share with friends.
In order not to miss out on prompt updates from careerinfos.com, enter your email address below and hit the subscribe button beneath.
A confirmation link will be sent to your inbox or check your spam mails if its not in your inbox. Make sure you click the link to confirm your subscription in order not to miss any updates from this blog. All comments (related to the post above) should be dropped via the comment section below.