Central Queensland University RTP Scholarship for International Students
Apply For Central Queensland University RTP Scholarship
Central Queensland University RTP Scholarship for International Students in Australia for the 2022/2023 academic session is open for application from suitable applicants.
In this post, we'll go through the scholarship's value, eligibility, and application procedure in in detail.
Central Queensland University
The university was founded in 1967 in Rockhampton and today has over 30,000 students scattered across 24 campuses and locations around Australia. It is regarded as Australia's most open and active institution within the sector.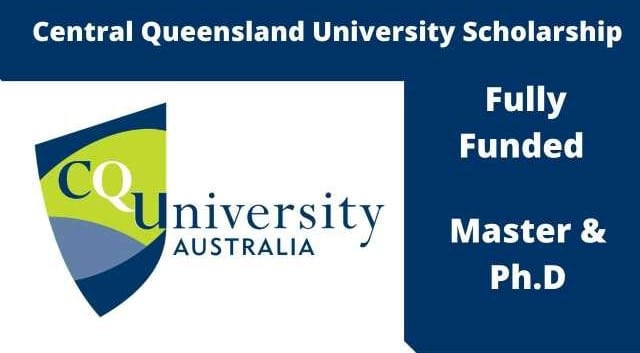 About Central Queensland University RTP Scholarship
The RTP Scholarship at Central Queensland University is fully financed and accessible for Masters and Doctoral Degrees by Research. However, the institution offers Master's and PhD degrees in practically all academic fields to students from all around the world.
Since 2009, the RTP Scholarship at Central Queensland University in Australia has been on a roll. The University has emerged as one of Australia's genuinely outstanding universities, thanks to its incredible increase in student numbers, new programmes, new campuses, infrastructure, and reputation, as well as its concentration on research and social innovation.
Worth/Value of Scholarship
The Scholarship is a full free scholarships for International students to Study Abroad.
RTP  scholarship for international students will cover all tuition fee expenses.
The scholarship also cover free accommodation.
The scholarship covers stipend of $28,092 per annum.
It also cover medical funds (Paid sick leave) and research funds also offer.
Australian Government Research Training Program scholarships will cover all the expenses.
Eligibility Criteria
You must be a National & International students from all over the world.
To be qualified for a Masters by research or a Master of Philosophy, you must have an undergraduate degree with first or second-class honors from any reputable university.
A bachelor's degree with first or upper second class honors
To be eligible for PhD Research Program in the university, you need to demonstrate enough prior research experience and capability. In most cases, you will have either: A master's degree from a high academic standard institution, and which includes a substantial component of research
An equivalent qualification that shows honor and capability in research.
Lists of Documents Required for Application
For an Australian Government scholarship, all documentation for Central Queensland University RTP Scholarship must be written in English.
To apply for Master's Degree in the university, each applicant must hold Bachelor's Degree Diploma (or above) Transcripts.
To also apply for PhD Degree Program, candidates must have Master's degree diploma (or above) Transcripts.
The latest degree approved Transcript with official stamps will be uploaded. (Including Grading Points).
Candidates must have two recommendation letters.
You also need a research proposal.
Curriculum Vitae or Resume.
Supervisor Acceptance Letter.
Each candidate must have an official TOEFL or IELTS English language proficiency score. (If English is not his/her First Language).
You must also have an academic thesis or relevant publications (for Ph.D. program candidates).
Candidates for PhD degree course should submit a copy of Master's thesis or relevant publications.
Other reference documents (if applicable).
How to Apply
All paperwork for an Australian Government RTP Scholarship must be written in English. Central Queensland University RTP Scholarship applicants do not need to submit a separate application. Your supervisory team should be made aware of your interest.
After that, depending on the supervisory team's suggestion, the School of Graduate Research will ask each candidate to submit an application. When the scholarships have been granted, scholars will be contacted by email.
Application Deadline
The application deadline for these scholarship is December 31, 2021.
Visit Central Queensland University for additional information and to apply.
Explore other Australia Scholarships for international Students
In order not to miss out on prompt updates from careerinfos.com, enter your email address below and hit the subscribe button beneath.
A confirmation link will be sent to your inbox or check your spam mails if its not in your inbox. Make sure you click the link to confirm your subscription in order not to miss any updates from this blog. All comments (related to the post above) should be dropped via the comment section below.