Exams Required to Study in France
Writing Prerequisite Exams To Study In France
Exams required to study in France could be quite demanding at times. For international students, France is a popular choice. It offers a wide range of academic options, low tuition, and a number of scholarships and exchange programs. International students, on the other hand, may be required to provide certain sorts of certificates demonstrating that they have passed a requisite international exam.
Exams required to study in France differ depending on the entry requirements, the university, and the study program's type. It is possible that the examinations will be either language or particular skills tests.
Exams Required to Study in France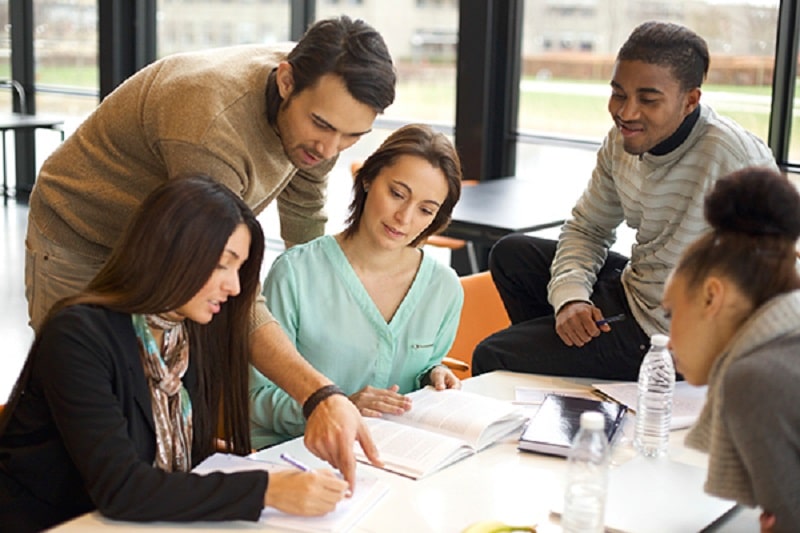 What Exams Do I Need to Study in France?
If you wish to study in France, you will need to pass at least one of the following exams:
Required Exams To Study In France
DALF (Diplôme approfondi de langue française)
DELF (Diplôme d'études en langue française)
GMAT (Graduate Management Admission Test)
GRE (Graduate Record Examinations)
IELTS (The International English Language Testing System)
Le TEF (The French Evaluation Test)
TCF (Test de connaissance du français)
TOEFL (Test of English as a Foreign Language)
TOEIC (Test of English for International Communication)
DALF
This is one of the exams required to study in France, This exam assesses French competence at the remaining levels of the Common European Framework of Languages: C1 and C2. While the tests are linked, the certificates are distinct credentials that you can apply for based on your readiness.
DELF
The DELF is administered on behalf of the French Ministry of Education by the International Centre for French Studies. It's a test that assesses the applicant's ability to communicate in French. It has four levels, ranging from A1 to B2, and assesses reading, writing, speaking, and listening abilities.
To pass, you must obtain a score of 50 out of 100. The test requirements vary depending on whether you wish to study while taking French classes and taking school examinations in French. You may want to explore how to learn french easily.
GMAT
The Graduate Management Admission Council owns and administers this exam, which examines many subjects such as language, algebra, geometry, and arithmetic. The test also evaluates problem-solving abilities, analytical abilities, and logical abilities, all of which are considered essential in business management domains by the administrators.
Business schools and other academic sectors are likely to demand GMAT. There will be four areas in which you will be assessed:
Analytical writing
Integrated reasoning
Quantitative
Verbal
You can take the exam five times in a year, but there must be a 16-day gap between each attempt. The test can only be taken a total of eight times.
GRE
GRE and GMAT are quite comparable in that they both measure similar capabilities such as logical and reasoning abilities, as well as verbal and linguistic abilities. The GRE, on the other hand, is typically taken by students in a variety of graduate programs, whereas the GMAT is reserved for individuals who desir to attend a business school.
IELTS
IELTS is an assessment exam for international students whose first language is not French or English. The majority of overseas students will attend lectures in English, and a language certificate demonstrating their proficiency in the language is required.
The British Council, IELTS Australia, and Cambridge Assessment English jointly own and operate IELTS. You will be graded on reading, writing, listening, and speaking throughout this test.
In contrast to the TOEFL, the range score spans from 0 to 9. To pass, you usually need a 6 or better. Each institution's score requirement, however, is different.
TCF
TCF is another language exam that evaluates an applicant's ability to communicate in French. International students who are fluent in French and wish to attend lectures in that language will be required to take a language exam. The CIEP (Centre international d'études pédagogiques) organizes this test on behalf of the French Ministry of Education.
The test is based on the Common European Framework of Reference for Languages, which categorizes language competency from A1 (basic user) to C2 (advanced user) (advanced user).
TCF offers two parts to the exam: one that is mandatory and one that is optional.
The following items are included in the mandatory section:
Grammar and vocabulary.
Listening.
Reading.
The optional section includes:
Spoken interaction.
Written expression.
TEF
TEF is one of the initial standardized examinations for evaluating French language proficiency. It was only in 2012 that it was accepted for academic purposes, since it had previously only been used for immigration and naturalization.
Your reading, writing, and spoken skills will be evaluated. There's also a glossary and a structural section. To pass, you must have very high scores in the written compression and oral sections, as well as a written expression section score of at least 14/20. (the understanding of complex usage of the language, including metaphors and idioms).
TOEFL
The TOEFL is an English language test that is necessary for students who do not speak French or English as their first language. Some institutions may need various English language examinations; nevertheless, as long as you have one certificate that the university accepts, you should be OK.
A non-profit organization devised and administers the test. Exam centers should be available in your home country or even after you arrive in France.
There will be four sections in the test: reading, writing, speaking, and listening. The TOEFL is graded on a scale of 0 to 120. The minimum score required to deem your test legitimate will vary by university.
TOEIC
This is an English language exam as well, with the goal of determining your level of ability in the language. The key distinction between TOEFL and TOEIC is that whereas TOEFL is primarily intended at students, TOEIC is aimed at professionals who want a language certificate. This is because TOEIC is primarily concerned with determining your ability to communicate in a foreign language.
Some colleges, however, may demand TOEIC. This will mostly be determined by the level of your study program and whether or not you will be working while studying. The majority of institutions will simply require the TOEFL.
Requirements for Studying in France
When applying to study in France, international students must meet the following requirements:
Student visa
Some foreign students who are citizens of countries with which France does not have a visa agreement are needed to get a French student visa in France. Typically, a student visa is good for a year. To get a student visa, you must first be accepted into a university. The visa requires an application process, which the French embassy in your country may assist you with.
Passport
When you apply for the study program, you need bring your passport with you. Check to see if the document is current.
University application form.
Most institutions want you to fill out a unique application form when you first apply. The form is normally available on the university's official website.
Proof of financial stability.
Students must submit documents stating that they can afford to study in France and will not become financially reliant on the country. This may need having a certain amount in your savings account as well as a monthly spending budget.
Evidence of paid tuition fee.
You must show proof that you have paid your tuition payments. If you haven't paid the fees, you'll need to show proof that you can pay the tuition. If you have a scholarship in France, you must provide a certificate stating that the award covers your tuition. You may want to have an idea of tuition fees in France.
Entry Requirements for Universities in France
The following are the admittance criteria for international students at French universities:
Documents Required To Apply For Studies In France
Campus France authorization.
Resume
A letter of intent
Reference letter
Campus France authorization.
Students must first create an account on the Campus France website. The platform will assist you during the application procedure and will store all pertinent information in your file.
Resume
For their application, students must provide a thorough CV. In the CV, you must list all of your accomplishments and arrange them in the order in which you achieved them.
A letter of intent/Statement of purpose
Make sure you include a letter of intent that is well-written. You must explain why you want to study in France, why you choose this particular program, and what your professional ambitions are in the letter.
Reference letter.
The majority of universities will need letters of recommendation. Some institutions may demand several reference letters, while others may have particular requirements for who you should approach to write the letter.
Study in France Application Process
If you wish to apply for studies in France, follow these steps:
Select a University
Before applying to any university in France, do some research to see which school will be the best fit for you. Examine the admissions standards for each institution and the program you want to pursue. It will be easier for you if they accept any of the above examinations and you have a certificate since you will not have to take another exam.
Sign up at Campus France
Etudes en France, often known as Campus France, is an e-service where international students must register in order to study in France. You sign up for an account online and are given instructions on how to proceed.
Throughout the application procedure, the platform will assist you. You may scan and upload the relevant papers to your account, and a file with your name will be created.
Some students are not required to register at Campus France, depending on their country of origin. Even though you are not obligated to do so, you must submit a preliminary request for admission (Demande d'Admission Préalable – DAP) while registering for your first year Bachelor's degree.
Fill out an application for a student visa.
After you've finished your university application, you'll need to apply for a visa. Not every student will require a visa; it depends on where you are from. To be sure, call a French embassy or consulate in your country and speak with the admissions officer.
If a visa is required, apply at a local French mission, as visas are always provided by embassies/consulates.
You have to be admitted to an educational institution first so you can attach a letter of acceptance to your visa application.
In order not to miss out on prompt updates from careerinfos.com, enter your email address below and hit the subscribe button beneath.
A confirmation link will be sent to your inbox or check your spam mails if its not in your inbox. Make sure you click the link to confirm your subscription in order not to miss any updates from this blog. All comments (related to the post above) should be dropped via the comment section below.