Study In France
How To Apply To Study In France - A Complete Guide
When you apply to study in France, you must complete the application in full. The earlier you do so, the faster the admissions committee will evaluate you and determine whether you're a suitable fit for the institution.
Depending on your country, the application process for foreign students may vary.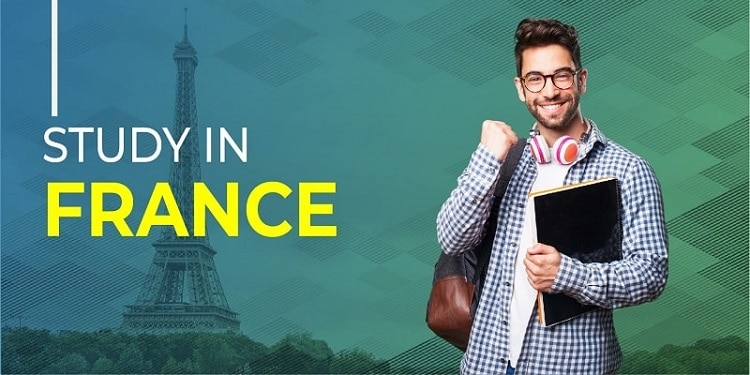 Guide On How to Apply to Study In France
Here's a quick guide to applying for college in France.
For European Students
You will normally require the following documents to apply for admission to a French institution as an international student from another EU country:
Application fee (if asked)
Completed university application
ID photo or driver's license
Apply for financial aid program (if the University provides one)
High school transcripts (or relevant equivalent)
A well written essay (if asked)
English proficiency results (TOEFL, IELTS, Duolingo etc.)
Any other required document depending on the University
For Non-European Students
If you are not from an EU nation, you must submit the following documents when applying to colleges in France:
Completed university application
A well written essay (if required)
A passport sized photo
High school and college transcripts
Copy of your international passport
English proficiency results (TOEFL, IELTS, Duolingo etc.)
Proof that you can support yourself financially
Copy of birth certificate
Certified translation of the birthplace of your parents
Any other required document depending on the University
After admission: A French Student Visa
Entry requirements for French Universities
You can begin the application procedure once you've decided on a program at a French university to which you wish to apply.
It is important to remember that each university has its own requirements; for example, some universities may need you to take the GRE, GMAT, or LSAT for admission — these are internationally recognized examinations that guarantee applicants are prepared for the difficulties of advanced study.
When applying to a French university, there are a few standard entrance requirements that you should be aware of.
General Entry Requirements To Study In France
For entrance, most French colleges will require the following documents:
Campus France authorization
An International passport
A passport sized photo of yourself
Copies of transcripts and graduation diplomas
A copy of your European health card (for EU students)
Application fee (if required)
Proof that you have the financial resources to fund your stay in France
A civil liability certificate
Cover letter
French and/or English proof of language proficiency
MA Entry Information
Keep the following in mind if you wish to apply for an MA degree at a French university:
In France, a master's degree normally lasts two years.
Master's degrees in France are divided into "teaching units" (TU) to focus on specific areas within a broad subject area (practical workshops, theoretical discussion, and independent project-work)
You will be required to submit a dissertations (or a similar extended research project)
Master's degrees in France are divided into two categories: specialized master's degrees and MBA programs.
Specialized Masters – is a term that is occasionally used to describe advanced programs offered by Grandes Écoles. The programes has the following features:
a) Four semesters long
b) Competitive applications
c) Highly intensive
6. MBA programs were founded in America, but France was the first country in Europe to provide them. French business schools are notoriously difficult to gain admission into.
PhD Programs
In France, the majority of PhDs are completed as part of a program at one of the 266 doctoral schools. PhD candidates get doctorate training in collaboration with research laboratories and centers. For a conventional 3-year PhD, a 'doctoral' program lasts six semesters, resulting in two teaching (or research) semesters every year.
Requirement To Enroll For A Doctorate In France
During your second year of master's, you should explore for a doctorate.
Choose a thesis subject and a thesis advisor.
Check with your doctorate school to see whether you qualify for scholarship.
Tuition Fees for French Universities
The qualifications for admission as well as the tuition rates vary per university. Some universities, for example, may not need a high application cost or SAT scores, while others may. Here's an estimate of how much tuition at a French university would cost based on your degree.
Degree
Average Cost
PhD's Degree
2,770 380 per year.
Master's Degree
3,770 euros per year.
Bachelor's Degree
2,770 euros per year.
Do I Need a Student Visa To Study In France?
If you're not a European student, you'll need the following documents to get a student visa:
A letter of admission from a French approved university. This should be written on official letterhead and include information about your program of study as well as the start and conclusion dates.
Proof of your ability to support yourself while in France. A bank statement, a guarantor's letter, or a notice of financing from a loan, scholarship, or grant can be used to demonstrate the current amount necessary, which is €615 per month.
Proof of a return ticket to your native country. This is frequently in the form of a physical ticket or reservation with a departure date, but it can also be a handwritten declaration of purpose with desired departure dates.
Medical insurance proof (minimum coverage €30,000)
Proof of lodging is required. If you're living with friends or family, you can present a confirmation of student housing, a certificate of board and lodging, or an attestation d'accueil.
If you have proof of French competence, please provide it with your application.
Can I Study in English in France?
It is feasible to study in English in France, despite the fact that it is not the most usual thing you will hear.
France's public universities are among the most cost-effective in Europe. Some of them provide English-taught programs in which you may receive a complete French education in English. As most of them will teach you French while you study in English, some, such as "Sciences Po," offer English-only programs. You may want to explore how to learn French easily if you are a beginner.
Advance Study Centres In France
There are several advanced centers that specialize in a variety of subjects such as architecture, agriculture, public administration, and so on. Admission to the universities is competitive, and space is restricted. Admission is contingent on the institution's recognition of your credentials for international students.
Courses of Study and Language of instruction In France
When it comes to the language of instruction, students have a choice. They have the option of learning in either English or French, as classes are available in both languages. The following are some of the most popular courses:
Most Popular Courses in France
Art History
European and Mediterranean Cultures
Communication technology
Creative Arts
Finance
Film Studies
French Studies
Geography
Global Communications
Information Technology
International Business Administration
Medicine
International Economics
Linguistics
International Finance
Literary Studies
International and Comparative Politics
Pharmacology
Psychology
Sociology
FAQs – Study In France
Why should you study in France?
The following are some of the most compelling reasons to study in France:
The nation has been designated as a Learning Center.
France has demonstrated excellence in science and technology over the years
French education is of high quality.
Students are guaranteed placement at work
Benefits are the same for international students as they are for French students.
Knowing french is not mandatory
Living in France is relatively cheap
France is environmentally friendly
The land is brimming with significant art and culture.
Are universities or colleges ranked in France?
In France, there is no formal ranking system. The student can enroll at a university, a Grandes Ecole, or a center for Advanced Studies. There is no formal equivalent scheme between French and international degrees. Paris does not have a monopoly on higher education in France.
When can I apply to study in France?
The academic year begins in September or October. Students may be enrolled for the Spring, Summer, or Winter semesters at some institutions.
Subscribe to join other students interested in studying in France and receive frequent emails with useful articles, the latest news, and a variety of scholarship options in France…
In order not to miss out on prompt updates from careerinfos.com, enter your email address below and hit the subscribe button beneath.
A confirmation link will be sent to your inbox or check your spam mails if its not in your inbox. Make sure you click the link to confirm your subscription in order not to miss any updates from this blog. All comments (related to the post above) should be dropped via the comment section below.