How to Apply for a Canada Work Visa with a High School Diploma
Applying For a Canada Work Visa With A High School Diploma
How to Apply for a Canada Work Visa with a High School Diploma is a major concerns to most immigrants without tertiary education. Even though many people who have come to Canada from other countries have some sort of post-secondary education or degree, it is not required. In reality, Canada's immigration system offers a variety of visa alternatives for people with a secondary qualification such as a high school diploma.
Is it possible to apply for Canada immigration visas with just a high school diploma?
Yes. There are several alternatives available, including the Federal Skilled Trade Program (FSTP), Provincial Nominee Programs (PNPs), Rural and Northern Immigration Pilot (RNIP), and Agri-food Pilot (AFP), among others. It is advisable to examine which programs do not require a university or college diploma, as well as which programs you qualify for. The following are our top three recommendations for Canadian immigration and visa options that do not need a work permit a degree. You might want to explore easiest ways to relocate to Canada.
How to Apply for a Canada Work Visa with a High School Diploma
Whether you like it or not, Canada's ever-popular immigration system includes alternatives for individuals without a post-secondary degree such as;
1. Express Entry: Federal Skilled Trade Program
If you meet specific criteria, this option may best for you:
Have at least 2 years of full-time work experience in the last 5 years,
Fulfill the job criteria based on your NOC code, meet the necessary language levels for your profession,
Either have a valid employment offer in Canada for at least 1 year or
A Canadian certificate of qualification in your trade. You may want to explore highest paying trade jobs in Canada.
2. Saskatchewan Immigrant Nominee Program (SINP)
Saskatchewan has the most in-demand employment in Canada, out of all 13 provinces and territories. Indeed, there are so many that the government thought it would be simpler to list ineligible occupations rather than those that are most needed to strengthen the local economy. To be deemed eligible, the following Saskatchenwan Immigrant Nominee Program do not require a post-secondary qualification:
Semi-skilled Agriculture Worker
Hospitality Sector (food and beverage server, food counter attendant, kitchen helpers, housekeepers, cleaning staff)
Long Haul Truck Drivers
3. Rural and Northern Immigration Pilot
If you desire the simple life; small-town charm and a community-oriented way of life that moves at a slower pace than big centers like Toronto or Vancouver, you might want to explore one of the 11 Rural and Northern Immigration Pilot towns (RNIP). All you need to do is ensure that you:
have a legitimate non-seasonal employment in one of the RNIP towns;
fulfill the linguistic requirements depending on your NOC code;
have a high school education comparable to Canadian standards;
sufficient funds to sustain yourself and your family; and
have at least one year of work experience in the last three years;
How long does it take to get a work visa in Canada?
This differs depending on the circumstances. In general, the application procedure takes around eight weeks, although it can take anything between one and twenty-seven weeks depending on where you apply and whether your application is flawless.
How to Apply for a Canada Work Visa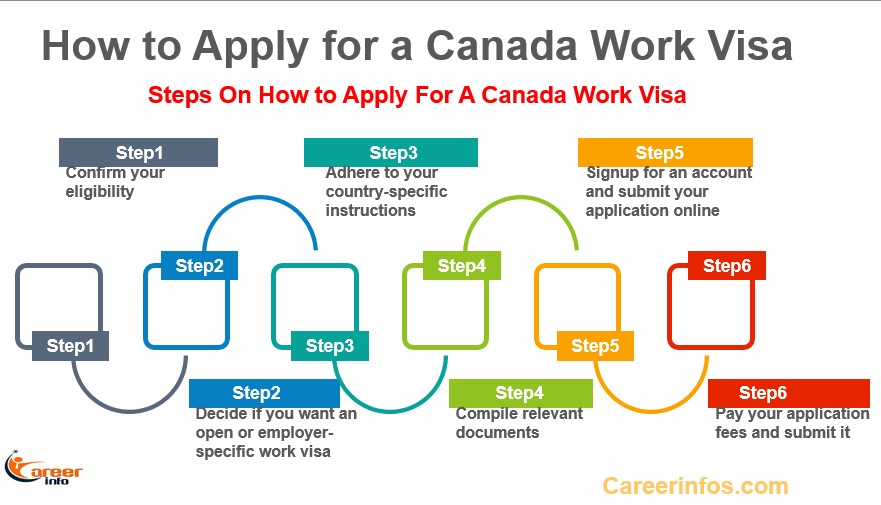 Step 1: Confirm your eligibility
Prior to actually commencing the Canada work visa application process, it is a good idea to determine which visa program you are eligible for. This will help you decide which Canada work visa to apply for.
Step 2: Decide if you want an open or employer-specific work visa
It is critical to select the appropriate visa type. There are two types of work permits in Canada: open work permits and employer-specific work permits. You might want to explore how to secure a Canadian Work Permit.
The open work permit enables you to work anywhere in Canada for any company and is typically necessary for programs run by International Experience Canada (IEC) or the International Mobility Program.
If you get a job offer from a Canadian company, you will need an employer-specific work visa. This Canada work visa is required for a variety of programs and streams, particularly those under the Temporary Foreign Work Permit Program.
Step 3: Adhere to your country-specific instructions
The application procedure for your work permit is determined not only by the visa program or the type of visa you require, but also by where you apply. Although most nations' requirements are similar, your local immigration agency or the Canadian government may demand extra papers.
Check the criteria carefully to ensure that you have everything you need. Any missing papers may cause your application to be delayed or, worse, your visa to be refused. You may also explore how to relocate to Canada without IELTS.
Step 4: Compile relevant documents
The next step is to double-check that you have all of the supporting papers listed in your instruction manual. Some papers may take longer to get than others. A medical exam can take up to three months to get, so apply for documents such as medical and police clearance paperwork first, before those that are processed more quickly.
Step 5: Signup for an account and submit your application online
You may begin the procedure now that you have everything you need to finish your application. You can build an online profile on the government website, or if you have decided to work with a representative such as an immigration lawyer or a Regulated Canadian Immigration Consultant (RCIC), they will build the account and submit your application on your behalf.
Step 6: Pay your application fees and submit it
After you've completed your application, you must pay the government application costs before submitting it. To make the payment, you'll need a scanner or camera, as well as a valid credit or debit card.
How difficult is it to get a Canada work visa?
Applying for a work visa in Canada is pretty simple if you know your way through the immigration system. The issue that most candidates encounter is ensuring that they are on the correct road from the start of the application process. It all starts with selecting the appropriate visa program.
Making sure you satisfy the requirements, fill out the application form correctly according to the instructions, and meet the application dates can all impact whether or not your application is successful. You may want to explore useful tips on immigrating to Canada.
In order not to miss out on prompt updates from careerinfos.com, enter your email address below and hit the subscribe button beneath.
A confirmation link will be sent to your inbox or check your spam mails if its not in your inbox. Make sure you click the link to confirm your subscription in order not to miss any updates from this blog. All comments (related to the post above) should be dropped via the comment section below.