How to Become a Nurse In South Africa
Qualifying As A Nurse
Nursing, like medicine and law, is one of the most important professions in the world today. Without these individuals, no health-care system can work. They work to improve the quality of life of people, families, and communities so that they can reach optimal health. As a result, nursing is a very meaningful and rewarding profession. The profession is more of a call to action than a job. If you enjoy making a difference in people's lives, you will easily fit into the profession. Keep reading to learn how to become a nurse in South Africa.
Becoming A Nurse
Well, do you have a strong desire to help the sick, but you're still undecided about your job path? If you answered "yes," you should consider pursuing a career in nursing.
However, before you decide to pursue a career in this profession, you should be aware of the training requirements for nurses in South Africa. To attain your desired career, you'll need to comprehend these prerequisites and take nursing courses. Keep reading to learn how to become a nurse in South Africa.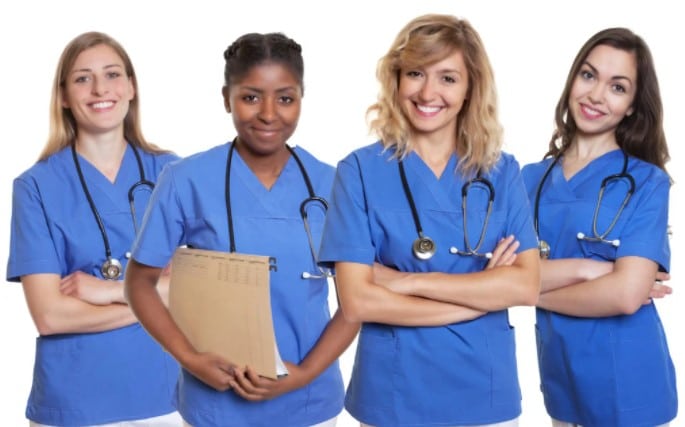 Types of Nurses In South Africa
In South Africa, there are three sorts of nurses:
Registered Nurses, often known as Nursing Sisters, are in charge of supervising enrolled and registered auxiliary nurses, as well as performing routine nursing duties.
Enrolled Nurses: Limited nursing care is provided by enrolled nurses.
Enrolled Nursing Auxiliaries: They execute routine operations and provide general patient care.
Why Study To Become A Nurse?
According to statistics from the South African Nursing Council, the nursing business in South Africa is quickly expanding, and nurses are in high demand throughout the country. In the previous ten years, the number of registered nurses in all three categories has increased by 35%. This implies that Nurses in South Africa have a lot of career opportunities.
Alternative Jobs For Nurses In South Africa
Do not be concerned if the notion of working at a hospital does not appeal to you; there are other choices. You can work as a nurse in a variety of settings, including schools, universities, outpatient clinics and pharmacies, nursing homes, government organizations, research labs, and more.
How To Become a Nurse in South Africa
To become a certified nurse, you have to go through 2 phases:
Step 1: You must obtain a certificate from a recognized institution. In South Africa, both private and state nursing institutes provide the same degrees and certificates. Simply choose a school that meets your requirements to complete your qualification.
Step 2: Register to become a member of the South African Nursing Council (SANC).
Qualifications Needed To Become A Nurse
You may become a nurse by completing one of the following courses:
1. A bachelor's degree in nursing (BCur– Bachelor of Nursing Science, Education, and Administration)
The bachelor's degree in nursing is typically a four-year program provided by most South African public universities. Both a practical clinical component and a theoretical component are required for the degree.
You will learn how to do the type of practical job you will need to be able to undertake when you become a nurse in the practical component. You will learn the theory of what it means to be a nurse in the theoretical component, and you will study medical, biological and natural sciences, psychological and social sciences, and pharmacology to ensure that you have the knowledge you need to be a competent and successful healthcare professional.
Entry Requirements:
It is advised that you take Mathematics, Physical Sciences, and Life Sciences in order to apply for a four-year Bachelor's degree in Nursing. However this is not required at all universities. At exit level 4, you'll require a National Senior Certificate (NSC) or similar certification that includes the following:
English (50-59%)
First additional or home language (50-59%)
Life Sciences (50-59%)
Maths Literacy (50-59%)
Life Orientation (50-59%)
Typically, the BCur trains students to work in one of four fields:
Nursing in general (working in hospitals and medical practices)
Nursing in the community
Psychiatric nursing
Obstetrics and gynecology (caring for mothers and babies)
You can register with the SANC as a professional nurse and midwife after completing a BCur (or equivalent).
2. A Three-year Diploma In Nursing
Vaal University of Technology, Durban University of Technology, CPUT, TUT, and other universities of technology provide diploma in nursing programs.
This course takes three years to complete and includes both practical and theoretical components. This course will cover similar material to what you would learn in a BCur degree program. Because the course is shorter, you will be able to get more in-depth with the work. You'll learn how to give nursing care, apply what you've learned in class to real-world situations, diagnose and treat minor diseases, and offer reproductive health care.
You can work as a registered staff nurse or an enrolled nurse after completing this diploma.
Entry Requirements:
You will require a National Senior Certificate (NSC) or comparable certificate at exit level 3 or 4, depending on the institution, to qualify for this qualification. However, it is not essential that you must have taken mathematics and/or physical sciences as it is for the BCur but you will certainly need the following:
English (50-59%)
First additional or home language (50-59%)
Four other subjects (50-59%)
Life Orientation (50-59%)
3. A One-Year Higher Certificate In Auxiliary Nursing
This is a one-year program designed to give you with the skills necessary to offer basic nursing care to persons. After completing the program, you will work under the supervision of a registered nurse who has earned a degree or diploma.
You will be eligible to register as an enrolled nursing auxiliary after obtaining your higher certificate.
Entry Requirements
A National Senior Certificate (NSC) or comparable certificate at exit level 3 or 4 (depending on the institution) is required to undertake this course.
This is the postgraduate course that a person with a diploma in nursing must finish before working as a nursing sister in a South African hospital.
Unlike the BCur, mathematics, physical sciences or life sciences is not mandatory. You will however, require the following:
English (50-59%)
First additional or home language (50-59%)
Four other subjects (50-59%)
Life Orientation (50-59%)
This course will teach you how to apply your understanding of basic nursing theory and practice to assess, plan, implement, and evaluate basic nursing care for people and groups.
4. One-year Postgraduate Advanced Diploma In Nursing And Midwifery As An Addition To Your Degree Or Diploma.
If you want to work in nursing management after you finish your diploma and degree, you'll need to enroll in an advanced degree program. You must have a bachelor's degree or diploma in nursing to enroll for this advanced diploma program. A minimum of two years of experience as a midwife or nurse is also required.
You have the option of completing your education at either a public or private nursing college.
Entry Requirements:
The following are necessary in order to enroll in this program:
Bachelor in Nursing Sciences (or equivalent) or a degree and comprehensive diploma
Diplomas in nursing and midwifery
Advanced diploma in midwifery, staff nurse and
Advanced diploma
Government Nursing Colleges Application Forms
What Colleges Offer Nursing In South Africa?
The South African Nursing Council (SANC) is in charge of accrediting the country's nursing courses and institutions. If you're looking for information about nursing colleges in South Africa, that should be your first destination.
The SANC will not register any student who holds a certificate from an unrecognized institution. As a result, you must enroll in a school that has been authorized and accredited by the South African Nursing Council.
Some nursing schools in South Africa are listed below.
Top Nursing Colleges In South Africa
Andries Vosloo Hospital
Dr Malizo Mpehle Memorial Hospital
Ga-Rankuwa Nursing College
Lilitha College of Nursing
Moses Kotane Nursing School
SAMHS Nursing College
S G Lourens Nursing College
St Lucy's Hospital
Taung Community Hospital
Thusong Hospital Nursing School
Tygerberg Academic Hospital
Rahima Moosa Campus
Worcester Nursing School
You may want to checkout Nursing Colleges In Johannesburg
Top Nursing Skills A Nurse Should Possess
Knowing the requirements for being a nurse, there are some abilities that a person aspiring to be a nurse is expected to possess in order to fit into the field.
Professionalism:
Remember that everything you say and do reflects your ethical ideals and moral values, regardless of how you seem on the outside. Nurses should constantly maintain a professional demeanor in front of patients and coworkers. Respect, attitude, honesty, responsibility, and discipline, to mention a few, are all aspects of professionalism in nursing. Taking care of your job with professionalism demonstrates your commitment to the field.
Cultural Awareness:
The first step in providing culturally competent treatment is to recognize your own prejudices. Then, through educational opportunities, you may further enhance this talent by expanding your knowledge and awareness. This is significant because it allows you to have a deeper understanding of a patient in order to provide comprehensive, patient-centered treatment. Different cultural views and values have an impact on a patient's perception of health, wellbeing, care, treatment acceptance and adherence, and more.
Paying Attention To Detail:
Being meticulous not only guarantees that you don't make a medical error, but it also allows you to provide excellent patient care. It will also assist you in focusing on active listening by studying nonverbal clues as well as hearing your patient's spoken remarks. This allows your patient to feel heard as well as understood. It also allows you to pick up on his or her unspoken demands and concerns.
Compassion/Empathy:
This is a crucial characteristic of a nurse. This is due to the fact that as a nurse, you are on the front lines of dealing with patients, their families, and healthcare system hurdles. Providing quality treatment necessitates maintaining empathy.
Critical Thinking:
Nurses are trained to solve problems. Because nurses are presented with a big list of activities that must be completed in a short amount of time, skills that aid in balancing these duties can make life much simpler. This is why critical thinking is a necessary ability for nurses. Identify concerns and don't be hesitant to share them with your supervisors to improve your critical thinking skills.
Time Management Skill:
Because there are so many chores to complete, this is an essential skill for any nurse. Remember that effective time management necessitates effective people management! Make a list of your top priorities. Use personal checklists to stay organized and multitask whenever feasible. Make use of your anticipation, delegating, and supervision abilities as a nurse.
Good Communication Skills:
Nurses serve as a direct link between patients and doctors, and they must interact effectively with other healthcare professionals to ensure that patient care is coordinated. It's crucial to deliver information in a clear and concise manner. The same is true when it comes to patient communication. When interacting with patients and their families, be cool, measured, professional, and comforting. If visual or textual communication tools are available, use them, and be aware of and willing to investigate the causes of inadequate communication. Last but not least, keep in mind that not everyone communicates in the same manner. Spend time getting to know your patients and their families so you can build communication tactics that are most successful and efficient for them.
Is nursing a satisfying career?
Nursing, like many other professions, has both rewarding and challenging components. Nursing is an excellent career choice if you enjoy working with people, have a strong desire to help others and make a difference, consider yourself sympathetic, responsible, and resourceful, work well under pressure, and have an interest in the medical sciences.
Is it easy to qualify as a nurse in South Africa?
Being a nurse necessitates a unique personality. Despite the fact that there are several sorts of nurses in South Africa, being a nurse is not impossible. Just bear in mind that the sort of nurse you want to be, is determined by the degree or qualification you desire to pursue.
Conclusion
The process and certifications necessary to become a nurse in South Africa have been meticulously detailed in this article. SANC registration is one of the most important Nursing prerequisites, which you may obtain once you have obtained your chosen certification. After that, you may either start enjoying your rewarding Nursing career or pursue a master's degree. This will allow you to develop your career as a clinical nurse specialist or advanced nurse practitioner.
Best wishes in your journey to becoming a South African nurse. You may want to explore other nursing universities in South Africa.
In order not to miss out on prompt updates from careerinfos.com, enter your email address below and hit the subscribe button beneath.
A confirmation link will be sent to your inbox or check your spam mails if its not in your inbox. Make sure you click the link to confirm your subscription in order not to miss any updates from this blog. All comments (related to the post above) should be dropped via the comment section below.