How to Immigrate to Canada as a Pharmacist
How to Become a Pharmacist in Canada
How to Immigrate to Canada as a Pharmacist has been trending in recent times. Are you thinking about relocating to Canada and happen to be a licensed pharmacist? Here's some wonderful news for you: as a certified pharmacist, you may call Canada home in a variety of ways.
Keep reading to find out how to become a pharmacist in Canada and which visa programs and categories you may apply for.
Can I Easily Work As A Pharmacist In Canada?
If you're wondering why we claim pharmacists can easily migrate to Canada, it's because pharmacists are one of the most in-demand jobs in the country, and this is one of the requirements for moving to Canada. So, if you are a pharmacist from any nation, consider yourself quite fortunate and begin applying for your visa right now since you are very likely to be accepted into the country. Learn how to get accredited to work in Canada.
As a pharmacist, what alternatives do I have?
If you hold one of the following job titles, you have many choices for applying to immigrate to Canada:
Job Roles For Pharmacist in Canada
Hospital pharmacist;
Retail pharmacist;
Pharmacist
Community pharmacist;
Clinical pharmacist;
Industry pharmacist
How To Immigrate To Canada As A Pharmacist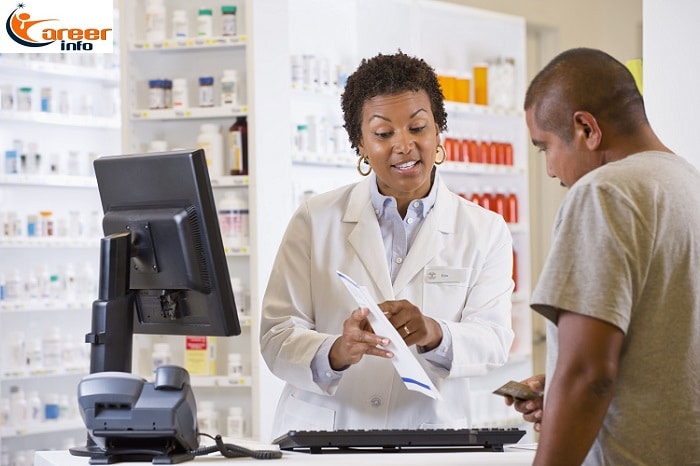 Immigrating As A Pharmacist – What Visa Programs Can I Apply For?
The following are some of the visa programs that will allow you to work as a pharmacist in Canada:
Express Entry Skilled Federal Worker Program;
Manitoba Provincial Nomination Program for In-Demand Occupations; and
British Columbia PNP Skills Immigration for Healthcare Professionals
Express Entry Federal Skilled Worker Class
As a pharmacist, you will be able to come to Canada under the Federal Skilled Worker Class. To apply, you must first meet the program's selection requirements, which consider your education, language skills, job experience, age, planned employment, and flexibility.
All candidates are given a score out of 100 for these screening parameters, and you must score at least 67 to be considered. You may want to explore jobs in Canada.
What Documents Will You Require?
The paperwork you'll need differ depending on where you were born, where you're now residing, and who's in your family:
Immigrating As A Pharmacist – Required Documents For Express Entry
Biometrics;
Police Clearance Certificates;
Educational Credential Assessment (ECA)
ID;
Medical examination by a doctor approved by the Canadian Panel of Physician;
Birth records; and
Language tests for IELTS or TEF (Test d'evaluation)
Your application will be placed in the Express Entry pool if you meet the program's fundamental standards. When you apply to the pool, the CRS (Comprehensive Ranking System) is used to score your application.
The Manitoba Provincial Nomination Program for In-Demand Occupations
The MPNP is a program that encourages people to register themselves for jobs that are in high demand in Canada.
Pharmacists are among the in-demand vocations on the Manitoba Provincial Nomination Program's list. Because it operates under the Express Entry system, submitting an application increases your chances of being invited to one of the numerous Express Entry drawings that take place twice a month.
Simply ensure you have outstanding French language skills, since certified French test results are given more weight than English exam results. You can apply if you get a 7 on the Canadian Language Benchmark test in reading, writing, listening, and speaking.
BC PNP Skills Immigration for Healthcare Professionals
If you are a clinical pharmacist, the British Columbia's Provincial Nomination Program for Healthcare Professionals may be of interest to you.
It's an excellent option to obtain permanent residency in the province more quickly than through traditional visa procedures. To get started, fill out an online application and apply as a Healthcare Professional through the BCPNP Online.
Immigrating As A Pharmacist – Requirements For BCPNP
You must have a legitimate employment offer from a British Columbian firm to be eligible for this program.
Through Express Entry, you can apply for one of three government programs;
Obtain the necessary qualifications to continue working in your present positions;
Have at least two years of relevant clinical pharmacy experience; and
Comply with the language standards.
After you submit your BCPNP Online application, you will be assigned a score based on your employment and experience. If you achieve a high enough score, you may be given an invitation to apply (ITA) to the province and be eligible to seek for permanent residency.
How to Become a Pharmacist in Canada
To work as a pharmacist in Canada, you must have the following qualifications:
Becoming A Pharmacist – Requirements
A bachelor's or doctoral degree in pharmacy from one of ten Canadian institutions is required.
To pass the Pharmacy Examining Board of Canada (PEBC) national board examination (except in Québec).
Apprenticeship/internship programs provide practical experience.
Fluency in English or French is also a requirement.
Source: Canadian Pharmacist Association
The pharmacy profession is supervised at the provincial and territorial levels. The regulatory agencies are in charge of issuing pharmacist licenses, evaluating pharmacist skill, and guaranteeing public safety.
Apply To Become A Licensed Pharmacist In Canada
In order not to miss out on prompt updates from careerinfos.com, enter your email address below and hit the subscribe button beneath.
A confirmation link will be sent to your inbox or check your spam mails if its not in your inbox. Make sure you click the link to confirm your subscription in order not to miss any updates from this blog. All comments (related to the post above) should be dropped via the comment section below.