Master of Global Affairs Scholarships for International Students
Apply For Master of Global Affairs Scholarships
Master of Global Affairs Scholarships for International Students at University of Notre Dame USA is accepting applications from eligible applicants for 2022/2023 academic session.
If you want to pursue your education in the United States, this is excellent news. The University of Notre Dame is accepting applications for Master of Global Affairs Scholarships for international students. In this post, we'll go through the scholarship's value, eligibility, and application procedure in detail.
Master of Global Affairs Scholarships
Accurate coursework, close engagement with policymakers and practitioners, multidisciplinary teachers and academics from throughout the world, and expanded field work with local and global partner organizations are all part of the Master of Global Affairs Scholarships program.
Sustainable Development and Global Affairs + Specialization are two concentrations available to Master of Global Affairs students.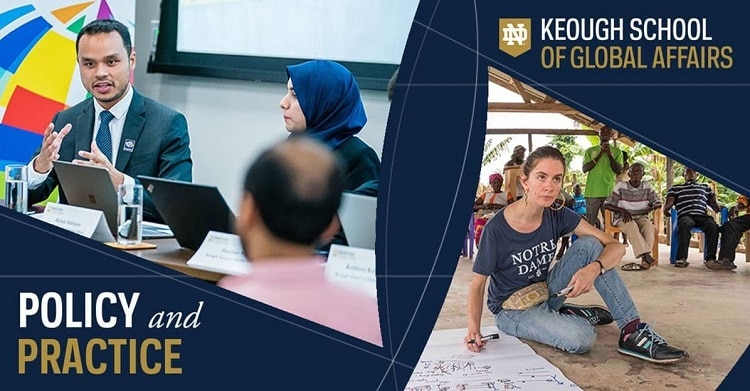 Kroc Institute
The Kroc Institute organizes the International Peace Studies (IPS) concentration of the Master of Global Affairs (MGA), a program of the Keough School of Global Affairs.
All students accepted into the master's program at the Kroc Institute get a full scholarship as well as a stipend for housing and living expenses.
Keough School of Global Affairs
The Keough School educates and trains global affairs professionals, preparing students for effective and ethical professional leadership in governments, nongovernmental organizations, and the private sector. The Master of Global Affairs welcomed its first class of students in August 2017.
By building long-term partnerships within the academy, business, government, and civil society, the Keough School integrates disciplines and best practices to identify solutions responsive to the interconnected nature of global challenges.
The Keough School welcomes engagement with people of all nationalities and religious, secular, and philosophical traditions
Related: Peace Studies PhD Scholarships For International Students
Global Human Development Program Scholarships
Worth of Master of Global Affairs Scholarships
The scholarship offers all successful candidates full tuition and stipend.
Eligibility Criteria
Applicants with a good academic background, ideally two years of professional experience in a global context, competence in English and a second language, and strong letters of recommendation will be considered competitive.
The Keough School is obligated to admitting, recruiting, and enrolling graduate students from different backgrounds, identities, and professional career course for Notre Dame Master of Global Affairs.
The university expect you to be blunt and clear about your professional experiences during the application process so that others may regard the value you bring to the program.
To be qualified for Master of Global Affairs Scholarships, each candidate are expected to submit GRE scores with their applications with the exemption of candidates to the International Peace Studies concentration from outside the U.S.
Application Checklist
A completed application for the Master of Global Affairs includes the following:
University of Notre Dame Graduate School Application
Resume or Curriculum Vitae (CV)
Statement of Intent
Short essay (300 words) for chosen concentration
Three letters of recommendation
Transcripts with proof of B.A. or equivalent degree (and English translation if necessary)
Application Fee of $75.
How to Apply for Master of Global Affairs Scholarships
Visit Kroc Institute official website for additional information on how to apply for Master of Global Affairs Scholarships.
Application Deadline
The application deadline is December 15, 2021.
You may want to explore other trending U.S Scholarships for international students
In order not to miss out on prompt updates from careerinfos.com, enter your email address below and hit the subscribe button beneath.
A confirmation link will be sent to your inbox or check your spam mails if its not in your inbox. Make sure you click the link to confirm your subscription in order not to miss any updates from this blog. All comments (related to the post above) should be dropped via the comment section below.