Safe Ways to Apply for Jobs Online
How To Apply For Jobs Safely
Most inexperienced job seekers are concerned about "Safe Ways to Apply for Jobs Online." Job hunting in the internet era is vastly different than it was only two decades ago.
Who still goes into a company, fills out an application, and is employed practically immediately? In today's world, looking for a job online is the most probable way to be employed quickly. Continue reading to learn how to apply for jobs online in a secure manner.
Ways to Apply for Jobs Online
Despite the fact that the new manner of job searching has less restrictions and constraints, it is essential to examine the various risks and employment scams that are prevalent on the internet.
Applying for jobs online is significantly more convenient because you may do so from anywhere and at any time.
It seems to reason that the more applications you submit, the greater your chances of getting an interview or, better still, a job. Being selective, on the other hand, is critical.
Also Read: Resume Vs Curriculum Vitae
Safe Ways to Apply for Jobs Online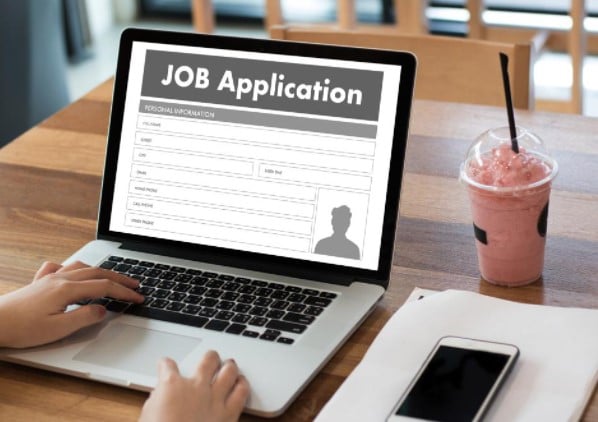 Tips On How To Safely Apply For Jobs
Here are a few pointers on how to remain on top of your application procedures while avoiding falling victim to job fraudsters:
Use reputable job-search websites.
Examine the invitations' email structure.
Do not share derogatory contents on social media
Set up a separate email account for your job search.
Interviews should not be paid for.
Accept background checks only if you are certain you want to work there.
Always use a safe internet connection.
Email Structure
Always look at the structure of an email. If the email in question has a lot of problems, that's a red signal on its own.
It is not recommended that you interact or open any attachments that come with it.
Also, pay attention to the email address to which applications should be sent. If the email address is a Gmail address, do not send your resume for the position.
Companies with domains like [email protected] always have legitimate opportunities.
Related: Apply For Jobs For School Dropouts
Job Search Websites
Currently present, there are a plethora of job boards on the internet that advertise job openings in hundreds of firms.
There are excellent and terrible job search websites on the list, both of which will misuse or sell your personal information to third parties.
How do I identify a credible job search site?
Look for trusted websites with a privacy statement. A complete privacy policy should be in place, outlining what information is collected and how it is used on the site.
If there isn't a policy in place, consider your information isn't in good hands and flee immediately!
Always choose a strong password that is unique to that company's website and application when creating and saving an online profile.
List Of Reliable Job Websites
CV-Library
Adzuna
Glassdoor
LinkedIn
Monster
Indeed
Reed
Rather than scouring a plethora of sites that are poorly managed, focus on a few high-quality sites to put your resume on.
Related: UK Best Job Sites
Social Media
While social media has become increasingly important in today's world, it is still one of the finest and safe ways to apply for jobs online.
However, be cautious about what you post with your social media network. Hiring managers may use your social media sites to validate your personality.
Most notably, employment fraudsters frequently establish phony company pages and promote job openings that do not exist. As a result, always apply at a verified firm or at the very least with accurate contact information.
Contact Details
Giving contact information like cell phone numbers, home addresses, and other personal information isn't always the best option.
Your email address is sufficient for the hiring company to contact you. If scammers get access to your other personal information, it may be misused.
Set up a separate email account for your job search to prevent your contact details from being misused.
Also Read: Cover Letter For General Worker
Background & Credit Checks
If an employer wants to do credit and background checks on you before hiring you, they'll need your ID number. Only give this information after you've had your interview and are sure you want to work there.
In order to apply for a job, you do not need to mention your ID number in your résumé. You can give your age or date of birth, but not your ID number, until after the interview. See what not to include in your resume
Do Not Pay For Interview
You will never be asked to pay anything to gain an interview with a legitimate recruitment or hiring firm.
During or after the application process, no recruiter will solicit you for money. Keep this in mind to avoid any more damage to your own finances. Learn how to prepare for a perfect job interview
Device Protection
Always keep your device protection up to date, and be aware of various methods scammers try to get into a susceptible environment.
You should be cautious about how you connect to the Internet. Others can easily watch your activity, including the information you give out to recruiters, if you use a public Wi-Fi connection.
Summary – Safe Ways to Apply for Jobs Online
There are many genuine opportunities accessible online, but there are also numerous scams that may cause significant worry and financial loss to naive people.
Use these pointers to make your job search easier and more enjoyable. You may want to explore top remote jobs currently recruiting. Best of luck!
In order not to miss out on prompt updates from careerinfos.com, enter your email address below and hit the subscribe button beneath.
A confirmation link will be sent to your inbox or check your spam mails if its not in your inbox. Make sure you click the link to confirm your subscription in order not to miss any updates from this blog. All comments (related to the post above) should be dropped via the comment section below.