How to Immigrate to Canada from Kenya
Immigration Routes From Kenya To Canada
How to Immigrate to Canada from Kenya is a question asked by most Kenyans. Canada has the greatest quality of life in the world and is the most politically stable country. It also boasts the 11th best economy in the world and is one of the top ten safest countries in the world. Canada's healthcare system is not only world-renowned, but it is also free for all citizens, permanent residents, and their families, making it an ideal place to build a life.
Why Should I migrate From Kenya to Canada?
Alongside free healthcare, your children will have access to free public education up to grade 12 if you come to Canada from Kenya. Every month, thousands of professional and semi-skilled people are invited to come to Canada, which is why so many Kenyans are starting their Canada visa applications early in order to relocate to one of the most vibrant, varied, and multicultural countries in the world.
What is the benefit of relocating to Canada from Kenya?
Canada also provides a lot of work options for you and your spouse, with over 433,000 positions now available in the private sector, and an average yearly income of $55,800. Aside from the incredible earning possibilities, you and your loved ones might become Canadian citizens after only three years of living and working in Canada.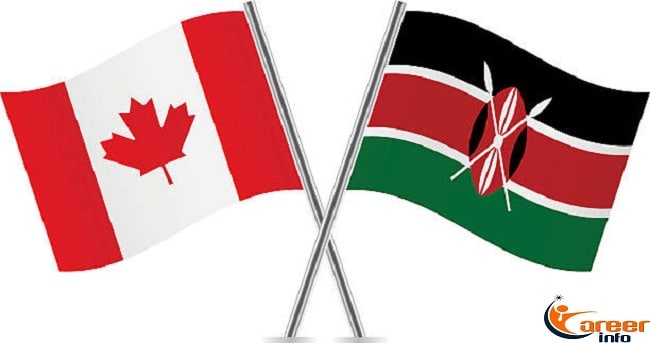 What Are The Top Earning Occupations in Canada?
Among the highest-paying jobs in high demand are:
S/N

Top Canadian Occupations In High Demand

1
Occupation
Average Annual Salary
2
Physicians
$195,000 – $331,500
3
Lawyers
$132,139 – $150,000
4
Nurses
$75,775 – $128,833
5
Tourism and hospitality
$71,719 – $121,922
6
Pilots
$66,110 – $112,387
7
General managers
$66,531 – $113,102
8
Engineers
$62,285 – $105,885
9
Financial advisors and accountants
$56,640 – $96,288
10
Teacher
$43,875 – $74,588
11
Manufacturing
$31,381 – $53,348
How to Immigrate to Canada from Kenya
You can immigrate to Canada from Kenya via the following routes:
Immigration Routes From Kenya To Canada
The Express Entry system
Provincial Nominee Program; and
Studying in Canada
Express Entry System
The Express Entry system administers Canada's three federal economic immigration programs, which are geared at skilled people who wish to live and work in the country. It employs a point-based method called as the CRS (Comprehensive Ranking System) to evaluate candidates based on variables such as age, language skills, education, and job experience.
To apply for a Canada visa from Kenya through the Express Entry system, you must first create an online Express Entry profile. Your profile will be placed into a draw pool that is held every two weeks, from which the top scoring applicants will be chosen to obtain an ITA (Invitation to Apply) for permanent residence in Canada.
Provincial Nominee Program
As a highly competent individual, you may have a good chance of getting an ITA through the Express Entry system; but, this does not guarantee that you will find work in Canada once you arrive.
Another excellent option to apply for a Canada visa is through a Provincial Nominee Program with an Express Entry category. It is critical to confirm that your selected Canadian region or province has a high demand for your occupation. This improves your chances of getting a PN (Provincial Nomination) of 600 CRS (Comprehensive Ranking System).The optimum CRS score is 1200, which implies that possessing a PN already gives you half of the points needed to get an ITA.
A noteworthy advantage of applying through a PNP with an Express Entry category is that having an Express Entry profile allows a province/territorial government to choose your profile from the Express Entry draw pools that occur every two weeks. This implies that merely possessing an Express Entry profile increases your chances of being successful in your Canadian visa application.
Study in Canada
Did you realize that if you study in Canada and graduate from a designated Canadian learning institution, you may be able to apply for a PGWPP (Post Graduate Work Permit Program) to extend your stay and work in Canada? This permits you to earn important Canadian work experience in jobs with a NOC skill 0 or level A or B, increasing your prospects of obtaining permanent residence in Canada via the CEC (Canadian Experience Class). You may be qualified to apply for the CEC through the Express Entry procedure after just one year of work experience and acquire permanent residency in no time.
In order not to miss out on prompt updates from careerinfos.com, enter your email address below and hit the subscribe button beneath.
A confirmation link will be sent to your inbox or check your spam mails if its not in your inbox. Make sure you click the link to confirm your subscription in order not to miss any updates from this blog. All comments (related to the post above) should be dropped via the comment section below.