Germany Blocked Account For International Students
A Quick Overview of the German Blocked Account
Germany Blocked Account For International Students
This article features the premium guide about choosing the best German Blocked Account Provider, as Well as the Process of Opening the Blocked Account For Foreign Students Applying for a Study, Language Visa or a Residence Permit in Germany. Keep reading to learn about Germany Blocked Account For International Students
How to Open a Sperrkonto (Blocked Bank Account) in Germany
Under current law regulations in Germany, if you're an international student from a non-EU or non-EEA country, you must prove you have the financial resources (Finanzierungsnachweis) to cover your living expenses in Germany.
Proof of financial resources is an important condition to get your student visa and your study residence permit.
Read this article for detailed information about Germany blocked account for international students.
A Quick Overview of the German Blocked Account
The yearly minimum to be paid into the blocked account when applying for a visa will be 10,332 euros starting January 1, 2021.
It's critical to double-check the desired blocked amount with the German authorities in your area.
Be informed that not all accounts are equally approved by all authorities. Make certain that the company you select meets all of your requirements.
Security and acceptability should take precedence above saving a small bit of money on fees since, in the end, if things do not go as planned, you might wind up with a considerably larger cost.
Only blocked accounts backed by a properly regulated German bank offer complete deposit security and acceptance.
The procedures for opening blocked accounts in Germany varies considerably. Depending on how much time you have until your visa appointment, we recommend choosing the quicker option.
For worry-free planning, most companies provide blocked account and health insurance packages.
Overall, the above-mentioned reasons combine to make Fintiba, the industry leader, the preferred option of foreign students.
What is a Blocked Account?
Because the money placed into the account cannot be withdrawn until the account user is in Germany, it is known as a "blocked account."
The German blocked bank account (Sperrkonto) is a prerequisite when applying for a German student visa or a student residency permit. It is meant to serve foreign students and job seekers as proof of financial means for residing in Germany for a year.
Despite the fact that there are alternative ways to demonstrate one's financial situation, the blocked account is the most popular among foreign students.
Why is the Fund Blocked?
A person wishing to live in Germany for a length of time certifies that he or she can handle living and other expenditures during that time by designating a specific amount of money (decided by the German government) to the blocked account.
Is It Possible to Study Without a Blocked Account in Germany?
It is feasible to study in Germany without a blocked account provided you can show that you have adequate cash by presenting one of the following documents:
A record of your parents' earnings and financial situation.
Scholarship certificate from a well-known scholarship organization.
A permanent resident of Germany (a family or a friend) can promise that they will fund all of your expenditures throughout your time as a student by signing a letter of commitment (Verpflichtungserklärung).
Bank guarantee is also a financial assurance.
Do I Need a Blocked Account to Study in Germany?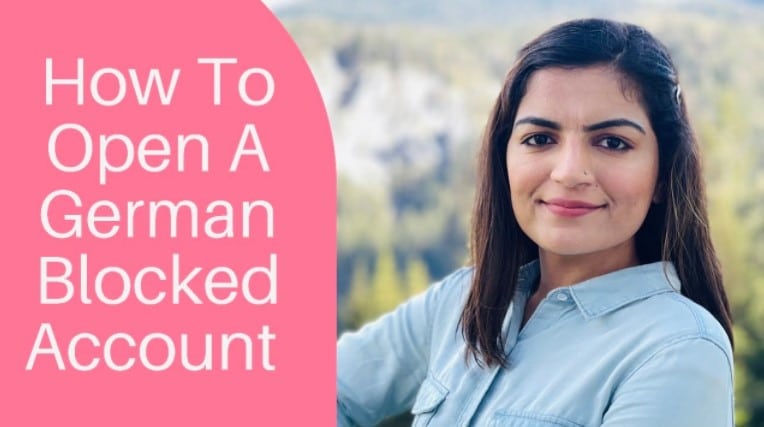 Germany Blocked Account Amount
When applying for a student visa to Germany, you must deposit €10,332 into a German blocked account, or €861 each month for the duration of your stay (up to 12 months).
This figure is based on the BAföG, a German government program that provides financial aid to students. It can, however, vary and should be discussed with your embassy/consulate ahead of time.
This figure specifies the minimum amount of money that must be placed in the blocked account in order to establish your financial ability (Finanzierungsnachweis) to get a German student visa .
It's also worth noting that the necessary monthly minimum operates as a cap on how much money account users may withdraw or transfer in a given period of time unless they pay more than the demanded minimum blocked amount.
Health insurance is another crucial component of obtaining a student visa in Germany. To make the procedure easier for students, several suppliers combine a blocked account with health insurance.
German Blocked Account Providers
It's difficult to choose the finest blocked account company in Germany because there are few. Here are a few of Germany's most popular blocked account providers:
Here is a comparison of the most popular blocked account providers in Germany:
Blocked Account Fees
The fee structures of the existing blocked account offers varied considerably.
German Blocked Account Fees

Fees
Deutsche Bank
Fintiba
Expatrio
Coracle
Set Up Fee
150 €
89 €
49 €
99 € (Coracle Basic),
Monthly Fees
6,90 €
4,90 €
5,00 €
0,00 €
Extension Fees
150 €
89 €
49 €
60 €
Please keep in mind that a cheap price does not always imply the best value for money, since other key features may be sacrificed. When such a large sum of money is at stake, it is often preferable to spend a bit more and therefore get a better product. In terms of set-up fees, Expatrio is presently the most affordable choice on the market. When you evaluate all of the expenditures over the course of a year, Coracle looks to be the most cost-effective alternative.
Speed and Ease of Opening a Blocked Account
Fintiba is the fastest for all clients in terms of speed, as they go through an automated verification process. It is presently regarded as the quickest provider in the market due to its 10-minute opening time, quick transfer choices, and minimal criteria for setting up monthly withdrawals and accessing funds.
Fast solutions are also available from Expatrio and Coracle. The integrated current account offered by Deutsche Bank is a significant advantage over other providers, since it eliminates the need to create a separate current account. It does, however, come with a considerably more time-consuming overall blocked account opening process. Overall, the benefits are insufficient to compensate for the drawbacks.
How to Open a Blocked Bank Account in Germany?
The following procedures will let you open a blocked bank account in Germany:
Choose the provider.
Apply online for your blocked account.
Fill out the application form in pdf format (which only applies to Deutsche Bank).
Only if you've picked Deutsche Bank, get formal authorization at the German consulate.
Make a deposit.
Obtain your blocking confirmation
Depending on your country and the bank account provider you pick, the list of necessary papers to create a blocked account may differ.
For example, to register and open an account with Fintiba, you'll just need an ID card or passport, and it'll usually take less than 10 minutes to have your blocked account ready for a transfer.
Opening A Blocked Account With Deutsche Bank
To create a blocked account in Germany with Deutsche Bank, you'll need the following documents:
An application form
Your valid passport
The admission letter from your university
A bank statement of your income
A prepaid fee
Health Insurance
All blocked account providers, with the exception of Deutsche Bank, provide health insurance packages, as it is required to have enough health insurance coverage and financial proof in order to get a study/language visa.
Because the providers' packages differ, learn about the differences in the criteria ahead of time so you can properly prepare your application papers and enhance your chances of receiving a visa or residence permit on time. In Germany, student health insurance has a dual purpose. It is not just a prerequisite for obtaining a study visa in Germany, but it also insures you in circumstances where medical help is required. Everyone in Germany, including foreign students, is required by law to obtain health insurance.
If you do not qualify for public health insurance, you must purchase private health insurance in order to enroll in university and receive a residence permit. Additionally, if you participate in preparatory courses such as Studienkolleg or language lessons before beginning your studies, you must have private health insurance.
When is the ideal time in Germany to open your blocked account?
We strongly advise you to begin the procedures as soon as you receive your acceptance notice.
International students frequently complain that confirming the opening of their blocked account takes longer than it should. Aside from the bureaucratic processes that frequently prolong the process, the date of your application might also be the cause of the delay.
There are instances when banks get a large number of applications from international students or are overworked. This may cause your Sperrkonto to take longer to open.
In Germany, how long does it take to open a blocked account?
The time it takes to open a blocked account in Germany is determined by a variety of variables, including your nationality, the provider, the German embassy's workflow in your home country, your documentation, and so on. If all goes according to plan, you should have your blocked account within a week of filing your application.
What is the procedure for transferring funds to a blocked account in Germany?
If you wish to send money to a blocked account in Germany, you must first obtain accurate information before proceeding.
Depositing the appropriate funds is one among the procedures you must do when opening your German blocked account. You will get confirmation that your blocked account has been opened with the amount you have deposited as soon as the money is transferred into your German account.
You can deposit funds into your blocked German account using one of the following methods:
International Bank Transfer
Money Transfer Companies
International Bank Transfer
International bank transfers are available both online and in person. To get started with an international bank transfer, you'll need to provide the following:
Recipient's name, address, and account type.
The name and address of the recipient's bank.
Recipient's account number or IBAN (International Bank Account Number).
The recipient's bank's BIC/SWIFT code.
About Funding German Blocked Account With International Transfer
Keep in mind that sending money internationally through your bank might be rather costly. Fees for international money transfers differ based on your home country's bank. As a result, it's a good idea to double-check your bank account to ensure that the amount you're transferring will cover the minimal amount. Otherwise, you will not receive a confirmation letter for your blocked account.
An international money transfer typically takes 3 to 5 working days, although it might take up to a few weeks in some circumstances. You will receive your blocked account confirmation as soon as the funds are deposited to your bank account, which you may use for your visa application.
Money Transfer Companies
Traditional banks are more expensive than money transfer firms like Wise, Western Union, MoneyGram, and PayPal. In contrast to banks, they will charge cheaper costs and provide better exchange rates. As a result, you should select your money transfer service provider based on their prices and processing time.
Tips When Transfering Money To A Blocked Account
Make sure you examine the currency rates that apply to your transaction before making any money transfers to your German blocked account, since they might affect affordability.
Make sure you're informed of any additional costs that may apply to your transactions, since firms with higher exchange rates may have higher fees as well.
Because the account is in Germany, the money you're sending must be in Euro (EUR).
Consult your bank to confirm that the transaction is carried out in Euro and that the amount moved (in your home currency) is equivalent to the required amount in Euro.
Related: German Citizenship Test – How To Pass
How to Withdraw Money From the Blocked Account?
You can withdraw money from your banned account once you have established a registered address in Germany. Keep in mind, however, that you will not be able to access your blocked account in Germany. As a result, the only option to withdraw your funds is to create an international student bank account in Germany. Your frozen funds will be sent every month to the account.
Unless you've deposited more money than the statutory minimum, you can only take a maximum of €861 each month. This sum is moved from your Sperrkonto to your normal account (or international student bank account). You can withdraw funds at any time from your normal account.
Related: Best German Universities For International Students
FAQs On German Blocked Account
Is the money in my blocked account safe?
They are, indeed. The German Bankers' Association is a participant in the Deposit Protection national system. The Association requires every German bank to provide deposit protection of up to 20% of its total capital.
Do I need to prove the source of the money when transferring money?
There is no requirement to prove the source of the funds you transfer with Fintiba. When dealing with Deutsche Bank, however, you will be required to show the source of your funds. This can be accomplished in a variety of ways.
A bank statement, which displays your deposit records at a bank, is the most frequent form of verifying your financial means.
Can I deposit more than €10,332?
Yes, you certainly can. This is the very minimum needed of you in order to apply for a student visa. The German government requires that you have enough money to live in Germany for at least a year.
What if my German student visa application is rejected?
You will be reimbursed if the German embassy in your home country rejects your visa application. Contact the blocked account provider or the German consulate in your country to find out what you need to do to reclaim your funds. The transfer fee, on the other hand, will not be reimbursed.
Is it possible to expedite the account opening process?
You can't, unfortunately. Even if you're pressed for time, the bank will not be able to process your application more quickly.
Do I have to pay a fee for maintaining my blocked account?
After you pay the bank for their services, you may be charged a modest monthly fee.
Is there any administrative fee to open a blocked account?
Yes, you will be charged an initial cost by the blocked bank account provider.
Can a third party send the deposit on my behalf?
Yes, you can have a third party deposit your funds on your behalf. They must, however, first establish their identities. You may be asked to submit an authorization to that person or organization, as well as a valid passport and a bank receipt for the bank transfer, by the blocked account provider.
Are there exemptions to opening a blocked account?
A blocked account is only one technique to demonstrate that your financial situation is in order. There may be additional forms you may use to verify it, but you must first inquire at the German consulate. For example, you could have a relative living in Germany who promises to cover the expense of your stay there. Learn about getting a job in Germany.
Where do I register my address for my blocked account?
The Resident' Office Registration, or Einwohnermeldeamt in German, is where you may register your residence in Germany. You must register your residence within two weeks of your arrival in Germany. The bank will need it to give details of your Germany blocked account for international students.
How to open a blocked account in Africa?
The steps outlined above are the same to open Germany blocked account for international students regardless of where you apply.
Since you now know about Germany blocked account for international students, you may want to explore how to migrate to Germany
In order not to miss out on prompt updates from careerinfos.com, enter your email address below and hit the subscribe button beneath.
A confirmation link will be sent to your inbox or check your spam mails if its not in your inbox. Make sure you click the link to confirm your subscription in order not to miss any updates from this blog. All comments (related to the post above) should be dropped via the comment section below.