How To Become A Police Officer 2023
Step By Step Guide On Becoming A Police Officer
Police officers help shield their communities and ensure everyone's safety. To become a police officer may be a fulfilling career option that allows you to serve your community. To get employed as a police officer, you must finish specialized training and pass prerequisite tests. We'll go over the steps on how to become a police officer in this post.
How To Become A Police Officer
Officers must finish a training program, pass state law enforcement tests, and get applicable experience. You must fulfill the following steps to become a police officer:
Complete the necessary education.
Comply with all additional prerequisites
Pass the law enforcement exam.
Graduate from the police academy.
Gain experience as an officer.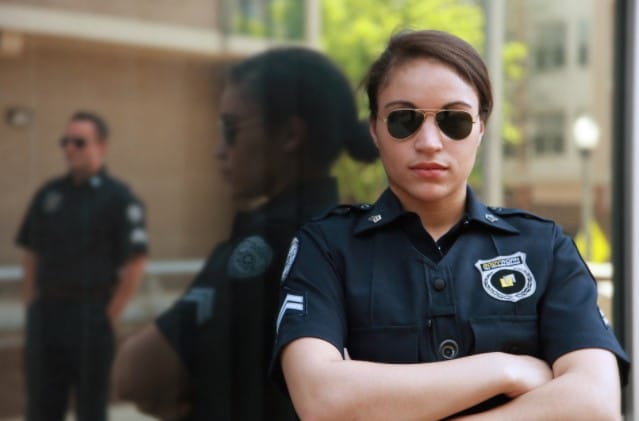 1. Complete necessary education
You must have a high school diploma or a GED to follow this professional path. Many police officers opt to study criminal justice at the associate or bachelor's level. Some positions or departments may even demand that you have an associate's degree. Additionally, persons who have already served in the military are frequently exempt from the schooling requirement.
Also Read: Masters Degree To Study Abroad
2. Comply with all additional prerequisites
Among these are the following:
Officers must be at least 18 years old or 21 years old, depending on the department.
A valid driver's license and a typically clean driving record are required for police officers. Many officers drive a patrol car on the job, therefore this is a must.
Aspiring police officers must undergo a criminal background check to guarantee they have not been convicted of any serious crimes or violations.
Physical fitness: All applicants must be physically fit and able to pass a physical and medical check.
Psychological evaluation: Police officers are expected to make difficult judgments under duress, which necessitates good mental health. This assessment may take the form of an interview or a questionnaire, and it will look at your personality, temperament, attitudes, and basic beliefs.
3. Pass law enforcement exam
Depending on the area and the police academy you choose, there are numerous law enforcement examinations. The following sections are frequently included on these exams:
Essays
Candidates are given a topic or prompt to write a long-form essay on in this section. This exam focuses on your ability to use logic, coherently communicate your thoughts and ideas, and present reasoning and evidence to back up your statements. Read more on essays on career goals.
Oral exam
This section is usually conducted in the form of an interview with a hiring manager from the department or perhaps a community member. Its goal is to assess your verbal communication abilities as well as your overall presentation.
Before being admitted into a police training academy, all applicants must pass the law enforcement exam.
Related: Career Choices and Subject Required to Achieve them
4. Graduate from the police academy
You will join a police training academy after achieving the fundamental prerequisites and passing the law enforcement exam. The following are some of the things you'll learn in the police academy:
Classroom education
Future police officers learn about law enforcement as a whole through classroom training, including laws and regulations, criminal investigative tactics, arrest and detention processes, and diverse approaches to policing and public safety.
They also improve interpersonal communication, stress management, and negotiating skills, as well as get a better knowledge of ethics and cultural awareness.
Field training
Future officers learn defense tactics, administrative tasks, firearms proficiency, hazardous materials handling, vehicle operations, and the correct use of force in the field. They may also be forced to engage with the public and to exercise problem-solving, inquiry, and decision-making abilities by simulating ordinary or difficult circumstances.
Candidates may begin to receive entitlements, allowances, and perks at this period, depending on the department. The trainees are ready to graduate and enter the profession of police once they have gained all of the essential abilities.
Related: Sample Cover letter for General Worker
5. Gain experience as an officer
Trainees might begin working with the police force on a conditional basis after graduating from the academy. New officers serve a 12-month probationary phase during which they work as police officers while receiving daily instruction from more experienced cops.
They can get a permanent job when their probationary time is through. Depending on the department they work for, they may be able to undergo more training, learn new skills, and receive performance evaluations that will help them rise into higher-ranking jobs and police specializations.
FAQs On Becoming A Police Officer
Here's a rundown of some of the most often asked questions about becoming a police officer:
What exactly does a cop do?
Responsibilities may vary depending on the amount of experience, rank, and location. Among the most prevalent duties are:
Patrolling neighborhoods on foot, in a car, or on a bicycle.
Responding to 911 calls and other emergency situations
Following up on crimes, emergencies, and events by interviewing witnesses.
Taking notes on their observations and recording their testimonies
Official reports are written and filed.
Giving testimony in court
Providing public and personal safety education and outreach to the community
Enforcing traffic regulations, including stopping cars to ensure they are following them.
Also Read: Best Courses To Study For Jobs
What is the average salary of a police officer?
A police officer's average annual wage is $50,000. Annual salaries vary from $15,000 to $110,000. Salaries are determined by an officer's rank and amount of experience, as well as his or her position and duties and geographic location.
How do you go about training to be a police officer?
Before applying to take the law enforcement test, be sure you don't have any severe criminal offences on your record that might disqualify you. Also, make sure your driving record is free of fines or other minor infractions.
What sorts of police officers are there?
You can set explicit career goals after graduating from the training academy, such as becoming a certain sort of officer or working in a specific department on a force. The following are some possible paths:
Detective
State Police Officer
Highway Patrol Officer
Sheriffs and Deputy Sheriffs
Are there any certifications available for police officers on a voluntary basis?
As a police officer, you can pursue a variety of optional certifications, including:
Certification in First Aid and CPR
Officers are frequently called upon to assist in emergency circumstances, which may include performing life-saving first aid operations. A police officer who has received this type of training will be able to deal with minor injuries and deliver CPR. This qualification can be obtained before to, during, or following the completion of the police academy.
K-9 Unit Certification
Officers who deal with police canines on patrol and in extraordinary instances must have this qualification. They go through rigorous training with a police dog that includes bonding, learning commands, and doing drills.
Specialization certifications
If you want to work in a certain branch of law enforcement, such as narcotics or arson, you can get a certification by completing the relevant coursework, training, and exams.
You may want to explore jobs for college dropouts
In order not to miss out on prompt updates from careerinfos.com, enter your email address below and hit the subscribe button beneath.
A confirmation link will be sent to your inbox or check your spam mails if its not in your inbox. Make sure you click the link to confirm your subscription in order not to miss any updates from this blog. All comments (related to the post above) should be dropped via the comment section below.