Scholarship Essay On Career Goals
How To Write An Outstanding Essay On Career Objectives
How to Write a Scholarship Essay on Career Goals is covered in this post. If you've come to this page, it's because you need a bit more help writing an essay on your career goals. Don't worry, you've come to the right place.
Writing a scholarship essay on career goals may be a helpful exercise in self-reflection. Following these guidelines or devising your own technique, you should ask yourself some key questions and then respond in the succinct, concise manner required by the format. If you do it carefully enough, you will have a better understanding of your goals and motivation in general.
Scholarship Essay on Career Goals
Having a good essay on career goals is just that thing. We'll provide you some precise pointers on how to complete this task successfully and on time.
Of course, no one can promise that if you follow these or any other suggestions, you will be awarded a scholarship that you are qualified for – there are algorithms and criteria that are more linked to essay writing, elements that are unrelated to you personally. Still, your job is to perform what you need to do at a high level of quality, so that no matter what happens, you can be certain that you did your best.
Also Read: Statement Of Purpose For Masters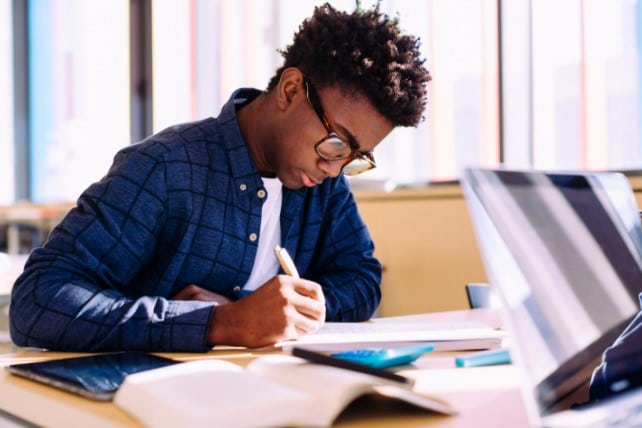 Writing Scholarship Essays on Career Goals: Some Pointers
Ensure Your Priorities Are Clear
If you're going to set many goals (which isn't ideal), make sure your priorities are clear and don't conflict. Scholarships are often awarded to students that have distinct aims and interests. It indicates that a student who obtains a scholarship will put it to good use, that the scholarship will genuinely assist the student in achieving his or her goals, rather than simply experimenting with several choices and failing in the majority of them. Please appreciate that the scholarship committee is making an investment in you by awarding you this grant.
Related: Career Choices And Subject Required
Your Career Goals Must Be Relevant to the Scholarship
It's the most basic and apparent piece of advice, yet it makes perfect sense. Sometimes students get carried away and start writing about grand plans to save the world that have nothing to do with the scholarship or the education it can provide. Keep it simple, keep your professional ambitions connected to the scholarship subject and kind, and explain why you need this specific education to reach your goals and why you can't do it without it.
Obey The Issued Guidelines
It is not a creative task in which the content takes precedence over the format. In order for the scholarship committee to examine your candidacy, you must carefully follow the guidelines provided. It is critical to follow the regulations in order to receive a scholarship. If you want to send your essay to a variety of committees, double-check that it meets all of the standards.
One of the techniques committee members use to determine whether you are interested in their work in particular is to check if the formatting and other guidelines are followed.
Seek Required Assistance
When you write your own scholarship essay on career goals, you compete with other students who also write on their own, as well as every essay writer paid to produce a high-quality scholarship essay. If you're not sure you're up to the task, consider contacting a professional essay writing service on your own. Share the content of your project as well as any personal information needed to complete it, and you'll get a high-quality paper prepared by professionals. Later on, you may utilize it as a sterling example, rewrite it and send it to scholarship boards.
Also Read: Cover Letter For General Worker – Sample
Allow Plenty of Time For Proofreading
Proofreading is a distinct, crucial step that you should not put off until the last minute. Please devote adequate time to it right from the start and proofread thoroughly. Use free or paid internet resources, read your essay the next morning with fresh eyes, and read essays aloud to identify long phrases that should be reduced into two or three smaller ones. The criterion is simple: if finishing a statement takes more than one breath, the sentence is needlessly lengthy.
Related: Best Careers In Commerce
Smartly Recycle Your Essays About Career Goals
We understand that many students apply to many scholarship programs because they don't want to risk putting all their eggs in one basket. It's not a good idea to concentrate your efforts on a single scholarship and put everything you have on it. Positive thinking is effective, but only when it is accompanied by practical actions. To save time and avoid having to start from scratch, recycle your career goals essays smartly. Don't just email one essay to several recipients; make sure you follow each guideline independently. It is unavoidable that when recycling your work, you may come across certain errors and poorly constructed phrases. Don't give up; proofread one more time and continue.
Summary – Essay On Career Objectives
If you're not sure you can manage this work on your own, don't be afraid to ask for help. It might be a defining event for years to come, and you should do everything you can to ensure a positive outcome. Also, including scholarship keywords in essay is important. We wish you the best of success and hope that our suggestions will assist you in achieving your career goals.
Are you looking for trending scholarships? Click to apply to top scholarship programs and study for free
In order not to miss out on prompt updates from careerinfos.com, enter your email address below and hit the subscribe button beneath.
A confirmation link will be sent to your inbox or check your spam mails if its not in your inbox. Make sure you click the link to confirm your subscription in order not to miss any updates from this blog. All comments (related to the post above) should be dropped via the comment section below.