Rosa Luxemburg Stiftung Scholarships for International Students 2023/2024
Apply For Rosa Luxemburg Stiftung Scholarships
Rosa Luxemburg Stiftung Scholarships for International Students in Germany for the 2023/2024 is open for application. In this article, we will explain in detail about this scholarship program, its worth and application process.
About Rosa Luxemburg Stiftung Scholarships
Rosa Luxemburg Stiftung Scholarships are fully funded scholarships for international students. These scholarships are made available for masters and PhD. The endowment for this program are provided by the Federal Foreign Office.
The highest time period of the scholarship is based on the average time or number of semesters of your studies. The Rosa Luxemburg Stiftung Scholarships will at first be granted for one year and then to the end if the prerequisites have been fulfilled.
Rosa Luxemburg-Stiftung Scholarships Department offers students a wide range of support which consists of political education events and summer schools, workshops organized both domestically as well as abroad, symposia and educational trips.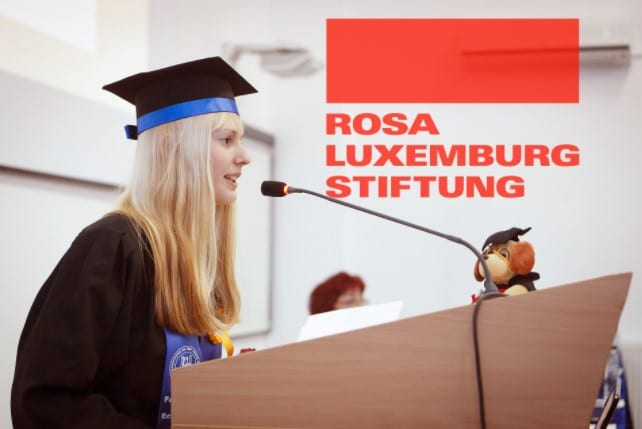 Duration of Scholarship
The program period for masters is maximum of three years and maximum of four years for PhD.
Eligible Courses/Program
Rosa Luxemburg Stiftung Scholarships offers Masters and PhD degrees in any subject, except for Medicine, Dentistry and Veterinary medicine.
Worth of Rosa Luxemburg Stiftung Scholarships
The scholarship provides candidates with the following benefits:
The monthly basic scholarship for Masters consists of 850€ along with a lump sum of 20€. Extra subsidies for health and nursing insurance of no more than 86€ are also available.
The doctoral scholarship is largely independent of one's income and consists of 1350€ per month. Extra lump sum payments of 100€ to cover research costs and further health care subsidies are also available.
Candidates can also receive funding to cover stays abroad (for research, attending conferences, etc.).
German and Euro language classes can also be sponsored by the organization.
Related: DAAD EPOS Scholarship In Germany
Eligibility Criteria
To be eligible for the scholarships, applicants must fulfill all of the following requirements below:
The required language for the scholarship is English and German language proficiency (B2 level or above).
All world countries are qualified for these scholarship. However, preference is given to women, students of non-academic and vagrant backgrounds, the socially needy, and people with disabilities, with achievement and commitment.
Applications from undergraduate and doctoral students from scientific and technical disciplines are actively encouraged and from graduates of technical colleges.
Applications will only be accepted in German or English language.
Masters Students must also be enrolled at a state or state-recognized German university and PhD students must be accepted at a German university.
Each candidate need a Certificate of enrolment for the next semester or at least a letter of admission from a German university. Your enrolment must also be documented at the latest by the time the scholarship would start.
The basic knowledge of the German language (further classes can be sponsored by us) is also needed to be qualified for the scholarship and at least very good knowledge of the English language.
Activities in social, political and/or community services are also needed to be eligible for the scholarships.
Selection Criteria For Rosa Luxemburg Stiftung Scholarships
The selection criteria for these scholarship are:
Each candidate need an high scholarly and professional qualifications (proof of above-average academic achievement at school and/or university).
You also need a political and social engagement in line with the aims of the Rosa-Luxemburg-Stiftung.
Your Personal/family background.
How to Apply
Please follow these instructions to apply for this scholarship:
Apply for this scholarship through the online application portal.
Create an account and fill the application form. Also upload the required documents.
Submit the application.
Application Deadline
The application deadline for the ongoing scholarship is April 1, 2023.
Visit Rosa-Luxemburg-Stiftung official website for additional information and to apply.
You may want to explore other German scholarships
In order not to miss out on prompt updates from careerinfos.com, enter your email address below and hit the subscribe button beneath.
A confirmation link will be sent to your inbox or check your spam mails if its not in your inbox. Make sure you click the link to confirm your subscription in order not to miss any updates from this blog. All comments (related to the post above) should be dropped via the comment section below.