Work In Canada As A Carpenter
Immigrate to Canada as a Carpenter
Working in Canada as a carpenter is the aspiration of most skilled persons. In Canada, the need for skilled trade workers is at an all-time high. It is known that a generation of young people chose not to work hands-on, they instead went to universities to obtain the same degrees as thousands of others. This has made it far more difficult to advance in a crowded professional environment. Keep reading to learn more on Work In Canada As A Carpenter.
Why Immigrate To Canada As A Carpenter
All of Canada's skilled and semi – skilled employees are retiring, creating a huge void in the workforce. Young people are gradually realizing that a well-paying future awaits them in the trades. Without mincing words, it will be a long time before the need for trained craft employees in Canada is met.
You will have a variety of immigration choices available to you, that may see you become a permanent resident of Canada within six months.
Work In Canada As A Carpenter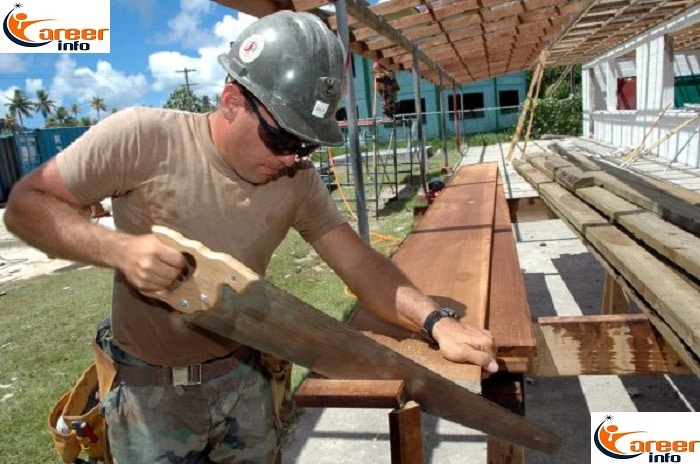 What is the Salary of A Carpenter in Canada?
In Canada, the average income for a qualified master carpenter is $65,026 per year, which is 27% more than the national average.
Carpenters are one of the top five most in-demand trades in Canada, as well as one of the best-paid. You may want to explore jobs in Canada.
How You Can Immigrate To Canada
You will have a variety of immigration choices available to you, that may see you become a permanent resident of Canada within six months.
Express Entry
Canada's premium immigration program is the Express Entry Program. The program was established in 2015 with the goal of expediting the immigration applications of brilliant international employees. This was with an initiative to enable them relocate to Canada swiftly and effectively. The program is has three sections:
Skilled Worker Program – for those with management or professional experience and qualifications;
Skilled Trades Program – for certified tradespeople and journeymen who fall under one of the following categories:
Canada Experience Class – for those who fit into one of the two categories aforementioned and have at least a year of professional experience in Canada. You may want to explore how to work in Canada without work experience.
Work As A Carpenter – Skilled Trades Program Requirements
Prior to applying, you must have at least two years of competent work experience in a skilled profession within the past five years.
Qualifications – Having your qualification/certification credentials reviewed by a competent body, will help you score higher.
Eligibility – You ought to be qualified to immigrate to Canada, which means you must not have a criminal record, be in excellent health, and have legal status in the nation where you currently reside.
A valid full-time employment offer or a plumber's certificate from a Canadian provincial, territorial, or federal government.
Language competence – Because some aspects of your profession rely on your ability to communicate successfully with clients, you must pass a Canadian Language Benchmark (CLB) exam.
Atlantic Immigration Pilot
The Atlantic Immigration Pilot was developed by Newfoundland and Labrador, New Brunswick, Prince Edward Island, and Nova Scotia, and is aimed at both skilled and unskilled persons with employment offers in Atlantic Canada. Due to a labor shortage in this region, these four provincial governments now accepts more foreign immigrants.
So, if you have a genuine work offer, want to live and settle in Atlantic Canada, and fulfill the qualifying conditions, you may apply for permanent residency immediately. Learn how to detect a genuine or fake Canadian job offer.
Becoming A Carpenter In Canada
We strongly encourage you to consider taking your apprenticeship in Canada if you are not currently a qualified carpenter. Carpenter apprenticeships, like any other university degree, generally take four years to complete. The distinction is that you will be paid while completing your practical job as part of your apprentice program. You'll start at around half of what a trained carpenter earns. You will then work your way up to the level of certified carpenter, commonly known as a journeyman. You may want to checkout highest paying trade jobs in Canada.
How much does it cost to train as a carpenter in Canada?
For four years, you'll put in roughly 1,540 hours of practical work. This is accompanied by eight-week blocks of technical instruction every year before taking your final test to get certified. All of this will cost about $2,000 per year, which includes textbooks, courses, personal protection equipment, and trade union registration. For international students, university tuition and fees might cost up to $20,000 per year.
You will reap the fruit of the investment once your are qualified to work in Canada as a carpenter,
Will I be able to acquire a permanent residency after completing my training as a carpenter?
Permanent residence will be fairly easy to secure.  Most provinces do not only have a pressing need for competent carpenters, but also wish to keep their talented workers.  You may want to explore easiest ways to relocate to Canada.
In order not to miss out on prompt updates from careerinfos.com, enter your email address below and hit the subscribe button beneath.
A confirmation link will be sent to your inbox or check your spam mails if its not in your inbox. Make sure you click the link to confirm your subscription in order not to miss any updates from this blog. All comments (related to the post above) should be dropped via the comment section below.