Work in Canada as a Mechanic
Immigrate to Canada as a Mechanic
Work in Canada as a mechanic is a job role sought by many professionals. Are you an auto mechanic with a bachelor's degree who wants to make $100,000 a year? If that's the case, Canada could be the place for you.
Working professionals are preferring to relocate to larger cities in pursuit of new work possibilities or are being promoted, leaving a large vacuum in the labor market that cannot currently be filled by local personnel. To assist alleviate the problem, the government has established a variety of immigration schemes, all of which have proven to be highly effective.
Work in Canada as a Mechanic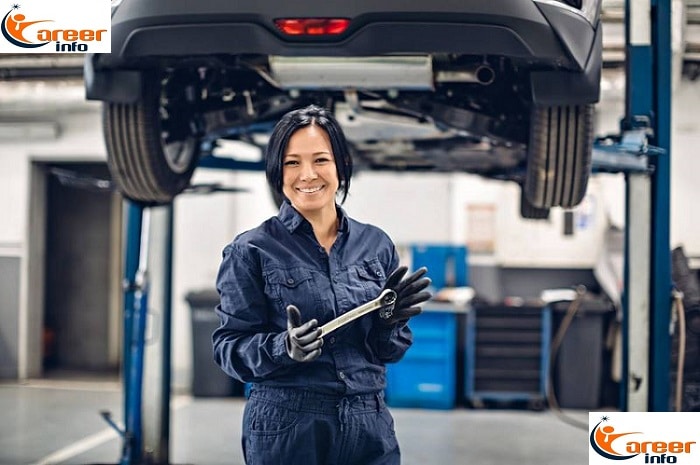 Why Work in Canada As A Mechanic?
Both skilled and semi-skilled people may now apply to work in Canada and have their applications accepted considerably faster than ever before, thanks to systems and programs like the Express Entry system and Provincial Nominee Programs.
You may select from over 70 different immigration programs and visas as a skilled or semi-skilled worker, giving you a greater opportunity of establishing a new life in Canada with your loved ones. However, with so many options, the process may be overwhelming, especially when deciding which programs are most suited to you and will improve your visa application's chances of success.
Immigrate to Canada as a Mechanic
There are several ways to work as a mechanic in Canada, as it is a career that is now in great demand. The three ways to immigrate to Canada are outlined below:
Federal Skilled Trades Program;
Express Entry system;
Provincial Nominee Program.
The Federal Skilled Trades Program
You can immigrate as a mechanic through the Federal Skilled Trades Program, which is administered through the Express Entry system.
To be eligible for this program, you must satisfy the following minimal requirements:
Have a legitimate employment offer from a Canadian company for at least one year OR a provincial body's certificate of qualification;
Have a sufficient Canadian Language Benchmark language competence score in French and English (level 4 for writing + reading and 5 for hearing + speaking);
Before applying, you must have at least two years of job experience; and
Have the ability to exhibit your trade's abilities and experience.
Express Entry
The Express Entry system oversees Canada's three federal economic immigration programs, with the goal of assisting qualified workers finding jobs in Canada. It is based on a point-based system known as the CRS (Comprehensive Ranking System) that considers criteria including your age, talents, education, and job experience.
You will be placed into a draw pool every two weeks once you have completed your online Express Entry profile. The individuals with the best scores will be chosen to obtain an ITA (Invitation to Apply) for permanent residency in Canada.
Provincial Nominee Program
If you are competent and have a genuine job offer that is in demand in a specific province or territory, the Provincial Nominee Program permits you to work in Canada. Each province/territory has its own PNP, which is tailored to the labor market's particular demands. Mechanics, for example, may be in high demand in Alberta, Saskatchewan, or Manitoba, but may not be in high demand in Ontario. The lists of in-demand occupations vary frequently, so make sure you have the most up-to-date information before expressing interest in a certain location.
If your application is approved, you will obtain a province nomination, which is worth 600 CRS points and will very certainly result in you earning an ITA for permanent residence in Canada.
Provinces That Need Mechanics

Province/Territory
Immigration Stream
Average Annual Salary
Alberta
Alberta Express Entry Stream
$63,375
Alberta Opportunity Stream
Manitoba
Manitoba Skilled Worker Overseas Stream
$48,263
Alberta Opportunity Stream
Saskatchewan
International Skilled Worker Category: Occupation In-Demand Stream
$80,000
Although there are additional provinces in need of mechanics, these are the main locations looking for skilled candidates right now. You may want to explore how to work in Canada as an engineer.
Mechanical Engineering Jobs in Canada
Before we look at some of the more specialized mechanical engineering jobs in Canada, let's have a look at where to locate the best-paying employment by province, as well as some of the advantages of settling in each province. You may want to explore highest paying engineering jobs for immigrants in Canada.
Average Mechanical Engineer Salary by Province

Province
Average Salary per year
Alberta
$74,409 per annum
British Columbia
$65,069 per annum
Manitoba
$69,686 per annum
New Brunswick
$64,668 per annum
Northwest Territories
$90,070 per annum
Nova Scotia
$59,293 per annum
Newfoundland & Labrador
$72,799 per annum
Prince Edward Island
$65,000 per annum
Quebec
$61,113 per annum
Ontario
$64,551 per annum
Saskatchewan
$68,679 per annum
Yukon
$77,917 per annum
Mechanical engineers can find decent employment in their fields of interest in provinces and towns where they wish to reside in a nation like Canada, which has enormous industries such as transportation, mining, hydro-electric, manufacturing, farming, and the list goes on. Whether you want to settle down and establish yourself in one of the southern cities and metropolitan regions, understanding where to locate the finest mechanical engineering jobs in Canada is as much a matter of how you want to live as it is of where you will get a good chance.
Mechanical engineers in Canada earn very good pay when compared to the rest of the first world. Only the United States and Australia pay more on average. In the former, the position for foreign employees is precarious at best, while the latter is simply not as interesting. You may want to explore how to get accredited to work in Canada.
In order not to miss out on prompt updates from careerinfos.com, enter your email address below and hit the subscribe button beneath.
A confirmation link will be sent to your inbox or check your spam mails if its not in your inbox. Make sure you click the link to confirm your subscription in order not to miss any updates from this blog. All comments (related to the post above) should be dropped via the comment section below.